Valente Hair & Co. offers 'luxury for everybody' in La Jolla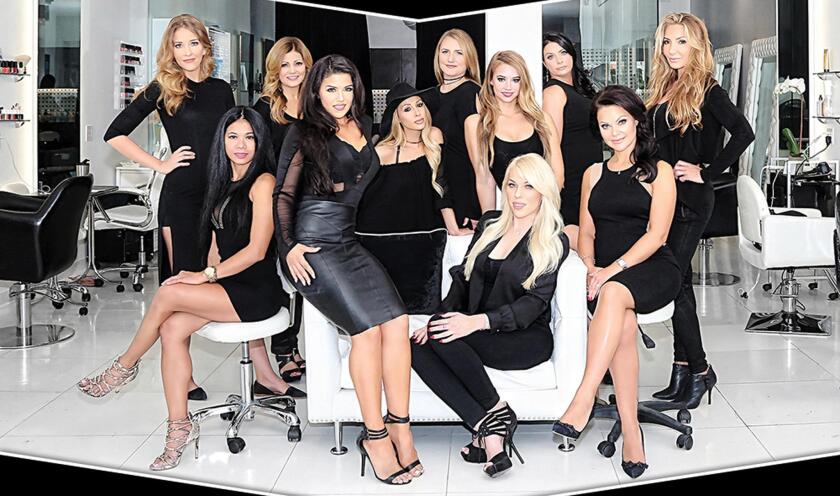 BUSINESS SPOTLIGHT:
If you've never had your hair done in Italy — and chances are you haven't — you can come close to that experience at Valente Hair & Co. on Girard Avenue, which next month celebrates its first full year in business.
Its 26-year-old owner is San Diego-raised Laura Valente, a graduate of Paul Mitchell beauty school and, more notable still, a veteran of three years learning and crafting her hairdressing talents in Italy. While in Naples where her father was stationed at a military base, Valente seized the opportunity to meet and assist "some of Italy's most famous hairdressers." Not only did Valente learn the techniques of these stylists, but she recognized what kind of a salon she'd like to have herself when she returned to the United States.
Valente Hair & Co. (named, Valente says, in honor of her father's architectural firm, Valente & Co.) is modeled after the salons in Italy she most admired. "That's how I came up with the very European, luxurious-yet-modern feel," she explained. Even the salon's location, across the street from Mary, Star of the Sea Catholic Church, attracted her because of all the cathedrals in her midst when in Italy.
But Valente is quick to acknowledge that outside appearance isn't everything. "You can have the most beautiful looking salon," she said, "yet without the talent of the artistic hairdressers who work there, you don't have people who can create these beautiful hairstyles and colors and make women leave feeling 'Omigosh!' "
Sometimes customers leave crying. Tears of joy, of course. "When people cry, I know that everything I have put into the salon is paying off," Valente said.
Valente employs 12 hairdressers, all of whom perform a full spectrum of beauty services. She prefers to call her employees artists. "I like people who are really passionate and hungry and who want to go beyond being just a hairdresser. They want more. They want to convert themselves from a hairdresser to a well-known artist."
Valente Hair & Co.'s clientele is primarily, but not exclusively, women from La Jolla, and it's not all female, either. In fact, Valente says one of her goals in 2017 is to promote and entice more male customers to the salon.
Its plum location and rich Italian heritage aside, Valente's salon may not necessarily be out of your budget. "I believe in luxury for everybody," Valente said with confidence. "I want to have a salon where people can come in and experience that at a reasonable, competitive price."
While most of her time is occupied these days running the business, Valente still takes clients herself. "I specialize in coloring and hair extension" when she's not in administration mode, she said. "I've found a happy medium."
You shouldn't be surprised, either, that the boss is 26. Valente recalls her adolescence like this: "I was always 13 going on 30," she said.
— Valente Hair & Co. is at 7722 Girard Ave., Suite 100, La Jolla. (858) 230-7574. valentehair.com
Business Spotlight features commercial enterprises that support La Jolla Light.
---
Get the La Jolla Light weekly in your inbox
News, features and sports about La Jolla, every Thursday for free
You may occasionally receive promotional content from the La Jolla Light.