Neo-noir epic to be partly filmed in La Jolla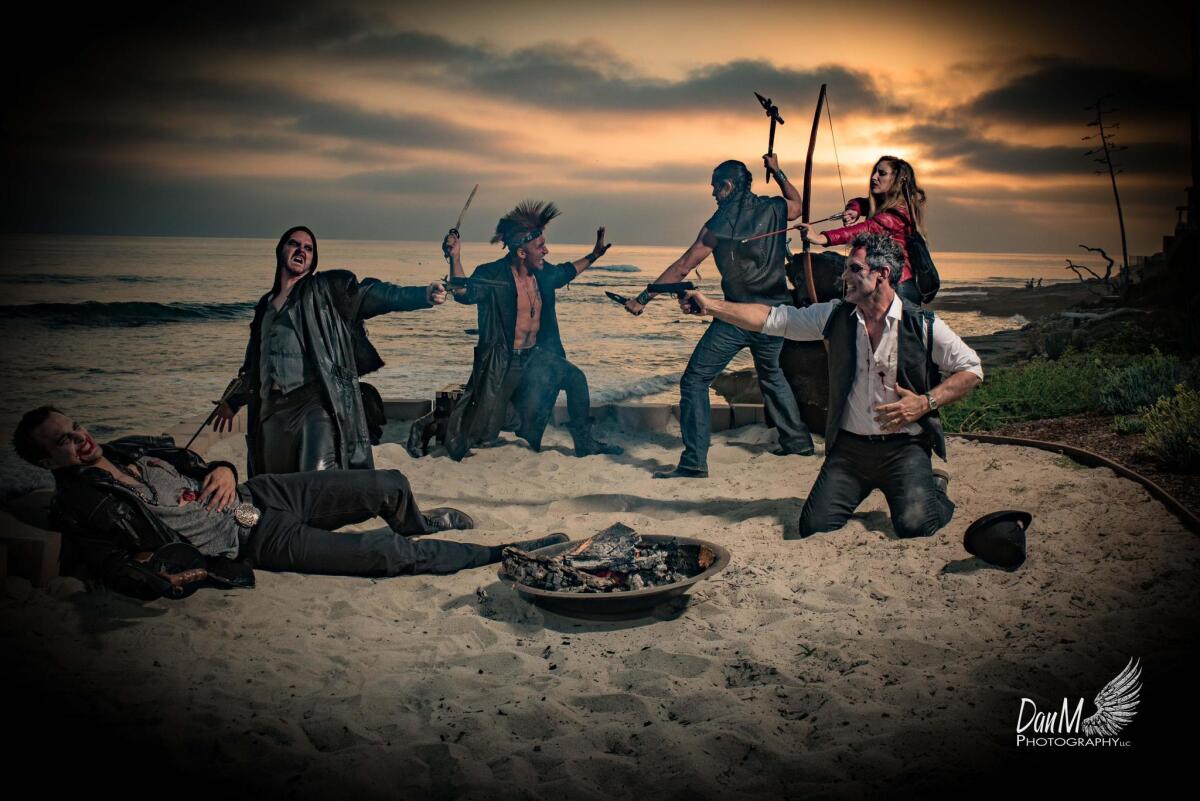 When a retiring cop with a violent past finds a clue in his last case that leads to his wife's murder from 10 years before, he is presented with a choice: to go against the promise he made to his wife not to kill another man or to become a selfless hero for a city that has no hope for the future.
Parts of this fictional screenplay, written by UTC resident Galen Thorne for his first feature-length movie, "Spirits & Thieves," will be filmed locally. The movie will address timely concepts like gender, discrimination, police brutality and corruption. "I'm trying to tell a story of a place where everybody is allowed to carry a gun, and what problems come from that. My opinion is that we need more gun control, so I'm trying to assert that," Thorne said.
He said he majored in film at UCLA and recently earned a master's degree from SDSU in "Film, Television and New Media." In fact, the script of "Spirits & Thieves" is an adaptation of his master's thesis. "It was a little bit elaborate, with a budget of hundreds of thousands of dollars, because that one took place in Greece, so I made it so I could direct and produce this movie on a low budget," Thorne explained, pointing out that he compensated by adding drama to each character's motivation and situation, to develop the emotional side of the story.
The story takes place in the Arizona desert, with some interiors and flashbacks being filmed in La Jolla. The production starts locally on Sept. 11 with the shooting of some scenes on a private property on Avenida de la Costa.
With a few short films under his belt and embarking on his most ambitious project so far, Thorne said he recognizes that he has always been a storyteller. "It all started with the wonderful fantastical stories that my father told me as a child, and then my mother is a historian, so in all of my stories I try to honor the history of a particular area, people or issue."
"Spirits & Thieves" will be framed according to neo-noir aesthetics. "The neo-noir genre was characterized by exaggerated masculine and feminine characters," Thorne explained. This style takes its roots in the film noir dramas of the 1940s and '50s where directors like Orson Wells and Billy Wilder presented American thrillers and detective films with a mood of pessimism and menace. The neo-noir movies reclaim that feeling, adding updated themes and a distinct visual style that features dark framing with a whimsical use of color.
The film "Sin City" (Frank Rodriguez, Robert Rodriguez, Quentin Tarantino, 2005), is one of neo-noir's best, and the movie's parallel. Thorne said its directors have been great sources of inspiration to him, but his favorite director of old – and he showed no doubt when saying this – is Akira Kurosawa. "My favorite director of new is Alejandro Iñárritu, whose style is something I aspire toward, with the camera and things like 'nature' taking on the characteristics of a strong character on the film."
Thorne's characters don't fit the Hollywood stereotypes of all-good versus all-bad people. "I think people tend to connect with the characters I write because they are not good nor bad, they are just people. You never know what's going to happen with my films because I'm not following the Hollywood model."
The desert scenes of the story will be filmed in Bullhead City, Arizona. The town's mayor granted Thorne the right to film for free, as long as the production doesn't disrupt the city's life. Thorne intends to overcome the challenges that filming in the desert poses by shooting in the fall and the spring, only at sunset and sunrise, when the temperatures and light are most forgiving.
The jewelry worn by characters in the film will also be custom made by Thorne, who is a Southwestern/Navajo-style silversmith, "just like my father," he pointed out. But that's not his only other profession, he's currently employed as a fitness professional in La Jolla. He works at La Jolla's Finest Training. "I have more than 15 years of experience in the industry," he said.
The funding goal for the film is $100,000. To reach it, Thorne started a fundraising campaign online at bit.ly/2cEtuDs