BioMed Health Center offers humanistic approach to naturopathic care for La Jolla and San Diego County
BUSINESS SPOTLIGHT:
BioMed Health Center, newly opened in the La Jolla UTC area, started with a shared passion between two med school students, Anna Feagan and Garek Ng. The partners met in rotations and discovered they shared a similar philosophy regarding medicine and patient care. That philosophy fueled their vision for opening the BioMed Health Center, one of a handful of healthcare centers in the area focusing on naturopathic healing.
So what exactly is naturopathic healing?
It's treating the patient in a humanistic approach that does more than just suppress symptoms, Feagan explained. "We believe in improving your health by treating the root cause of health problems," she told La Jolla Light. "The current medical system is really great at life-saving emergency medicine, but we feel it lacks precision in the preventative and optimal wellness categories. It takes time and dedication to investigate your health concerns at a deeper level than just treating the symptoms you present with. In other words, our approach focuses on optimizing the body's natural biological systems already in place to overcome any health obstacles, rather than shutting down symptoms with pharmaceuticals. This requires us to formulate personalized treatment recommendations for each individual, which we have found is the only way to generate consistently positive outcomes."
The two doctors are trained as primary care clinicians and can treat the majority of health concerns. "Some of the conditions we commonly see are fatigue, pain, stress and gut disorders. Our patients consist of overworked professionals, athletes, moms on the go, and many others motivated to take control of their health," Feagan said. "As Garek and I advanced in our medical training and experience, we found that it's rare to find a medical institution that aligns with our philosophy, so we decided to create one."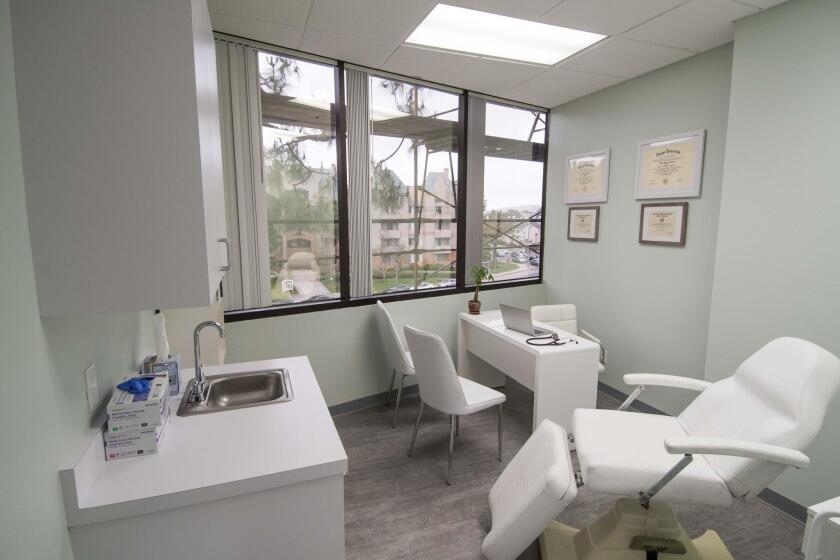 BioMed Health Center offers an initial 15-minute free consultation for potential patients. After that, the patient meets with either Ng or Feagan for an hour of face-to-face time so the doctors can understand a patient's complete health picture and their current goals.
"You will always receive foundational support after your first visit," Feagan said, "but a major component of our approach is offering personalized lab analysis. We will order lab work that is much more comprehensive than typically offered in order to really take a good snapshot of your health at the current moment. A follow up visit will offer explanation of these results and an individualized treatment protocol will be provided. This will include dietary and lifestyle recommendations, nutritional and herbal supplement recommendations, and, if necessary, prescription medication."
Patient Jim Tomey, 63, said he suffered from back pain since he was 19. "It got to the point where I needed back surgery," he shared. "I'm an avid tennis player and cyclist who tries to maintain a healthy lifestyle. The pain made it hard to do these things I love. After seeing Dr. Ng for injections, I noticed immediate relief after just one treatment. It was something I hadn't felt since before surgery. The pain has continued to improve after each treatment."
Another patient, Jamie Grossman, said she too, is very satisfied with her treatment: "One month after my initial consult, 90 percent of my gut symptoms were gone. I had been seeing doctors for two years and none of them was as thorough as BioMed."
The center also offers specialty procedures. One is intravenous or intramuscular nutrient therapy, where vitamins and minerals are directly infused into the bloodstream to allow for 100 percent of the components to be available to the body — much more than oral supplements. It also provides regenerative joint injections for pain, sports injuries and osteoarthritis, because as Feagan explained: "The joints are naturally poor healers because of poor blood supply and our injections focus on providing these missing properties needed for healing and regrowth."
Ozone Therapy is also on the menu of services. Ozone has shown to induce a cellular cascade of antioxidants in the body as well as increasing cellular intake of oxygen, which reduces pain and inflammation as well as regenerating cartilage and connective tissue for joints.
Then there's Platelet Rich Plasma (PRP) Therapy. The plasma comes from a person's blood and is dense with growth factors. When injected into specific areas, it can recruit healing proteins to the site to repair damaged tissue.
An aesthetic facial treatment, the SkinPen, is a microneedling technology that helps to regrow collagen, which returns elasticity to the skin and reduces wrinkles, acne scars and sunspots, and can give skin a healthy glow.
BioMed Health Center is located at Regents Park Row, 4130 La Jolla Village Drive, Suite 201 in the UTC area of La Jolla. (858) 964-0441. biomedhealthcenter.com
— Business Spotlight features commercial enterprises that support La Jolla Light.
---
Get the La Jolla Light weekly in your inbox
News, features and sports about La Jolla, every Thursday.
You may occasionally receive promotional content from the La Jolla Light.