BUSINESS SPOTLIGHT:
Nativa Interiors, with its two floors of unique, high-quality furnishings, has been a fixture in the Village of La Jolla since 2013. Customers are drawn in by the handmade splendors on the showroom floor showcasing hundreds of exclusive items for sale. But lately, customers are not just coming in to look for a piece of furniture. According to co-owner Silvina Petrate: "After hearing about us or seeing our work at a friend's house, they're asking us to design and supply all their furnishings, window treatments, flooring — the whole home."
The first Nativa store opened in Hillcrest in 2001, the next in Solana Beach in 2004. In 2013, the Hillcrest location was moved to La Jolla at 7770 Girard Ave. The showrooms at both locations change constantly — sometimes twice a week — as new merchandise arrives. Nativa offers more than 10,000 fabrics and works with a team of artists and designers.
Petrate and her husband, Mario Scolari, also operate a furnishings factory in Tijuana. "The main reason we're in Mexico is because the craftsmanship of Mexican carpenters is outstanding," Petrate said. "We have employees who come from many generations of woodworkers. They know how to build furniture the right way, to last a lifetime."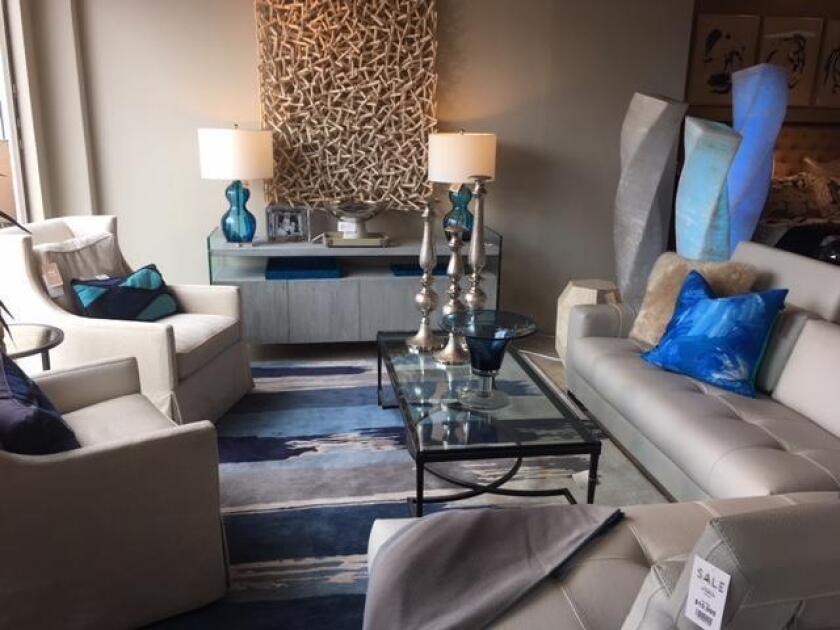 She also cites transit time. It takes just a few hours to finish a product, ship it from Tijuana, and receive it in their Otay Mesa warehouse. Staff can deliver the items to their clients on the same day or the same week a product is finished in the factory. Other companies have to wait weeks, or even months, for a product to arrive from the East Coast or overseas. Scolari works out of the warehouse, overseeing quality and production.
Nativa has made its mark, not just with the homes they've helped design and decorate, but also with several commercial and medical offices and real estate companies, the La Jolla Beach & Tennis Club, La Jolla Shores Hotel, and The Marine Room. They've also designed 90 villas at La Quinta Resort in La Quinta, California.
The couple said they take environmental responsibility very seriously in making business decisions. "We have been FSC-certified (Forest Stewardship Council) since 2001, when no one talked about sustainable furniture," Petrate explained. "All lumber we purchase is certified. And we use only natural materials — wood, leather, cotton, linen and water-based environmental-friendly paints."
Although the couple plans to open an online business, they know some of what they offer just doesn't translate online. "It's all about the experience and the connection a client makes with a designer," Petrate said. "Our clients come to us maybe for one piece, and once they like the atmosphere and the designer they're working with, it becomes a relationship of trust. Clients want to feel that they're in good hands and what they're buying is good value and good quality.
"We just finished the home of affluent newlyweds. It was fun to design for such a young couple with so many plans ahead. We decorated the whole house knowing — or without knowing actually — how their family dynamics will change (children, dogs, etc). They wanted a luxurious home to be enjoyed by a young family-to-be soon. We decorated it beautifully using high-end materials but resistant to the effects of toddlers and pets."
Last year, Petrate joined the board of the La Jolla Village Merchants Association. "It's made me realize there are many neighborhoods in San Diego that are changing and attracting people, and we have a big challenge creating enthusiasm to bring them here. We need help from the business owners and the City to make La Jolla the most exciting San Diego area again."
Nativa Interiors, 7770 Girard Ave., La Jolla, is open 10 a.m. to 6 p.m., Monday-Saturday; and 11 a.m. to 5 p.m. Sunday. (858) 454-1874. nativainteriors.com
— Business Spotlight features commercial enterprises that support La Jolla Light.
---