New Bird Rock hair salon, Waylon Salon & Boutique, spreads good vibes in La Jolla and San Diego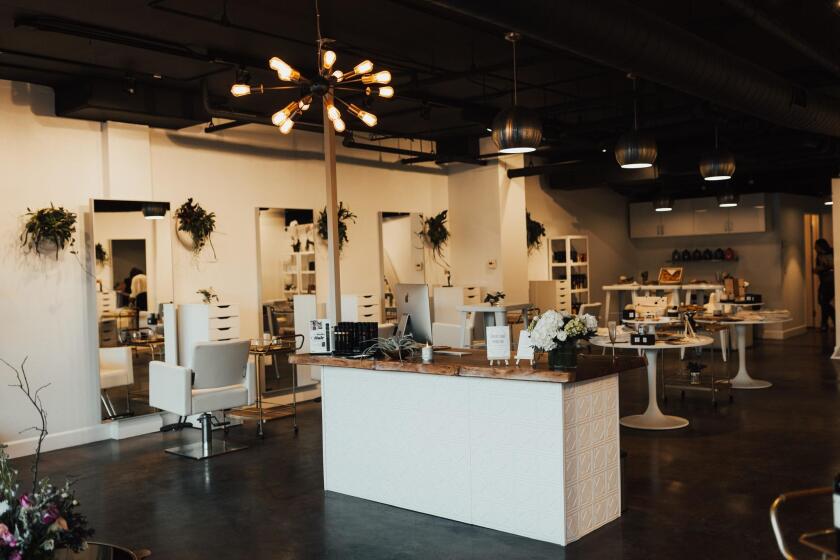 BUSINESS SPOTLIGHT:
Growing up on a farm in California's Central Valley, Alli Hayes probably didn't envision herself one day owning her own hair salon in La Jolla's Bird Rock neighborhood. Yet today, at just 31 years old, that's exactly what she's doing.
Hayes' Waylon Salon & Boutique has only been open six months, but already it has a loyal, and growing, clientele, attracted by its high-energy vibe and a friendliness Hayes insists upon from her staff and embodies herself. "You walk into some places and it just doesn't feel right. It's stuffy or not welcoming," she said. "I pride myself on every person who walks through our door being greeted and getting a smile.
"I'm passionate about the vibe in here. You can feel it when you walk in. Everybody's positive."
At Waylon, Hayes and her six stylists offer everything from cuts to coloring. In other words, she says, "All things hair."
That's been Hayes' life since she entered beauty school back at the age of 17, mainly, she says, because at the time she thought of hair as a way to pay her way through college. It turned out to be much more than that. She's been honing her craft ever since.
"I've been very lucky in the sense that I've watched and learned from other people," she said, "seeing what does and doesn't work. I did hair for 14 years before I decided to open up this bad boy."
Hayes said her clients typically are knowledgeable as well. "With social media, clients are making more informed decisions," she explained, "and I like the fact that they come to me knowing the newest technology. The majority of them are very self-aware. If they aren't, I go through all of the options with them."
She shares with those clients what she continues to learn. Classes and hair shows are always on Hayes' agenda. "I am constantly on top of the trends," she said. "I have to know (what those are) before everybody else does. In this industry you are always learning. I don't care who you are or how good you are."
Hayes' clients will tell you that in addition to how knowledgeable she is, she cultivates a warm relationship with them. "My clients become like my family," she said. "Where most hairstylists go in the back while they're processing, I sit with every one of my clients throughout."
The dream of another Waylon Salon & Boutique location is a year or two away, so in the meantime Hayes is enjoying her new Bird Rock business and trying to teach herself an important lesson: how to abdicate some responsibility on the job. "My parents instilled in me the hard-work gene," she said. "I want to do it all. But guess what? I can't do it all."
Waylon Salon & Boutique is at 5726 La Jolla Blvd., Suite 105, La Jolla. Hours: 10 a.m. to 6 p.m. Tuesday-Friday; 10 a.m. to 3 p.m. Saturday. (858) 230-7992. waylonsalon.com
— Business Spotlight features commercial enterprises that support La Jolla Light.
---
Get the La Jolla Light weekly in your inbox
News, features and sports about La Jolla, every Thursday for free
You may occasionally receive promotional content from the La Jolla Light.