La Jolla Vein Care offers minimally invasive treatment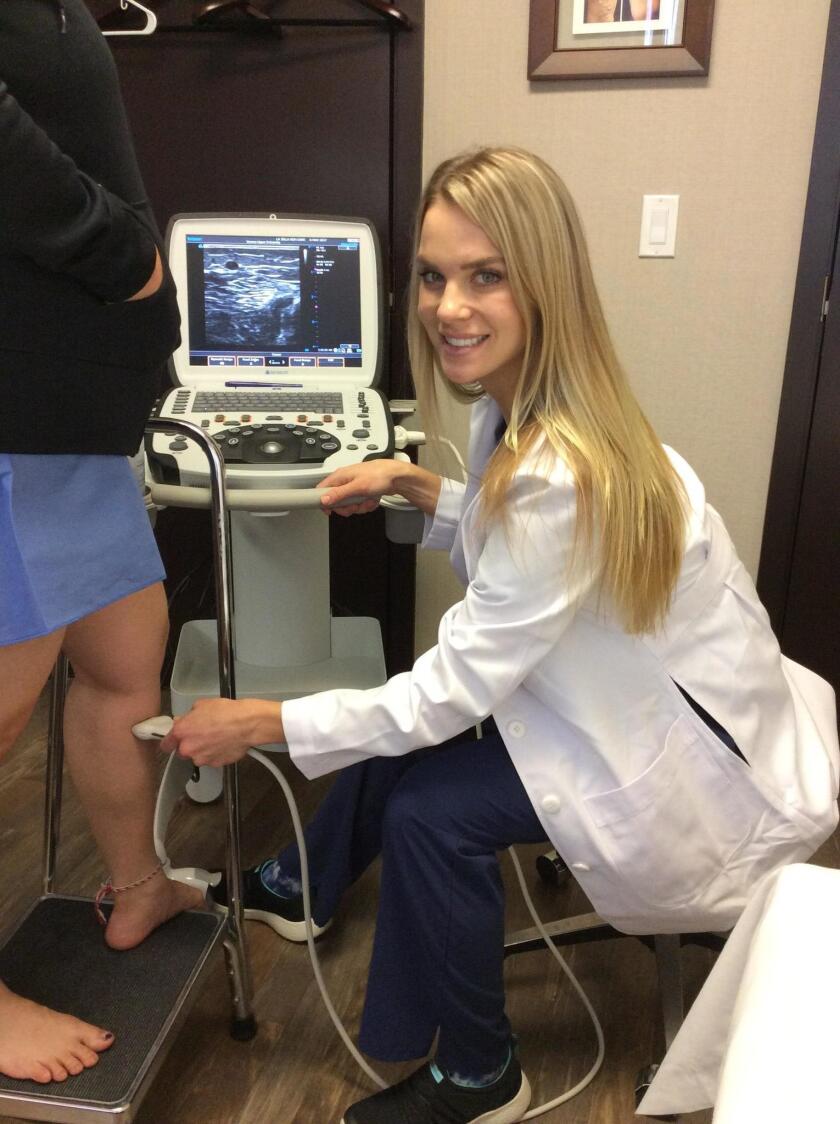 BUSINESS SPOTLIGHT:
Being a nurse practitioner is a gratifying profession, and especially so for Anna Cardinell at La Jolla Vein Care, which is dedicated to the diagnosis and treatment of vein disorders. "There's a lot of patient teaching involved, which I really enjoy," said Cardinell. "You have a chance to make patients feel better and look better, and they don't always realize the benefits they can obtain by having the treatment."
"The treatment" for bulging, or vericose veins has come a long way from the traditional practice of vein stripping, a surgical procedure. La Jolla Vein Care specializes in minimally invasive treatment procedures. Among them is radiofrequency ablation (RFA), which delivers radiofrequency energy to the vein wall, causing the vessel on the inside to become inflamed and then close. This allows the remaining healthy veins to predominate.
Another commonly employed treatment at La Jolla Vein Care is sclerotherapy, which consists of injections with a pharmaceutical solution. RFA is intended to be a one-time procedure, and Cardinell says, "The recurrence rate is very, very low." Sclerotherapy may involve repeat injections to get the vein to close, but she says, "The majority is all done in the first month of the therapy."
While there may be multiple reasons for vein disease, such as pressure on the lower body from pregnancy, increased weight or being on one's feet a lot, genetics is the No. 1 factor, according to Cardinell. It is also seen more commonly in women than in men. Ultimately, she says, "We don't really understand" why it happens. "The vein walls just become weak, and when they become weak they start to dilate and the blood starts going in both directions. It builds up pressure in the veins, and it's just a cascade of problems."
Vein problems are not confined to an older demographic. "We see patients in their 20s, even their teens," said Cardinell, who has a surgical background that ended up taking her into interventional radiology.
Treatments at La Jolla Vein Care are covered by insurance if they are done for medical and not strictly cosmetic reasons. "Insurance wants to know that they (patients) have tried and failed conservative management, which consists of primarily wearing medical-grade compression hose for three months. That can help temporarily control the symptoms, but it's not going to change the disease's progression."
Those symptoms, by the way, can include in addition to visibly bulging or spider veins, heavy or tired legs, cramping, throbbing, swelling, even restless legs. Not having any symptoms at all, however, can be deceiving. Cardinell recommends a visit "if you have a family history as well as if you start to experience symptoms."
La Jolla Vein Care, founded in 2010, boasts a workforce of seven in addition to Cardinell: a physician, two medical assistants, two ultrasonographers and two administrative staff members. Patients come from as far away as Northern California and even from Mexico.
La Jolla Vein Care is in the Scripps Ximed Medical Building, 9850 Genesee Ave., Suite 410, La Jolla. (858) 550-0330. lajollaveincare.com
— Business Spotlight features commercial enterprises that support La Jolla Light.
---
Get the La Jolla Light weekly in your inbox
News, features and sports about La Jolla, every Thursday for free
You may occasionally receive promotional content from the La Jolla Light.