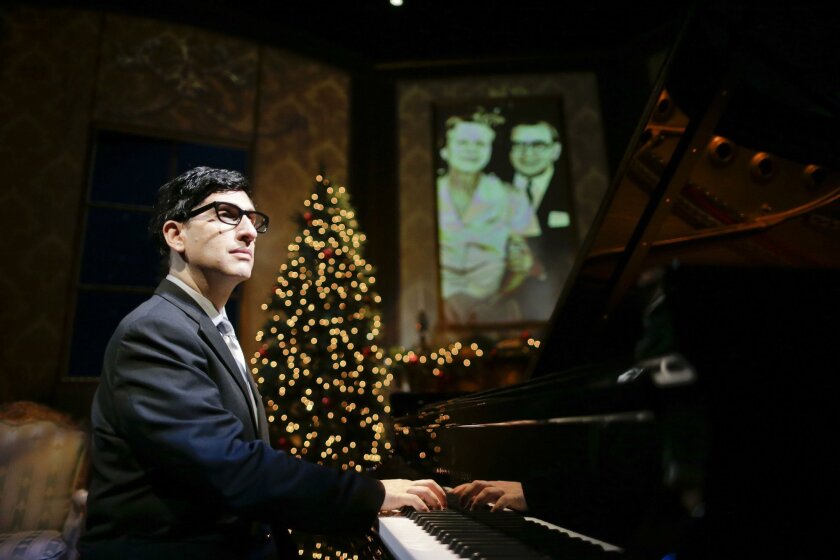 • ARTS & ENTERTAINMENT PREVIEW:
There's no place like here for the holidays, when Hershey Felder plays Irving Berlin at La Jolla Playhouse.
Felder, a gifted pianist, actor and playwright known for bringing composers like Chopin and Beethoven to life onstage along with their music, will appear as the man who wrote "White Christmas" in a special engagement Dec. 16-Jan. 3.
Except for his dark hair, Felder doesn't really resemble the diminutive Berlin, whose piano skills were famously limited to black keys only (Key of F). But in that key, and a lifetime of 101 years, he produced music and lyrics to about 1,500 songs, including scores for Broadway shows and Hollywood movies like "Annie Get Your Gun," which introduced what became a theme song for theater folks, "There's No Business Like Show Business."
Berlin also wrote "God Bless America," the song Congress sang on the steps of the Capitol after 9/11 as if it were our national anthem.
His life could have been a movie. A cantor's son, born in Russia in 1888, he escaped to this country with his family and was forever grateful. In New York's Lower East Side, he didn't have much schooling; at a young age, he was out in the streets selling newspapers, and gradually found that singing for pennies was better than peddling papers. He taught himself piano, and sold his first song at 18. There were heartbreaks in his early years, but hit by hit, he overcame them, and the poor Russian-Jewish immigrant became an American icon.
Felder calls Berlin "the American Mozart," but says he didn't always feel that way. He had to be coaxed into doing the show.
"In the beginning, I wasn't particularly taken with him," Felder said. "I thought he wrote jingles. It was the arrogance of ignorance. When I started doing some research, I discovered a genius."
Irving Berlin wasn't "just" a songwriter, Felder said. "I think of him as a composer who wrote songs. You just have to look and listen to what he did. He had a perfect musical ear and instinct. Schubert was a songwriter, too!"
Besides being a genius, Berlin was a good man, Felder added. "I don't think there's a false note in any of his work. He wrote about things that really meant something to him, and we experience his life through his music. And his story reflects who we are in this country."
If you happened to see Felder's one-night-only performance of "Irving Berlin" in 2014, as part of the Lipinsky Family Jewish Arts Festival, this show is far more developed. "That was just a concert with storytelling," Felder said. "Now there's a character. It's nothing like anyone else is doing, and nothing like I've ever done before."
• IF YOU GO: Hershey Felder as Irving Berlin is on stage Dec. 16, 2015-Jan. 3, 2016 in the Mandell Weiss Theatre at La Jolla Playhouse on the UCSD campus. Tickets: (858) 550-1010. lajollaplayhouse.org (Hot tip: Want a quick look at the real Irving Berlin before showtime? See him on YouTube, playing his piano on "The Dinah Shore Show" in the 1950s.) ♦
---