LET'S REVIEW: 'Travels with My Aunt' is hilarious one-of-a-kind at North Coast Rep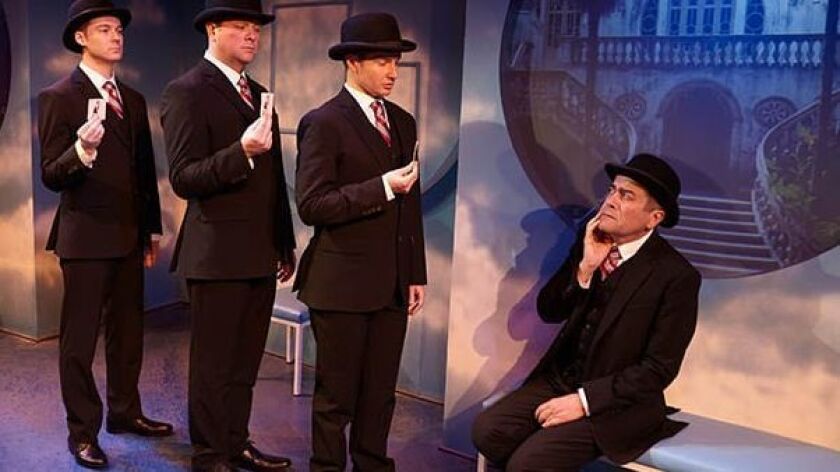 If you like funny, offbeat stories, you'll not want to miss "Travels with My Aunt" at the North Coast Repertory Theatre. Four actors — James Saba, David McBean, Richard Baird and Benjamin Cole — perform more than 20 roles sporting different identities, nationalities, ages and genders, and when the play opens, they are apparently waiting for a train.
Dressed in look-alike suits, they banter about their lives. At one moment, they take a turn that brings lots of laughter from the audience. Saba takes on the title role as Actor 1 — Henry Pulling, a retired bank manager. Throughout the performance, he excels in also being the wiggly, feisty-yet-informed Aunt Augusta. But then every once in a while, he becomes another character talking to Aunt Augusta.
This may seem confusing since Aunt Augusta is now in an urn waiting her funeral. Actor's 1, 2, 3 and 4 participate in the funeral confusion and what happens to the urn. However, that's trumped by the other characters they portray — Baird as a hunky African manservant, who regularly makes "jig-jig" with Augusta and plays all the characters with accents; Bean as CIA operative and all of the women and Henry; Cole as the dog and onlooker.
These characters travel the world to places like Paris, Istanbul and Paraguay, experiencing a whirlwind of excursions, and we learn that Henry still has secrets about his Aunt and himself, as he and his manservant get into some heated discussions.
No matter what the characters are doing or plotting — or the confusion of who's who — it's the humor in Giles Havergal's adaptation of Graham Greene's novel that fills the evening with laughs. Marty Burnett's Scenic Design and the North Coast Rep's design team provide a wonderful window into this puzzling and distinctive production.
IF YOU GO: 'Travels with My Aunt' plays through May 7 at the North Coast Repertory Theatre, 987 Lomas Santa Fe Drive, Solana Beach. Tickets from $39. Discounts. (858) 481-1055. northcoastrep.org
---
Get the La Jolla Light weekly in your inbox
News, features and sports about La Jolla, every Thursday for free
You may occasionally receive promotional content from the La Jolla Light.