LET'S REVIEW: 'Skeleton Crew' presents stunning look at factory life on stage at The Old Globe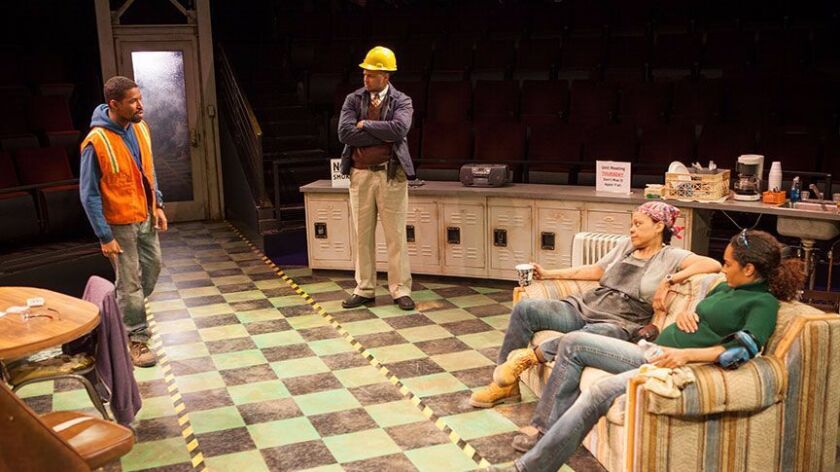 The workplace often becomes like a second home where employees share their lives, help each other through good and bad times, and form strong bonds. Playwright Dominique Morisseau highlights this dynamic in her "Skeleton Crew," now playing at The Old Globe Theatre in Balboa Park.
Faye (Tonye Patano) is one of those workers whose daily routine at a Detroit auto factory rarely changes. She enters the breakroom and proceeds to turn on the lights, put her things in her locker, and get the coffee ready. With signs all over the room reading "No Smoking-Faye," she ignores the loud noise coming from the factory and lights her cigarette.
Co-worker Dez's (Amari Cheatom) chirpy entrance doesn't change Faye's inert expression. He complains about the absence of heat in the room and mentions that she is not supposed to be smoking. Faye lashes back with several comments and a heart-broken rant about her status, insisting he should not bother her.
A lively and obviously pregnant young Shanita (Rachel Nicks) arrives and goes through her morning routine. When she discovers someone has used her salad dressing, she reveals a discontented attitude; here's yet another day of annoyances. The employees slowly come awake through conversations about what's happening on the auto lines, a possible strike, and everything that's wrong with their jobs.
Foreman Reggie (Brian Marable) makes his entrance with a heater. His demeanor suggests a light in the darkness. He puts his things away, comments about the smoke in the room, and answers questions from the crew now arguing over who gets overtime.
Barely making it, maybe sleeping in a cold car or afraid the plant will shut down, their retorts are worn on their sleeves. Dez is hot and cold with his opinions. He's kind of a what-can-we-do-about-it? guy and looks for the good things. He likes being a flirtatious with Shanita, but she barks back at him every time, telling him to get real.
When Reggie finally reveals that Human Resources will soon be sending out a notice that the plant will be shutting down, the crew asks questions Reggie doesn't want to answer.
Playwright Morisseau, born and raised in the Motor City, has an excellent cast carrying out this look at real life. The dialogue paints a vivid picture of what these workers are facing and feeling.
Patano (Globe's "The Last Goodbye," Craig Noel Award winner for La Jolla Playhouse's "Ruined," Heylia on "Weeds") plays the role of Faye as a toughie, but with time it's clear her bleak outlook might be more of a warning for her crew. At one point she says to Dez, "You can pretend you and me ain't affected by the same things, except we both got battle scars. May work for you in the short-term, but in the long term, it kills."
Cheatom's ("On the Levee," Dutch Masters, "Django Unchained") Dez is a man caught between worry and hope. He appears happy, likes to trifle with his co-workers as if all is good, but he seems to be hiding the same angst about his future as well.
Marable ("Detroit '67," "The Mountaintop," "The Citizen") perfectly portrays Reggie, a good foreman who cares for his crew and wants them not to be worried, but behind that — all is well attitude — he knows their job is short-lived. Nicks ("The Good Negro," "War," "And I and Silence") is a bright light as Shanita. Her life is far from perfect, but she faces every day with a it-is-what-it-is outlook.
Delicia Turner Sonnenberg's directing talent (and her role as founding Artistic Director of MOXIE Theatre), pays off in her very well done Old Globe debut. "Skeleton Crew" is an excellent reminder of what was and what may always be right around the corner.
IF YOU GO: 'Skeleton Crew' plays through May 7 in Sheryl and Harvey White Theatre at The Old Globe complex, 1363 Old Globe Way in Balboa Park. Tickets from $29. (619) 23-GLOBE. theoldglobe.org
---
Get the La Jolla Light weekly in your inbox
News, features and sports about La Jolla, every Thursday for free
You may occasionally receive promotional content from the La Jolla Light.