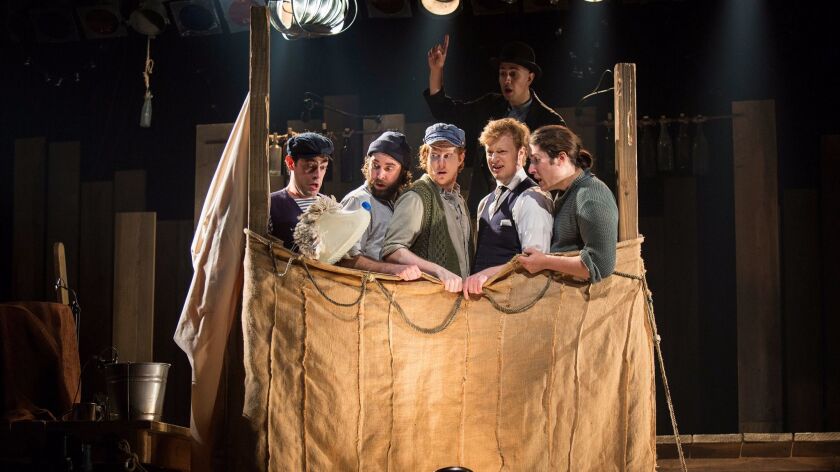 The seven actors of PigPen Theatre Co. are taking audiences on a marvelous, mythical sea-faring journey at The Old Globe. After the trip, you learn how vital it is to everyone on the planet that the moon be refilled with the liquid light seeping out of the hole in its bottom, and how important it is to keep the promises you make to loved ones. There's a few more luscious life lessons that surface along the way, but those you have to discover for yourself — no one gets off easy here!
Combining vigorous physical comedy, stunning shadow puppetry, toe-tapping tunes and special effects in such a creative way you can't stop smiling, the talented troupe (which formed out of Carnegie Mellon University School of Drama in 2007) tells quite an epic tale in "The Old Man and The Old Moon," straight through 90 minutes with no intermission.
They're aided in their quest by a clever design team Lydia Fine (scenic, costumes and puppets), Bart Cortright (lighting), Mikhail Fiksel (sound) and stage manager Libby Unsworth.
In true ensemble, the cast assumes various personas and stage duties to play out the fable of The Old Man charged with keeping the full moon, and who justifies this dutiful, predictable life until an abrupt change forces him on the adventure of a lifetime.
But wait! There's more! It's a musical and the ensemble moves the action along with lively tunes performed on banjo, drum, mandolin, accordion and fiddle — these multi-talented artists got it all going on! At key junctures, they "become" a ship and drop their instruments for sea battles and sword fights. By way of Celtic and Greek lore, it's all great drama and in the end, all the wild and wacky people and places come together for a surprise ending.
The show is appropriate for all ages and highly recommended.
Here's a standing ovation and thunderous applause to director Stuart Carden and PigPen Theatre Co.'s: Alex Falberg (The Old Woman and others) Ben Ferguson (Callahan and others), Curtis Gillen (Llewelyn and others), Ryan Melia (The Old Man) Matt Nuernberger (Matheson and others), Arya Shahi (Cookie and others) and Dan Weschler (Mabelu and others).
IF YOU GO: The West Coast premiere of "The Old Man and The Old Moon" runs through June 18 on the Shiley Stage at The Old Globe, 1363 Old Globe Way in Balboa Park, San Diego. Tickets from $29 at (619) 234-5623 or theoldglobe.org. (Free post-show forums with cast and crew, May 30 and June 7.)
---