High-powered re-visioning of Shakespeare's 'Richard III' premieres at La Jolla Playhouse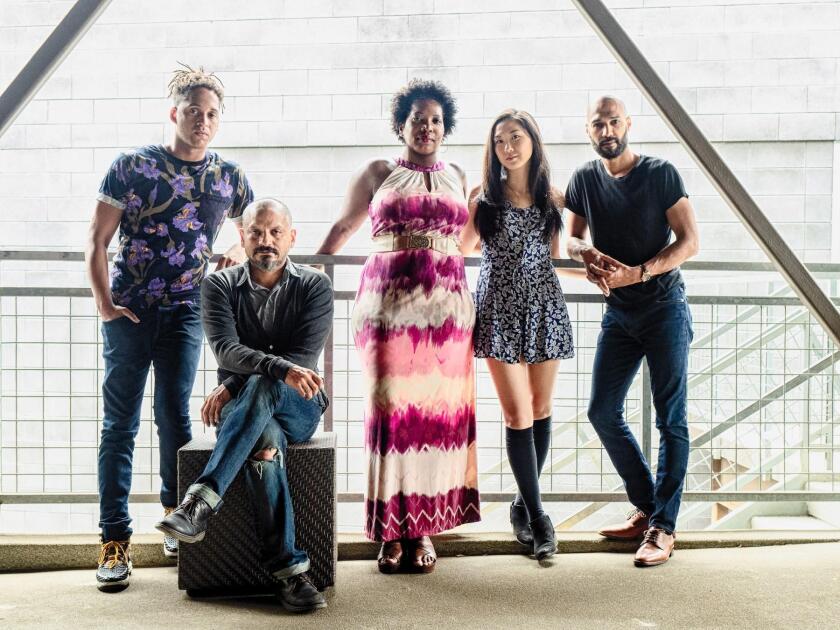 La Jolla Playhouse (LJP) has long been home to world premieres, having presented 97 of them to date. On Aug. 21, came No. 98: "Seize the King," a contemporary re-visioning of Shakespeare's "Richard III" by internationally renowned playwright Will Power, whose name alone commands attention. (It's the rap name he's been using since the 1980s, and he's best known as one of the pioneers of hip-hop theater.)
Playhouse artistic director Christopher Ashley calls Will Power "a force of nature." He's not only a playwright, but also a performer, composer and educator whose hip-hop version of Aeschylus' "Seven Against Thebes" ("The Seven") lit up the stage at LJP in 2008.
He's taken Shakespeare's play as a jumping-off point, included the results of his many hours of Richard III research, put in some additional characters, and pared the whole thing down to a swift-moving 95 minutes, with five actors playing multiple roles.
LJP's associate artistic director Jaime Castañeda is staging the show in the round at the Potiker Theatre, where he last did "Guards at the Taj" and "Tiger Style" in 2016. In a recent interview, he talked about "Seize the King" and its "Will Powered-language."
"Will's a wordsmith, he loves the way words sound and are inflected in different ways to create new meanings," Castañeda said. "He's using and making up words the same way as Shakespeare did. The writing is super, super unique. He incorporates language from hundreds of years ago and colloquial American speech and gives it his own hip-hop flavor. It's a mix of blank and rhymed verse, full of metaphor, and it's a cousin of rap, the language of our generation."
Castañeda had his first look at the play a year ago. "Will sent me an early draft, and as soon as I read it, we programmed it for the Playhouse," he said. "This is a work that's urgent to the moment we're in now. It's keeping all the things that made Shakespeare's play so tasty and taking on big questions that relate to the state of our country and our world today."
The play has been changing in rehearsal, with the playwright there the whole time, doing rewrites.
"We're having a great time," Castañeda said. "It's a very physical production that's incorporating music. I heard rhythm when I read the play, so bringing in a drummer was an early idea.
"Cracking the language open onstage is a challenge; it's a vernacular that exists in Will Power's head and we're trying to unlock it. But it's exciting to be creating the first production of this, and we're hoping it will go on from here."
"Seize the King" sounds like a heady blend of Wills — Shakespeare and Power — shaping up into a kind of new theater we don't often get to see. Catch the show now, before it moves on, so you can say you saw it first at LJP.
• IF YOU GO: "Seize the King" runs through Sept. 16, 2018 at La Jolla Playhouse, Potiker Theatre, on the UCSD campus. Tickets from $20: lajollaplayhouse.org (858) 550-1010.
Pre-show food trucks, Fridays Aug. 24, 31 and Sept. 7, 14. Pre-show live music Saturdays: Aug. 25 and Sept. 1, 8, 15. Talkback Tuesdays: Aug. 28 and Sept. 4, following 7:30 p.m. performances.
---
Get the La Jolla Light weekly in your inbox
News, features and sports about La Jolla, every Thursday.
You may occasionally receive promotional content from the La Jolla Light.