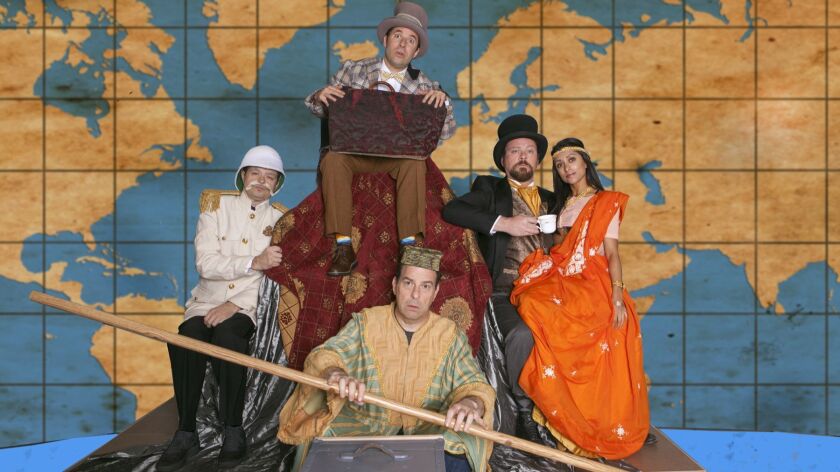 The idea of going "Around The World In 80 Days" has intrigued audiences since the 1956 film starring David Niven and Shirley MacLaine. In film, book and the theater, it's a story full of laughs for everyone.
In the North Coast Repertory Theatre (NCRT) production, opening Jan. 13, Omri Schein joins four other actors (Will Vought, Loren Lester, Lovlee Carroll and Richard Baird as Phileas Fogg) who play 42 different characters.
"I play two, and one is Passepartout," Schein explains. "He's an iconic character, quirky and fun. I really enjoy comedies, although I find it harder to play funny roles then non-comic roles. Funny parts seem to take more energy and stamina than serious roles.
"This play is an original adaptation by Mark Brown and it's been done in numerous places around the country, as well as off Broadway. This is the first time in San Diego. It's similar to '39 steps,' where five people play everything and move trunks and chairs around constantly to shift the different locales and scenes."
The very funny Schein can boast an amazing theatrical resume that includes "The Explorer's Club" with Lambs Players; his and Phil Johnson's premiere comedy "Withering Heights" with The Roustabouts Theatre Co.; "Laughter On The 23rd Floor," "The Underpants," "Five Course Love," "Grease," "A Funny Thing … Forum" with North Coast Rep; and Disney's "Beauty & The Beast," among many others.
Director Allison Bibicoff has staged the show twice elsewhere, but never with the NCRT cast. Schein says he knows why it continues to be so popular.
"There are several reasons," he offers. "The fascination with international travel, the switching of different locales, the quirkiness, and the fact that it's timeless. Obviously it's a familiar title and a very entertaining adventure that constantly changes with different people, different accents, different countries, elephants, runaway trains, and the appeal of intrigue, comedy, and even a little magic. Everything changes every few minutes because the players move from place to place, and go from ships to train to elephants to train again, and somewhere else again. It's really amazing how much four chairs and a trunk can do!"
IF YOU GO: "Around The World In 80 Days" takes the North Coast Repertory Theatre stage, Jan. 13 through Feb. 4, at 987 Lomas Santa Fe Drive, Solana Beach. Tickets from $46. (858) 481-1055. northcoastrep.org
---