Heartland tunes warm 'Spitfire Grill' at North Coast Rep Theatre through June 25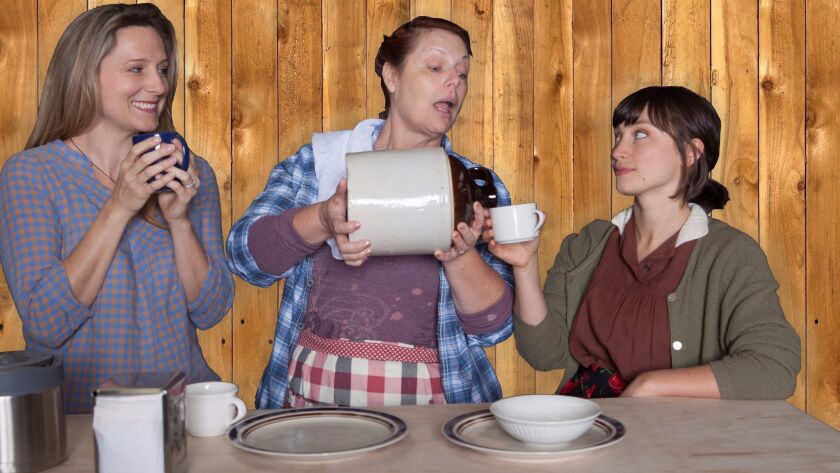 "The Spitfire Grill," a down-home musical now in previews at North Coast Repertory Theatre, opened off-Broadway in 2001, and has been produced worldwide ever since. Called "soul-satisfying," by The New York Times, it's about a young woman just released from prison who hopes to make a new life for herself in a small town far away from her sad, Southern roots. She manages to find a job as a waitress in a café called — you guessed it — The Spitfire Grill, and a room in the home of its crusty-but-kind-hearted owner. Step by step, she starts out on her rocky road to redemption.
The musical was based on a 1996 film featuring Ellen Burstyn as the café owner, Marcia Gay Harden as a downtrodden young wife and mother, and the less-famous Alison Elliott as the unlucky but plucky ex-con. It won the Audience Award at the Sundance Film Festival, and several years later, caught the attention of James Valcq and Fred Alley, two writers who were old high school music camp pals. They had just done a show at the American Folklore Theatre in Wisconsin, where lyricist/librettist Alley was co-founder and artist-in-residence, and thought they could turn the film into a great, rootsy musical play.
The show they came up with, replete with catchy, country-style tunes by New York-based composer/musician/former boy soprano Valcq, changed the locale from Maine to Wisconsin, combined two male characters into one, and gave the script a more upbeat ending. After a New Jersey production in 2000, where they were mentored by renowned playwright/director Arthur Laurents, New York's Playwrights Horizons chose it to kick off their 2001 season. Then, a week before the pre-show workshop, Alley died of a heart attack during a run near his Wisconsin home. He was only 38, and his untimely ending sounds sadly reminiscent of Jonathan Larson, creator of the mega-hit musical "Rent," who died of a heart attack at 35 the night before his off-Broadway opening.
But, as with "Rent," "The Spitfire Grill" goes on. At NCRT, it's helmed by Jeffrey Moss, an award-winning director whose credits include developing new musicals and staging tours of Broadway hit shows. In 2014, he came to NCRT to direct "Rothschild & Sons," which went on to New York and is now headed for London. Last year, Artistic Director David Ellenstein invited him back and gave him a copy of "The Spitfire Grill" to consider.
"I'd heard of the show, but never seen it," Moss said. "It was a new discovery for me, a kind of hidden treasure. I'm all about putting humanity on the stage, and this one does it in a very lyrical and sweet way." Moss compares "Spitfire" to classic musicals by Rodgers and Hammerstein.
"There are tunes, real tunes, and the songs are compelling," he said. "They tell the story, expose the hearts of the characters, and reach out and connect with the audience. I don't call this a play with music, I call it a folk opera; it has strong, big emotions that are captured in the songs, and there's a sense of humor too. And NCRT is such an intimate theater, a good match for the show."
The cast is terrific, Moss added, and even in rehearsal, the play is moving. There's live music, too, by a trio of local musicians, playing guitar, mandolin, violin and cello.
As one of the songs goes: "Something's cooking at the Spitfire Grill." See for yourself, through June 25, at NCRT.
IF YOU GO: "The Spitfire Grill" is on stage May 31-June 25 at North Coast Repertory Theatre, 987 Lomas Santa Fe Drive in Solana Beach. Tickets: $42-$53. (858) 481-1055. northcoastrep.org
---
Get the La Jolla Light weekly in your inbox
News, features and sports about La Jolla, every Thursday for free
You may occasionally receive promotional content from the La Jolla Light.