'The Old Man and The Old Moon' has West Coast premiere at The Old Globe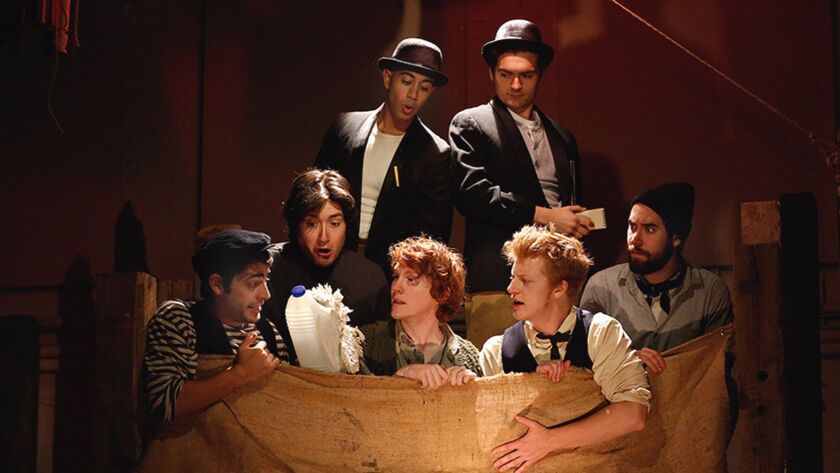 Like to laugh and leave the theater in a delightful mood? Then, you won't want to miss PigPen Theatre Co.'s "The Old Man and The Old Moon," already attaining great reviews at The Old Globe Theatre.
It's sort of a fable, myth, or as the Broadway World dubbed it, "a glorious fusion of music and theatrics."
Arya Shahi, who received a B.F.A. in Acting from Carnegie Mellon University was part of the actors and writers who co-created every iteration and appeared in every production of PigPen's "The Hunter and The Bear," "The Old Man and The Old Moon," "The Mountain Song" and "The Nightmare Story."
He said PigPen Theatre Co. liked working with The Globe on this play.
"It's very exciting to be in California and introduce a brand-new community to this show that we've been doing for five years," Shahi said. "PigPen has been the same seven guys for 10 years now. We were freshman in an acting program at Carnegie Mellon University when we met in 2007.
"We began writing short stories and fairytales together, and also music to accompany them. It was mostly just for our friends and teachers, but then we took our show on the road and went to the New York Fringe Festival where we earned some awards. That kicked off our career in professional theater.
"This production, in the style of an odyssey, is inspired by a lot of Celtic folklore, and also from Ryan Melia who plays the old man. He came to us when we were in college and told us a little story he made up when he was a camp counselor and had in mind for us. It was about a giant who filled the moon every night with light.
"It really made us think about that scenario. Over the next year, we chipped away at that idea and wrote a story around a giant who became a very small old man who had to climb a ladder. In essence, for us it became about why the moon has it cycles. When his wife suddenly disappears, the old man has a very hard decision to make."
Shahi plays five or six different characters as does most of the cast. They like creating stories where the actors can play different characters and surprise the audience over how different they can be. In writing the folk music performed throughout the show, they discovered its power and what it can do to an audience.
As a writer, performer or any kind of artist, Shahi said he will never get over the fact that he and his comrades are making things up that people are responding to emotionally.
"Just to have someone change a point of view from a story you created, which now is thousands of people, it's hard to process that. A lot of our work is inspired by the Disney cartoons we grew up with. We have a central protagonist who meets characters, and we get to play them all. We just do our work and hope people get something out of it."
IF YOU GO: "The Old Man and The Old Moon," plays May 13 through June 18 on the Shiley Stage at The Old Globe Theatre, 1363 Old Globe Way in Balboa Park, San Diego. Tickets from $29. (619) 234-5623. theoldglobe.org
---
Get the La Jolla Light weekly in your inbox
News, features and sports about La Jolla, every Thursday for free
You may occasionally receive promotional content from the La Jolla Light.