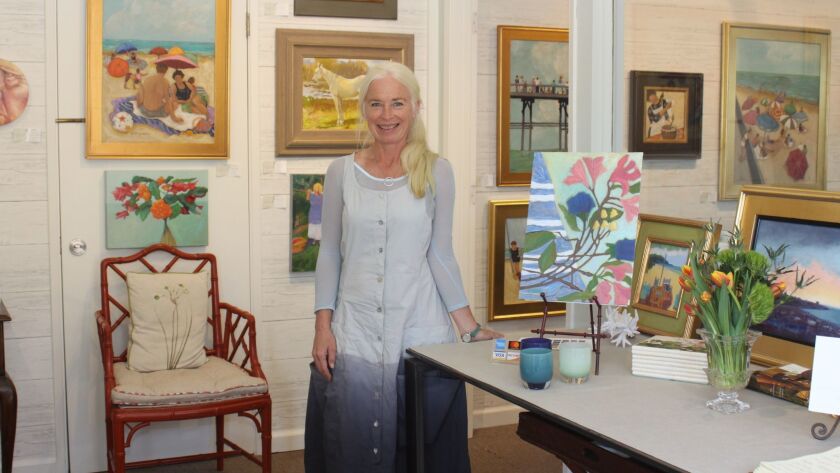 A trio of art galleries is making its way to Prospect Street — within half a mile of one another. Within the last six months, Little Bench Art Center (1298 Prospect St.) and Art Me San Diego (862 Prospect St., Suite A) have opened to call La Jolla home. And in the coming months, Modernist Cuisine Gallery (1241 Prospect St.) will join the lineup.
Little Bench Art Center
Part gallery space, part working studio, Little Bench Art Center opened in October under the watchful eye of Nancy Linke Patton. "Original art is such a wonderful experience," she philosophized. "To have original work that has been contemplated and thought out, is something special."
Working in the back, sunlit space of the gallery, Patton creates art and hosts a rotating selection of artists.
Exhibits slated for 2019 include "Share the Love 1+1," through which established artists will submit work and select an emerging artist to show with them; and another with date to be determined, in which participating artists will show three paintings.
Patton, who lives in the area, said having a gallery space was never part of her plans, but when the space become available, she was inspired.
"I was walking with my mother, who was visiting from Utah, and the former owner was here and we struck up a conversation. She said she was moving to Marin County and giving up her lease, and I didn't think anything of it," she said. "As we were leaving, my mother excitedly recommended I take over the space and open a gallery. It wasn't on my radar, but, admittedly, I was looking for something to do."
After she turned 50, Patton said, and having worked at institutions such as Qualcomm since she was 16, she wanted to take a break from the 9-to-5 routine and dedicate time to her art — having a space for it — seemed to fit.
Although she said she doesn't like "being confined to one description" and finds labels "hard to understand," she describes her art as simply "beautiful, interesting and stimulating."
Patton said she's inspired by the instructors she worked with, such as Peggi Kroll Roberts, known for capturing light and value; and Jeffrey Pollack, who taught old techniques of drawing what you're going to paint, covering it with a dark color and then, layer by layer, lightening it with white and then layering it again with color.
"One piece took me three months!" she said, as she walked through her small space, providing the story behind every piece on her walls.
"Art is work," Patton opined. "It is hard work. People think you just pick up a brush and something beautiful happens, and for some people it does. But it's still work." — (858) 712-0052.
Art Me San Diego
Opened in June, this creative art space hosts classes for adults and children, as well as exhibits by artists on a rotating basis. Through December, owner Sarah Jacob is presenting work by photographer Melissa Montoya and psychedelic painter Carolina Arrieta.
While Jacob often teaches painting classes for all ages, she is trained in multiple media, and is inspired by children. She previously told La Jolla Light: "Kids look at things and they're not tainted nor jaded by what something's supposed to be like or how it's supposed to look. They can paint a flying hippopotamus if they want, and I love that.
I love that passion, I love that creativity, and I love that freedom. I embrace it. There's no wrong way to art in my eyes." —artmesandiego.com
Modernist Cuisine Gallery
Nathan Myhrvold, the photographer and co-author of the biblical Modernist Cuisine cookbooks, brings his new perspective on food photography to a new La Jolla gallery, set to open in early 2019. He and his team cut equipment in half, shoot food close-up, and work with software not typically used in food photography to take the images from cookbook to gallery.
"When I decided about a decade ago to create Modernist Cuisine: The Art and Science of Cooking, I saw an exciting opportunity to do something new in food photography — to portray food in unexpected ways that simultaneously draws readers in, and to illustrate the science at work in one's kitchen. Modernist Cuisine broke many of the rules for cookbooks, including how they should be illustrated. My goal is to connect with people who see food as I do — as something that inspires passion and curiosity," the artist told La Jolla Light, via email.
A regular visitor to La Jolla, Myhrvold said The Village would be the "perfect" location for its fourth gallery (others are in New Orleans, Las Vegas and Seattle).
"With its exceptional food, strong art scene, and beautiful views, it's no wonder so many people, including myself, regularly visit," he said. "I am excited to open the gallery in a community with an unmatched lifestyle and appreciation for art. When I found gallery space in La Jolla — where you can easily have an exceptional meal and look at great art without walking more than a block — I knew it would be the perfect location."
Of what he hopes viewers will take away from a visit to his gallery, Myhrvold concluded: "The foods we grew up with are part of our cultural identity. People from different parts of the world will identify with certain images in the gallery, based on the foods they ate as a child. While some people will want the familiar, others will gravitate toward the exotic. I'm always on the hunt for charismatic foods from all corners of the world. It could be the case that these photographs will expose some gallery visitors to ingredients they've never seen before, which is also very exciting." — modernistcuisine.com
---