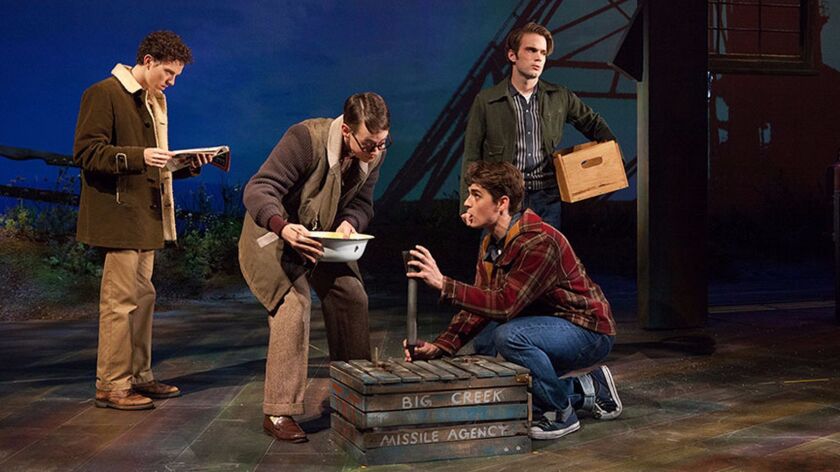 A 1950s mining town comes to the stage in The Old Globe Theatre's West Coast premiere of the musical "October Sky," inspired by the 1999 Universal Pictures film based on a true story. Rachel Rockwell, director and choreographer, worked with composer/lyricist Michael Mahler to create this absorbing family drama.
The show opens with the entrance of coal miners spouting the dangers they face and then breaking into a somber song about life as a miner. Homer Hickam (Kyle Selig), enters next to bring his dad the lunchbox he left behind. John Hickam (Ron Bohmer) turns his back on his son and storms off deeper into the mine.
Homer joins some of his pals and they tussle and talk about what a terrible life they have to look forward to working in the mine. At school, Homer is so uninspired, he ignores Dorothy (Eliza Palasz), a girl who has a crush on him. Teacher Miss Riley (Sandra DeNise) is anxious to let the class know the Soviet Union has launched the first man-made satellite in space, "Sputnik." She has them listen to the radio announcement to the elation of Homer and classmate Quentin (Connor Russell), who is beyond most in his science studies.
That evening, the townspeople show up to watch Sputnik fly over the Earth. When it appears, emotions and comments are diverse. The young people are excited, while the adults see the Russian satellite as a threat.
The rocket inspires Homer, who has ambitions of a career in flight. Looking to the sky, he proclaims that one day, his ideas will be the way out of working in the mine. Selig carries off this scene with exuberant passion, and is rewarded by rousing applause from the audience.
If good intentions could only be the answer to everything! Homer's father, however, is always showing his pride in Homer's brother, who is a great football player. But even after Homer, along with Quentin, O'Dell (Austyn Myers) and Roy Lee (Patrick Rooney) build and blast off a rocket and continue to discharge several more – bigger each time — life is miserable for Homer. His mother Elsie (Kerry O'Malley) is ever kind and encouraging, hopefully, to overcome the harsh way he's treated by his father.
Homer's only hope of redemption is to take his rocket to the science fair where the winner will get a scholarship. But even that disappears when the mine blows up and Homer is forced to abandon his dreams.
Each member of the huge cast is top-notch in acting and singing skill. Between the mine workers, the teacher and principal, parents, friends, and all the behind-the-scenes professionals, this is one of the best shows I've seen by The Old Globe. It feels like the audience is sitting on a fence in this town as a part of the community, experiencing every happy or not-so-happy moment. Here's to looking at the stars!
IF YOU GO: "October Sky" plays through Oct. 23, on the Shiley Stage at The Old Globe Theatre, 1363 Old Globe Way in Balboa Park, San Diego. Tickets from $37. (619) 234-5623. theoldglobe.org
---