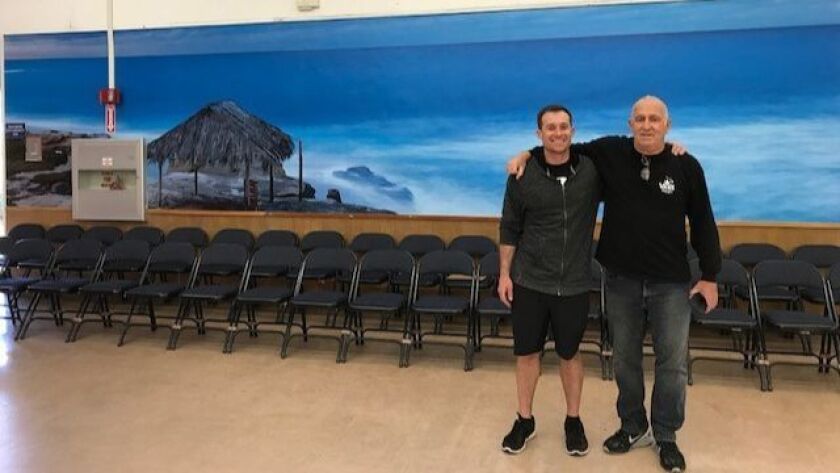 Local artists partnered with the Muirlands Beautification Campaign over the last few months to bring some community pride to the middle school's auditorium (and breezeway walls) at 1056 Nautilus St.
First, local photographer Michael Sangiolo donated four photographic murals of La Jolla scenic points and worked with Wow My Walls' owner Derek Greco to produce and install one-of-a-kind pieces that span almost the entire length of the auditorium. Additionally, North Park-based artist Erin Bowman painted a vibrant work along the exterior walls near the library.
"The Beautification Campaign began last year in an effort to enhance the school's appearance and overall school spirit," said parent volunteer Sharon Miller. "The decision to include numerous art installations was intended to, not only bring new vitality and energy to the campus, but also to make artwork accessible to a young audience. The desire was to create an 'outdoor gallery' that gave students a sense of pride in their surroundings, as well vital exposure to a variety of art-forms. Not only are the aesthetics of the space magically transformed, but the images serve as a reminder to all who enter, of the beauty of the community in which they live."
To garner the best selection of art, the committee reached out to artists via school newsletters, studios, places of worship and families. The latter struck a lucky chord: leading to artist Sangolio.
"We're raising our grandson and when he started going to Muirlands, we gave the school some photographs for the office. When staff reached out because they wanted to do a mural in the auditorium, we said 'absolutely,' " he said. "We're all about giving to the community."
A professional photographer since the 1960s, Sangolio focuses on local images. For the Muirlands mural project, he offered a selection, and the beautification committee chose four: one of Scripps Pier, one of Children's Pool, one of WindanSea and one overlooking the ocean at Bird Rock. Sangolio sells his images at the La Jolla Open Aire Farmers Market every Sunday.
"We tried to make the project a geographical thing … to represent all parts of La Jolla ... all the groups that make up Muirlands school," he explained. "Having this type of art in your school raises the bar on the pride students have in their community. That school has such a 'wow' factor from all the recent improvements, and there aren't that many schools with this quality of art."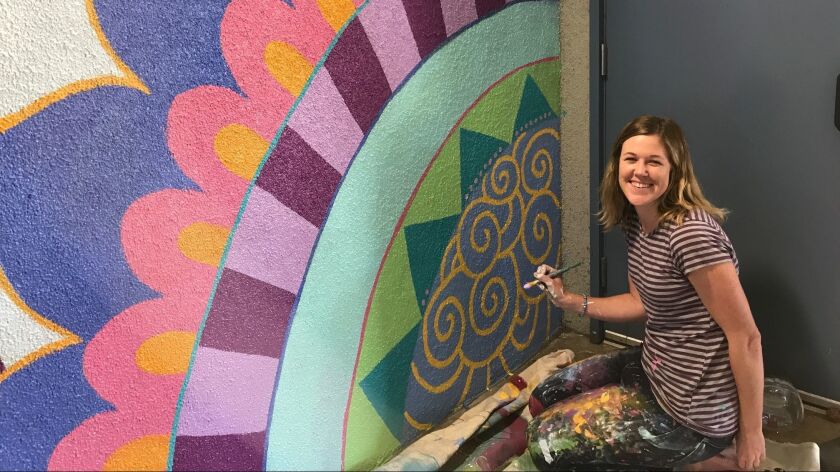 Miller added: "Art appreciation is critical to developing young minds. It helps students to think critically, be inspired and feel emotion, so where better to learn to appreciate art than at their own school? We hope to continue these efforts and bring new installations to the campus on a regular basis."
Other beautification efforts, Miller said, include new building paint, signage, landscaping, and lunch arbor tables and umbrellas. These upgrades were funded by contributions to the Muirlands Foundation. Those interested in making a donation may visit muirlandsfoundation.org
---