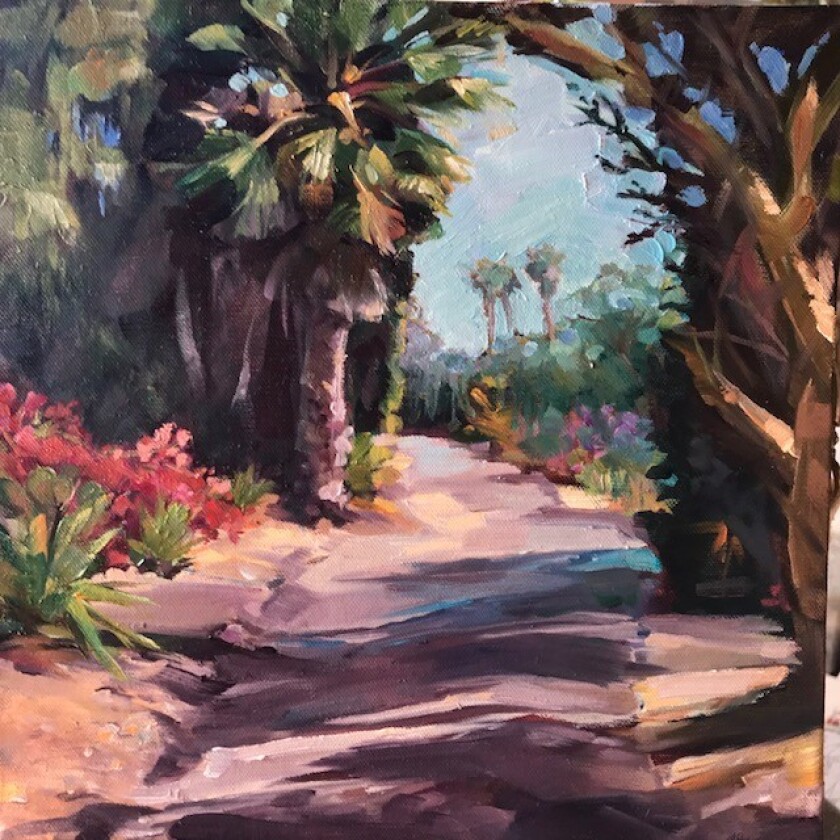 Although La Jolla has some of the most iconic and picturesque views, the latest La Jolla Library art exhibit looks to expose some of the more secretive sights around town. Think a view of the Caves at La Jolla Cove — from the inside looking out rather than the outside looking in.
"Hidden La Jolla" opens with a reception 2 p.m. Sunday, July 8 at 7555 Draper Ave. It will remain on view until Sept. 28.
Curator and local artist Cherry Sweig said the intent of the show is to provide "a whole new view of La Jolla that people may not know, even if they are local. People can come here and find 17 artists and their visions of La Jolla from a different point of view: looking up, looking out, etc. I hope they see something new that is actually old. Or a different take on the usual. The beach scenes could be of beaches they haven't seen before or from a new perspective."
Participating artists include: Joli Beal, Hillary Gwynn Brady, Leah Higgins, Sally Irwin, Ken Goldman, Stephanie Goldman, Cindy Klong, Patricia Jasper Clark, Dot Renshaw, Rita Pacheco, Salli Sachse, Paul Strahm, Sweig, Richard Warner, Toni Williams, Steve Wilson and Jeff Yeomans. These are all San Diego artists, working with oils.
"These artists took their challenge (of finding hidden gems in La Jolla) and really ran with it," Sweig said. "It's a whole new concept, because we didn't want the standard paintings of The Cove. We wanted these artists to think outside the La Jolla box, because there is so much out there that most people don't see."
All the works are originals and of varying size and detail. Some feature broad strokes and large graphic images, others are refined, with each stroke intentionally placed.
Subjects include the famed secret swings near UC San Diego, the Fay Avenue Bike Path, an interpretation of a brain image from the Salk Institute, the "Rabbit Hole" (whose location Sweig admits she doesn't even know), and more.
"These things say 'La Jolla' but are things you wouldn't normally see," Sweig said.
For his submission, artist Strahm painted an image of a man named Bob, sitting on a bench outside Adelaide's flower shop.
"Bob to me, embodies the theme 'Hidden La Jolla,' " he told La Jolla Light. "Bob is an elderly man who lived in La Jolla for many years, and he represents the people who live here and quietly walk around that have had these fantastic lives. We walk around all day, and we don't know the stories of those around us."
Bob, Strahm said, maintains the bench in front of the flower shop in memory of his wife and children, who passed away. "He maintains it and gets joy out it. He also gets joy out of seeing people sit there."
To learn more about the works from all the artists, including the location of these hidden subjects, a book with artist statements will be in the back of the room during the run of the exhibit.
Some of the featured artists are La Jolla locals, and will bring their experiences to the show. Sweig is a La Jolla native, who attended The Bishop's School. "I was always painting," she recalled. "I studied it in college and I've painted professionally for 20 years. It's very dear to my heart. I have to paint and I don't know why. It's just what I do."
IF YOU GO: "Hidden La Jolla" is on view July 8 to Sept. 28 in the community room of La Jolla Library, 7555 Draper Ave. See it during library hours, 12:30-5 p.m. Sunday; 9:30 a.m. to 6 p.m. Monday, Thursday, Friday; 11:30 a.m. to 8 p.m. Tuesday and Wednesday. Free. (858) 552-1657. lajollalibrary.org
---