'San Diego: The Architecture of Four Ecologies' Historical Society exhibit looks to drive home car-use
Through the windshield that is Reyner Banham's book, "Los Angeles: The Architecture of Four Ecologies," the latest La Jolla Historical Society exhibit looks to re-examine something most of us do on automatic. "San Diego: The Architecture of Four Ecologies" explores our town's four independent terrains — beaches, freeways, sub/urban and the border — and how they are connected through cars.
Opening Sept. 22 at the La Jolla Historical Society Wisteria Cottage Gallery, 780 Prospect St., the exhibit runs through Jan. 20, 2019.
To curator Rebecca Webb, who has had a hand in UC San Diego's Art Power! film selections and the San Diego Wonder Spaces exhibit downtown, the presentation is both a critique and a tribute to Southern Californians' use of cars. The concept is based on British architectural historian Banham's work and intended to intersect with the work of Webb's father, architect Michael Webb, as well as other artists.
"In Banham's book … he viewed Los Angeles through his car. He was an outsider who fell in love with LA, noting its architecture and various environments," Webb said. "We all have a love affair with Southern California cities through our cars. Being from the East Coast, I still feel like an outsider because I never had to drive before and now I have to drive everywhere. I explored Banham's book, my father's work and my own experiences in my car for this exhibit and it's about access, the environmental impacts (of car use) and where we're going with our cars, speculatively."
Reflecting on Banham's holistic approach to the concept, La Jolla Historical Society executive director Heath Fox added: "Architectural historians have traditionally looked at (things one by one) — this architect designed this building, that architect designed that building. Banham was more interested in the macro look at the big buildings by the big architects, but he also appreciated the hot-dog stands, roadway systems and neighborhood grids, infrastructure support and all those things that make up the modern urban environment. For this exhibit, Rebecca did a great job selecting works of art that respond in some way to one of the four ecologies of San Diego."
Further, Webb's father's "contextual architecture" pieces also looked at the integration of cars and the home, and three of his drawings are included in the show.
"Ultimately, the whole exhibit is a localized homage to my father. He's been practicing architecture since the 1960s and I revere him. His main body of work really explored the intersection of cars, landscapes and architecture. He looked at how we drive and come home ... some of us park the car in the (garage) and then the car becomes park of the house," Webb said.
For the San Diego exhibit, the car and freeways as they connect the border, the beaches and the urban/suburban communities, will be interpreted in various media by Doug Aitken, Abe King, Cy Kukenbacker, Robert Minervini, Margaret Noble, Jens Ochlich, Rene Peralta, Hector Perez, Iana Quesnell, Philipp Scholz Rittermann, Dustin Shuler, Paul Turounet, UCSD Design Lab/Colleen Emmenegger, Gareth Walsh and Michael Webb. Artist Kent Yoshimura, writer Bruna Mori, SDSU professor Larry Herzog and SDSU professor Bruce Appleyard each contributed essays on one ecology, and Jennifer Luce FAIA contributed the catalog essay.
Notable pieces include a sculpture of cars arranged so (Webb says) they look like they're dancing, a floor-to-ceiling drawing of aerial-view floor plans that a UCSD grad student created after years of actually living in her car, photos from the border, architectural drawings, an interactive piece that depicts the impact cars have on different environments, and more. The exhibit is separated by the ecologies on which the pieces are based, with spaces dedicated to all four.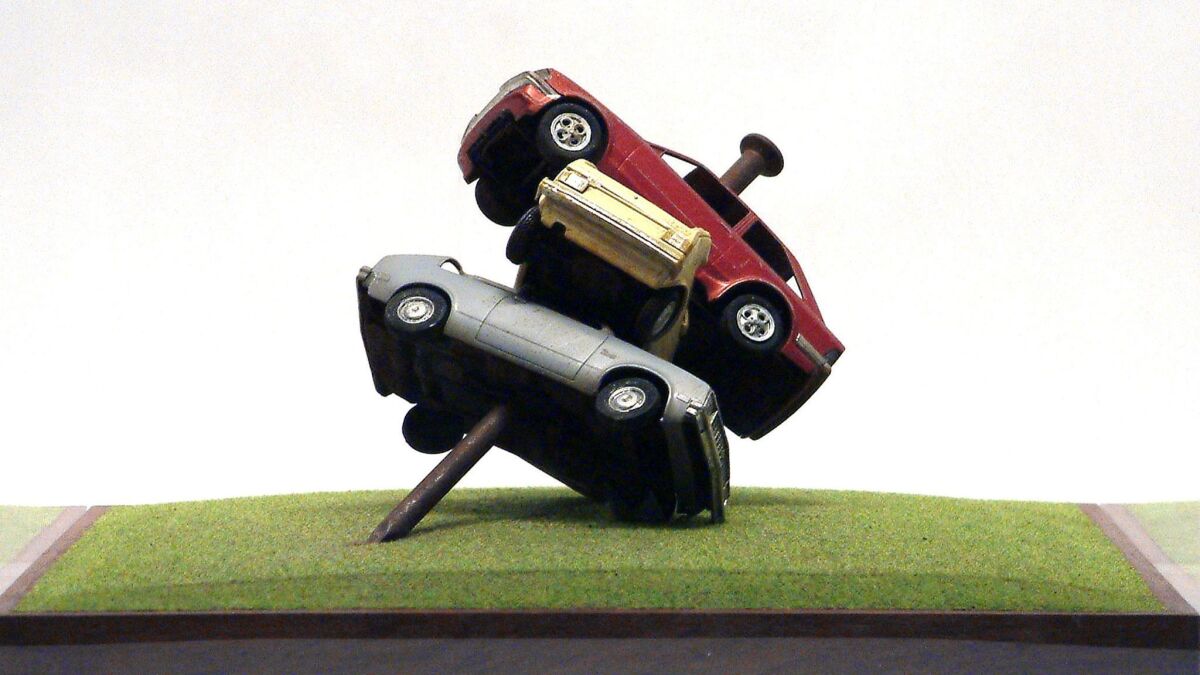 But one piece both Webb and Fox say they are excited about is the video installation.
"The UCSD Design Lab made a suit a person could wear that looks like a car seat. Someone put on the suit, got in the car and drove around so it looked like a self-driving car. They recorded that and looked for how people reacted to it, and we are going to show that video," Fox said. "It suggests that the use of the automobile — self-driving or not, used on a small-group basis — is going to continue to be the transportation of choice for the foreseeable future. What does that mean? What does that tell us about what the future holds?"
Webb added: "There are a lot of layers in this show, but the main one is getting people to think about how they engage with their environment through the car. It's not meant to be a negative thing — there are great personal freedoms to having a car and using them — it's more about not doing something so automatically, but more mindfully."
As a related feature of the exhibit, Michael Webb discuss and sign his book "Two Journeys" (a comprehensive dissertation with more than 200 drawings and essays), 7:30 p.m. Monday, Sept. 24 at Warwick's, 7812 Girard Ave. warwicks.com
IF YOU GO: "San Diego: The Architecture of Four Ecologies" is on view noon to 4 p.m., Wednesdays-Sundays, Sept. 22 to Jan. 20, 2019 at La Jolla Historical Society Wisteria Cottage Gallery, 780 Prospect St. Admission is free. (858) 459-5335. lajollahistory.org
Get the La Jolla Light weekly in your inbox
News, features and sports about La Jolla, every Thursday for free
You may occasionally receive promotional content from the La Jolla Light.