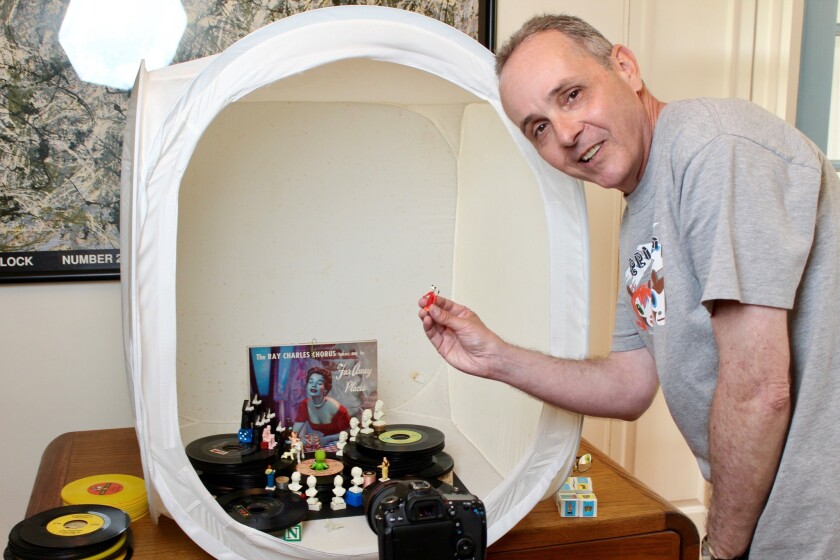 John Purlia gives the Light a tour of his historically designated, $3 million Muirlands Drive house built by architects Herbert Mann and Thomas Shepherd in 1927. He says it was once owned by either U.S. President Ulysses S. Grant's granddaughter or great-granddaughter, "I'm not sure."

Strewn around the home are toy robots, old Lego pieces and finger-puppet nuns. It's a stage set for a mom to enter and yell at her kid to put his things away. But Purlia is 57. He lives alone. He is an artist, and toys are his tools.
"You have these two brains that are wired through this turntable," Purlia explains his latest work, which doesn't have a title yet, "and through the grooves of the record, they're communicating their thoughts."
It's the last of eight multimedia pieces Purlia is creating for an upcoming Pannikin Coffee & Tea installation called Quantum Revolutions of the Telepathic Turntable. Purlia says the idea occurred to him while futzing around with a kewpie doll topped by a brain eraser, realizing how perfectly it fit inside the spindle holes of the old 45 rpm vinyl singles that figured so prominently in his Alpine, California youth. (His favorite was Little Richard's "Rip It Up" on Specialty Records, which he said made him "spin around in a circle really fast" until he got dizzy.)
Like most of the pieces Purlia creates around his house, these "scenes" aren't the art themselves because Purlia's medium is photography. So he'll create an artistic situation on a tabletop, then shoot stills of it. In the past, these would result in prints. But these days, Purlia is all about video, which opens up his art to many more possibilities.

Purlia will run a series of about 40 photos through software, called fotoMagico, that stitches them together into a short film into which pieces of the art materialize one by one, as panning and zooming simulate three-dimensional motion through the scene.

"I try to lead the eye on, as if the viewer is making the decision to delve deeper into the scene to see what might appear next," Purlia explains.
Purlia amassed his nest egg at Qualcomm, where he began as a developer of Eudora email and other programs and retired as a senior director of engineering in 2010. While engaging in this primarily left-brained pursuit, he engaged his right brain by collecting art — especially prints by pop artist Mark Ryden — wind-up toys and other touchstones of cultural ephemera until his office started resembling "Pee Wee's Playhouse."
"Technology's really exciting," Purlia says. "It's like solving puzzles and everything. But everything you do in the arts — whether it's writing, painting, sketching, sculpting — has an eternity to it that technology doesn't. It's done, and it's a statement."
Purlia says being an artist was always on his list of "things to do when I'm not working a thousand hours a week." But he could never decide on what his particular artistic statement would be. Then, a friend asked to Purlia to see some of his wind-up toys. So he brought his point-and-shoot into the office and snapped some photos.
"They were really, really boring," Purlia says, "because just a toy on a desk doesn't say very much. So I got the idea of bringing in some of my cheesy albums to give the figure in the foreground some context. And it kind of just blew up from there, where I realized I could tell more interesting, more detailed stories by using more figures."
For the Pannikin, his fourth show there since 2007, Purlia will show his videos on eight 40" digital screens mounted around the coffee shop — above electronic TV controllers built from the Lego pieces his parents bought him when he was 6.
The multimedia presentations will be accompanied by audio featuring music Purlia composed himself and "vocals" appropriated from hundreds of sources — including 1930s horror movies and 1980's congressional hearings. (He's even pressing it up, with cover art, into a debut double-LP from the fictional Vinyl Nightmare Orchestra.)
Purlia says he wants his art to challenge people — to make them feel "kind of delighted by what they see and maybe a little bit confused by it."

And Purlia says he also likes personally gauging how challenged people get by it. So look behind you when you're at the Pannikin. You might notice that one of the coffee-sippers hiding in their laptops is eavesdropping on your conversation about the art installation.
"That's always pretty fun!" Purlia says.
See Purlia's Quantum Revolutions of the Telepathic Turntable from July 1-30 at the Pannikin Coffee & Tea, 7467 Girard Ave.
---