LATTE ART: Surrealistic mural brewing at Pannikin
For years to come, bloodshot eyes will observe it through the steam escaping from triple-skim wet cappuccinos. A mural is slowly taking shape on the north wall abutting the Pannikin Coffee & Tea patio at 7467 Girard Ave. — a trippy one featuring a crying human eye, winging crows and a cow.
"It's my first mural," says artist Natalie Bessell, who calls it "Common Ground." "The idea is that the eye is watering the plants with tears, irrigating the crops. We are all living from the land and are connected to it."
Influenced by surrealist painters Salvador Dali and Pablo Picasso, Bessell, 26, combines acrylic paint with detailed line drawings exploring the human connection to the natural world. She began painting professionally seven years ago, becoming the Pannikin's resident artist while working as one of its baristas. Currently, Bessell curates the wall art, which rotates every month, and her own paintings go back on the wall for the month of December.
"She's just so multi-talented," says Pannikin owner Amanda Morrow. "She's a brilliant artist and we really appreciate her work. It's very refreshing and youthful, but also very detail-oriented at the same time."
It's a talent that may have been inherited from her father, La Jolla artist and surfboard shaper Tim Bessell — although Natalie prefers not to focus on the connection, saying only that she "never felt like I was in anyone's shadow." (Interestingly, the mural displaces a single piece hanging on the same wall for years that was made by Natalie's father.)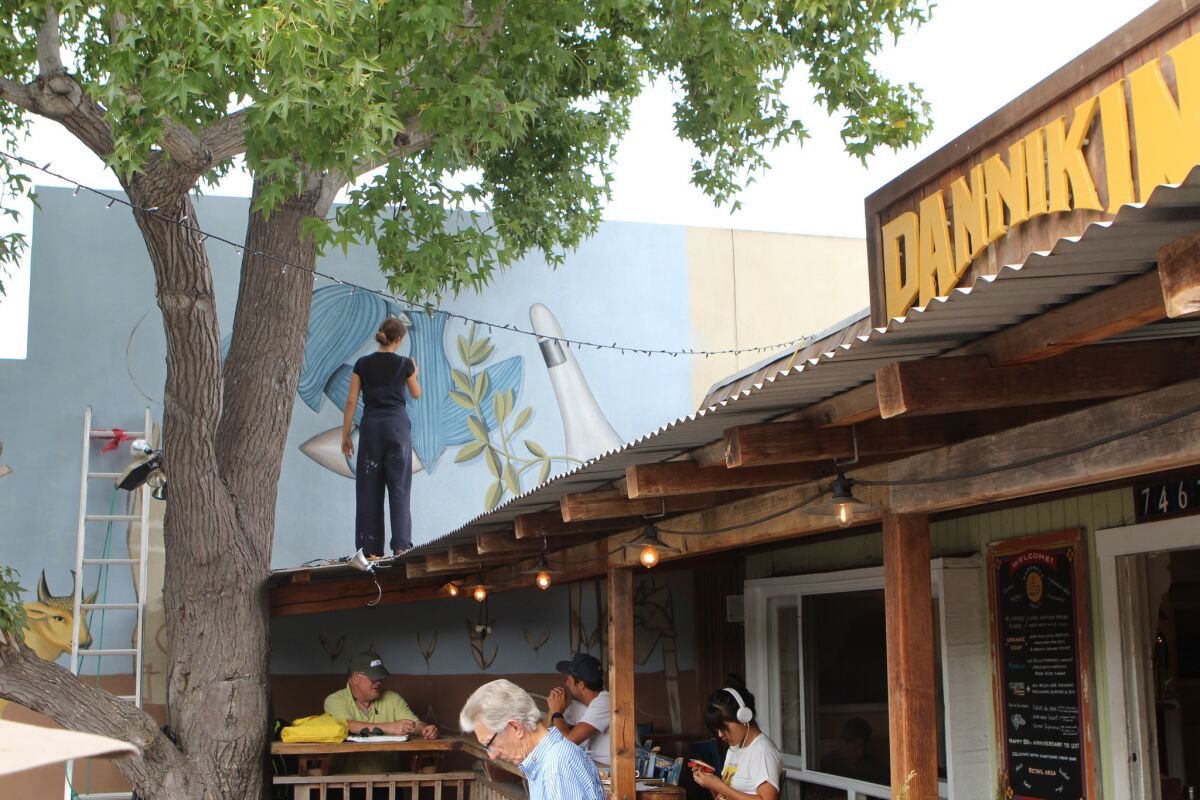 Bessell was raised in La Jolla and left San Diego for a short stint at the School of Visual Arts in New York. She dropped out because she says "it was too expensive and I was not convinced I needed a degree to be a professional artist."
Eight years ago, she returned to San Diego — she now lives in Clairemont — and began her association with the Pannikin. Before the coffeehouse celebrated its 50th anniversary last month, Bessell brought the idea of a mural up to Morrow, who enthusiastically approved.
Bessell began painting "Common Ground" at the anniversary party on Sept. 29. She says she expects to finish it on Saturday, Oct. 20, staging a mural reception to coincide with her final brush strokes.
"I am happy to see it taking on this new public art form," Bessell says of her work.
Get the La Jolla Light weekly in your inbox
News, features and sports about La Jolla, every Thursday for free
You may occasionally receive promotional content from the La Jolla Light.