ART IMITATES STRIFE: La Jolla artist inspired by parents' Holocaust experience
Ed Whitmore digs into his next tree in the garage of his La Jolla condo. This piece is a six-footer, depicting a eucalyptus. The canvas — as it is for many of his 200 pieces — is a series of two-inch-thick redwood planks purchased from Home Depot. If it turns out particularly well, it could hang in his first art show, Saturday, Oct. 13 in North Park.

"Adding all these little branches is a lot of work, but it adds so much power to the finished tree," Whitmore, 62, says while chiseling. "Sometimes, it feels like a construction project. My neighbors complain that's what it usually sounds like."

The trees pay tribute to a symbol central to the Jewish faith of his youth in the Bronx, Yonkers and Brooklyn: the Tree of Life mentioned in the Bible's Garden of Eden.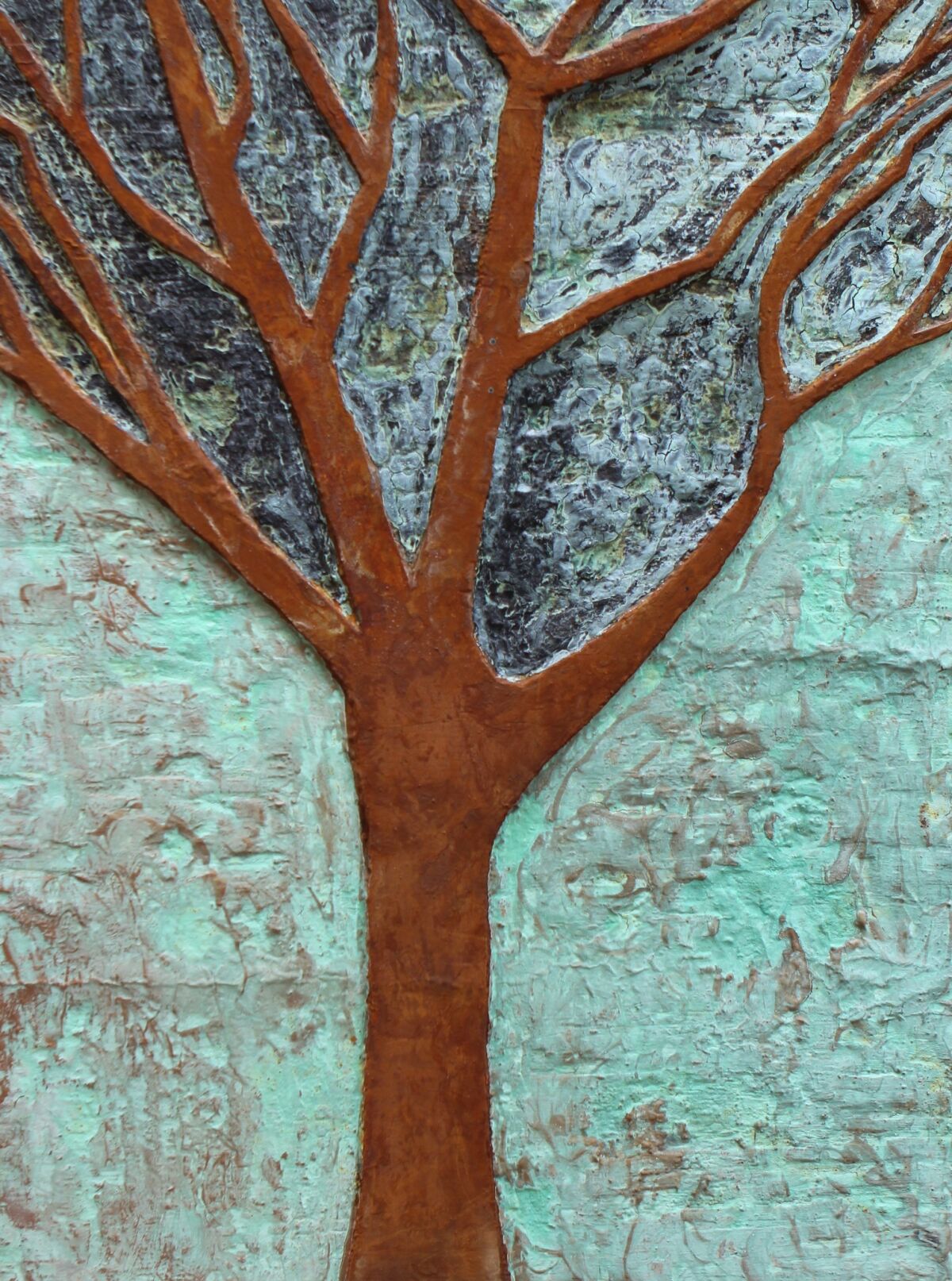 "They're called Etz Chaim," Whitmore says. "I painted my first one as a gift to share with my mother."
Both of Whitmore's parents were Holocaust survivors from Poland. They met after resettling in New York.

"My mother was in the Lodz ghetto until 1944 and then she was sent to Birkenau," he says. "My dad was mostly in Lager, in work camps. They were 12 when Poland was attacked."

Each was interviewed by Steven Spielberg's USC Shoah Foundation, Whitmore says, "but they didn't talk much about that time in their lives to me." Nevertheless, Whitmore says the unspoken experiences "inform my consciousness."
But Whitmore says he also makes trees because they're easy.
"If I'm being honest, I really can't render too well," he says. "I never could draw a figure. So I wasn't drawn to that. I was drawn to things that came more easily. I can sketch a tree and do a bas relief. It's forgiving."
Whitmore only began producing art two years ago. Until 1992, he was in New York, receiving Emmy awards for investigative journalism as a producer for ABC News' "20/20" TV show. He moved to San Diego with his first wife to be closer to her family and found a job at KNSD.
"But I decided I didn't want to chase fires and car accidents," he says. "This guy who was my mentor dropped dead at 41 of a stroke. I could hear my blood pounding in my ears. My blood pressure was 180 over 90. So I found something else to do that I enjoyed more."
For almost 20 years after that, Whitmore worked for San Diego Gas & Electric (SDG&E) as a program manager, where he helped low-income customers find discounts and lower their gas and electricity usage.
"I found that very rewarding, helping people pay their bills," he says. "I was the highest-paid social worker in San Diego."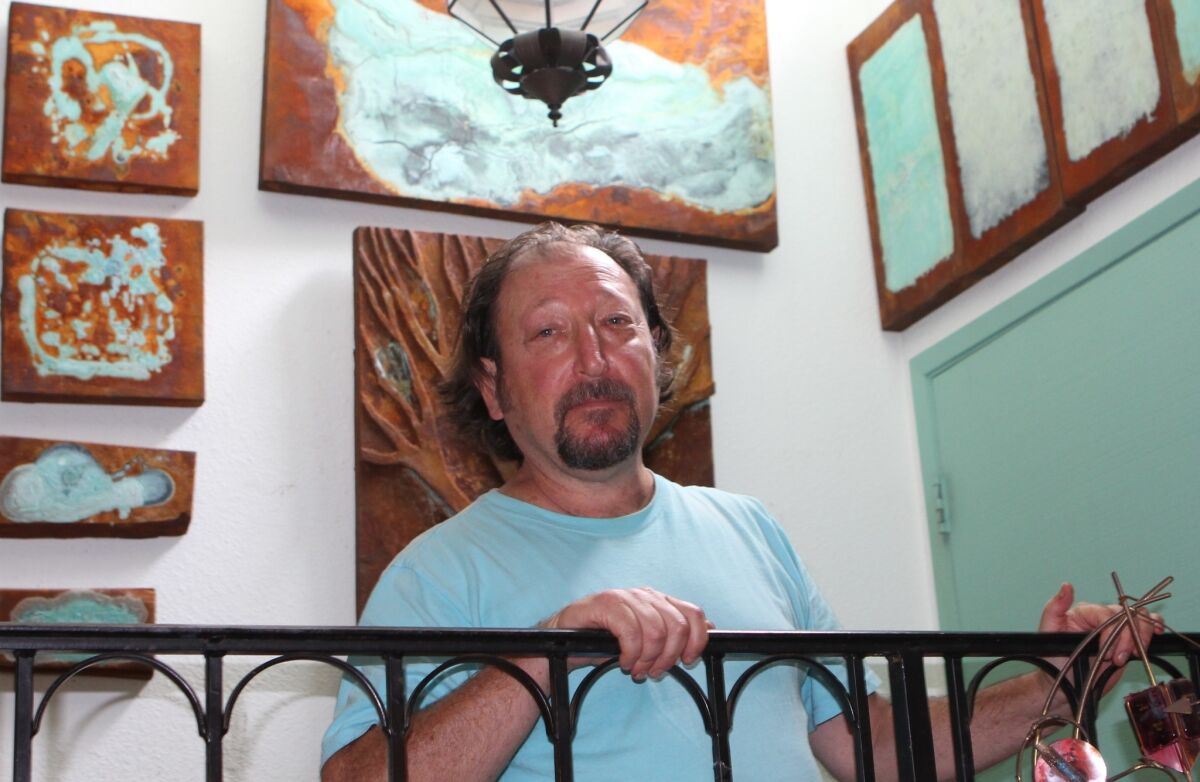 Later this afternoon, Whitmore will spray his new tree relief — first with iron metal-effects paint for the base, which will take a couple of hours to dry the proper brown. Then he will spray bronze, which oxidizes immediately, for the bark and copper for the leaves (which takes 10 minutes to turn green).
"You spray and it oxidizes, changes color, like magic before your eyes," Whitmore says. "It's what people use if they have a fixture they want to make instantly look old."
Since the process is a chemical reaction, Whitmore describes it as "giving up control" and "letting the art make itself." If it's a painting with no relief element, he often doesn't even know what his subject will be when he starts.
"I have a piece I painted on the bottom of an old oak drawer," he says. "It's a view from a hilltop overlooking Jerusalem at sunset. Did I set out to make that? No. But when I started adding the layers, that's what it was."
If you're curious how one goes from a power-company retiree to a working artist almost overnight, the answer — as with most professions — is networking.
"The woman who cut my hair for 25 years bought two trees," Whitmore says. "I friended an artist from New York on Facebook who's from the same town in Zimbabwe as a friend of mine in San Diego. He told me about a friend of his who curates the San Diego Botanical Garden.
"So I showed her my stuff and now I have a sculpture there."Art wasn't even an idea to Whitmore until he discovered the metal-effects paint.
"I was assembling a toy dollhouse for my granddaughter and I realized it needed painting, so I found this paint, did two coats and saw the shades of color that came into play," he says. "It's really the medium that propels me forward and brings out the wonder for me."

If you go: Ed Whitmore's one-man painting and sculpture show will be held 6-8 p.m. Saturday, Oct. 13 at Art on 30th, 4434 30th St. Admission is free.
Get the La Jolla Light weekly in your inbox
News, features and sports about La Jolla, every Thursday for free
You may occasionally receive promotional content from the La Jolla Light.