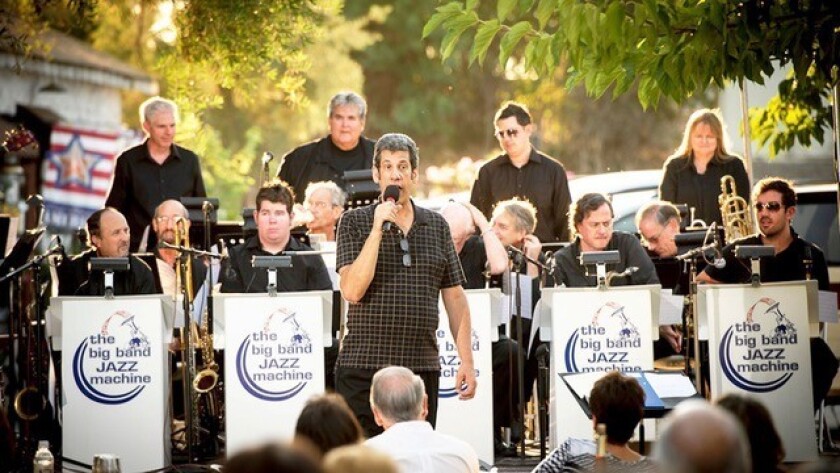 Next year's Bodhi Tree concert series looks to showcase the best that San Diego has to offer, with homegrown musicians performing to raise money for local charities — and the lineup has just been announced for the 2019 season.
"Our whole goal is to highlight the world-class talent right here in San Diego," said Bodhi Tree co-founder Diane DuMelle. "We have San Diego legends this year."
As with concerts past, all proceeds benefit local charities. To date, Bodhi Tree (based out of St. James by-the-Sea Episcopal Church in La Jolla) has presented more than 30 concerts and donated more than $25,000 to charitable causes.
The series kicks off 4 p.m. Sunday, Jan. 6, 2019 with the San Diego-based Ira Liss Big Band Jazz Machine at the Cuvier Club, 7776 Eads Ave., benefiting Vida Joven de Mexico Orphanage. Despite the 40 years the Band has been performing in San Diego, this will be its first time with the Bodhi Tree concert series.
"Bodhi Tree has a great reputation for presenting really good concerts, and it's a great cause. The concept of partnering with charities is unique yet it's obvious, and obviously successful. We're hoping this will be first of many such performances with them," Liss said.
Self-described as a "modern big band," Liss said concert-goers can expect the large sound of multiple instruments associated with the big band sound, but with a creative twist. "We play things that are traditional yet up-to-date. We play a wide variety of music for the jazz idiom and we tend to want to things that are more creative than strictly big band or jazz."
The series continues with the Benedetti & Svoboda Guitar Duo (of Fred Benedetti and George Svoboda), when they perform 4 p.m. Sunday, March 31 at St. James by-the-Sea Episcopal Church, 743 Prospect St., benefiting the San Diego-based Guitars in the Classroom; and then with Enrique Toral & Friends' "Back to Broadway Cabaret," 7 p.m. Saturday, May 18 at the La Jolla Community Center, 6811 La Jolla Blvd., benefitting the San Diego LGBT Center Youth Services.
From there, the fundraising concerts take a brief pause so Bodhi Tree can present its second "Music en la Calle," a free multicultural music and food festival, noon to 10 p.m. Saturday, June 15 in City Heights at Fairmount Avenue at El Cajon Boulevard.
"It's a great, special event with eight solid hours of music. We have artists that represent the diversity of the neighborhood," DuMelle said.
In September, a concert that DuMelle calls a "fan favorite," returns. The Gilbert & Sullivan sing-along focuses on "The Pirates of Penzance," 4 p.m. Sunday, Sept. 22 at the All Souls' Episcopal Church, 1475 Catalina Blvd. in Point Loma, benefiting The San Diego Maritime Museum.
"We start with a short rehearsal with the audience. We hand out scores and our chorus will rehearse with them and get them singing. It is a concert not a full production, but we have the best of the best singing the roles and we encourage the audience to sing all the way through and they really do," DuMelle said.
The concert series concludes with "All is Calm: The Christmas Truce of 1914," with multiple performances Nov. 15-17 at the Veterans Museum, 2115 Park Blvd., in Balboa Park, benefitting its host. The performance is a recreation of the World War I Allied Forces and German soldiers that laid down their weapons to sing Christmas carols across the trenches.
IF YOU GO: Single tickets to Bodhi Tree Concerts are $25 ($30 for "All Is Calm"), $15 for students and military. Season subscriptions: $80 for Ira Liss Big Band Jazz Machine, Benedetti & Svoboda Guitar Duo, Back to Broadway Cabaret, and The Pirates of Penzance at bodhitreeconcerts.org
---