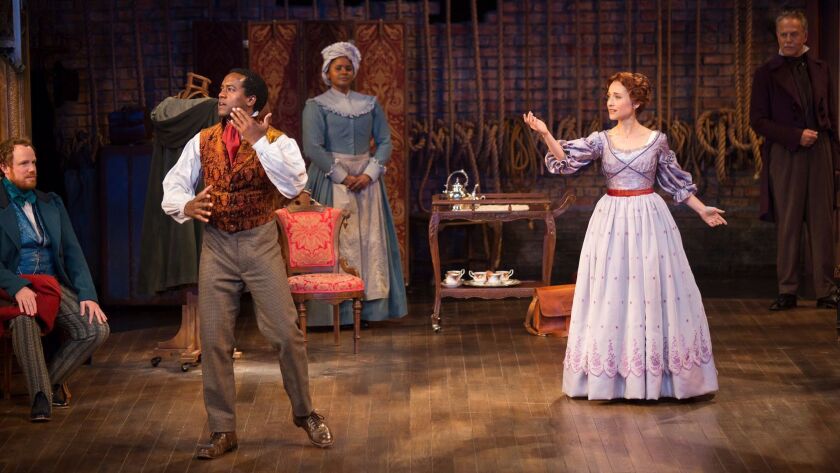 The Old Globe Theatre's newest production, "Red Velvet," is a thrilling drama that transports audiences to the turbulent backstage world of London's Theatre Royal in 1833. It's there that young, black American, Ira Aldridge, takes over the role of "Othello" at the Royal Covent Garden Theatre. This is not OK with some cast members, critics and audiences, because no black man in the 19th century has ever starred as Othello on a London stage.
In discussing his path to the role, Albert Jones, who portrays Aldridge, said he appeared in a play as a young boy and thought he might enjoy acting.
"I was heading to law school, but I kept thinking about acting," he said. "So I stopped applying at law schools and applied to graduate programs for acting. I got into a really good one and never turned back."
His impressive resume ("Much Ado About Nothing," "Macbeth," "Pericles," "Richard III," and in television "House of Cards") proves he made the right decision. His role in "Red Velvet," centers on a man Jones said he'd heard of, but knew little about. Jones credits Lolita Chakrabarti and Stafford Arima for their talents in playwriting and directing, which make Alridge's story relevant to modern audiences.
"When I got the audition, I remember reading the play once and then again the same night," Jones said. "It kept calling me. The language was very captivating and it didn't take much more than that to make me want this role. I see Ira as a truly fearless man to leave his country, his home, and go to England to confront the societal issues of that time. He became a living legend — lauded from the footlights of Stratford to the halls of Saint Petersburg. I truly look up to him, and I'm amazed at his fearlessness and willingness to be out front.
"I hope audiences see the lengths he was willing to go, to pursue his passion in life and to try and become as good at his craft as he could."
Jones added that he's very happy to be at The Old Globe and to participate in how it works. "The Old Globe is comprised of artists, so there's artistry and collaboration on all levels," he said. "The set design is astounding. The costumes of all the characters are amazing ... It all works to breath new life into the action for the actors as we step on that stage."
IF YOU GO: "Red Velvet" runs through April 30 at The Old Globe Theatre, 1363 Old Globe Way in Balboa Park, San Diego. Tickets from $29. (619) 234-5623. theoldglobe.org
---