'The Illusion' set to make magic at North Coast Rep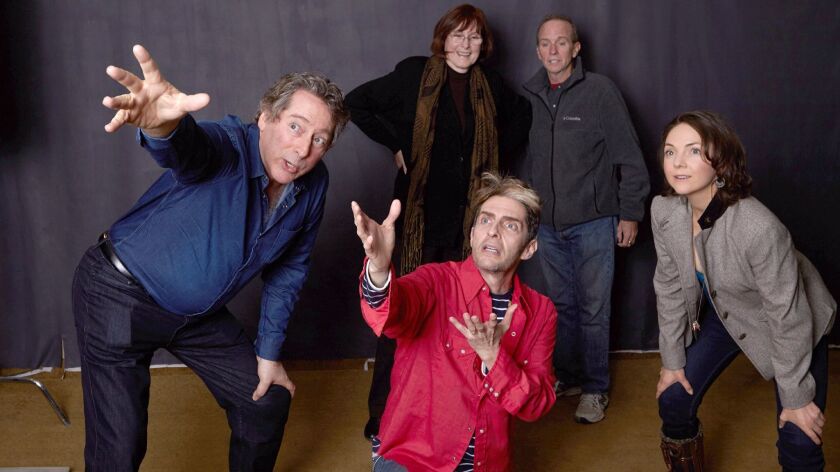 The drama "The Illusion," by Tony Kushner (adapted from Pierre Corneille's "L'illusion Comique") will take North Coast Repertory Theatre (NCRT) audiences on an extraordinary journey.
NCRT Artistic Director David Ellenstein said he first experienced Kushner's work when he played an actor in the production years ago at the Arizona Theatre Company. "Kushner actually wrote this before he wrote 'Angels in America,' " Ellenstein said. "It was one of his breakout plays that didn't have the notoriety 'Angels in America' had. But it was successful and played in theaters all over during the early 1990s. Because it's very unique (and a somewhat complicated play to do), it's not often done, so people have somewhat forgotten about it."
The plot surrounds a father who is not doing well and so goes looking for the son he hasn't seen in 15 years after a falling out divides them. When he can't find his son, as a last resort he sets out to find a magician. The magician conjures up three illusions of his son. Each illusion is a little different.
"In essence, the audience is seeing three different plays in one play," Ellenstein explained. "That was a challenge to stage because if you do it full on — like we are doing — you have each illusion stylistically different with a completely different feel to it. It's a demand on the North Coast Rep staff, and we rarely put on such a work from the technical design standpoint. It's almost like doing four plays — one in the cave and then the three illusions. Our scenic designer, Marty Burnett, has done it again in turning the stage into a big magician's cave. It's more than he thought it was going to be, but he's always up for the challenge and really enjoys what he does."
Performing a production of this caliber required a seasoned cast which NCRT found in Andrew Ableson, Kandis Chappell, Christina L. Flynn, John Greenleaf, John Herzog, Michael Polak, Sharon Reitkerk and Paul Turbiak.
"I needed actors who could handle not only the heightened language but also had the stature and groundedness ... to go not only deep, but also handle the frivolous. I sought experienced actors who would not be scared-off by the demands of this play," Ellenstein said. "When I was thinking about casting Kandis Chappell, I did my research and found out I was not the first to choose the magician be female. She's great and does what we like to do in the theater — reach people's hearts and souls and make them experience things in a more open way."
Ellenstein said audiences will surely appreciate the production's dramatic, comedic, romantic and passionate moments, along with the themes of betrayal, reconciliation and, of course, the sword fighting.
IF YOU GO: "The Illusion" is on stage Feb. 22-March 19 at North Coast Repertory Theatre, 987 Lomas Santa Fe Drive, Solana Beach. Tickets from $46. (858) 481-1055. northcoastrep.org
Content state:
Ready
In use by:
Proofreading state:
Reporter(s):
De Maggio, Susan
Last modified:
02-14 09:33 AM - Lew, Daniel
Requested size:
Actual size:
37 lin - 5.52i
Category:
Contextual use:
Normal
Description:
Correction:
Usages of this branch:
lajollalight.com 02-15-2017, local-news
All usages:
---
Get the La Jolla Light weekly in your inbox
News, features and sports about La Jolla, every Thursday for free
You may occasionally receive promotional content from the La Jolla Light.