New Dances, New Music! Bi-coastal collaboration coming to Lyceum Theatre, June 1-3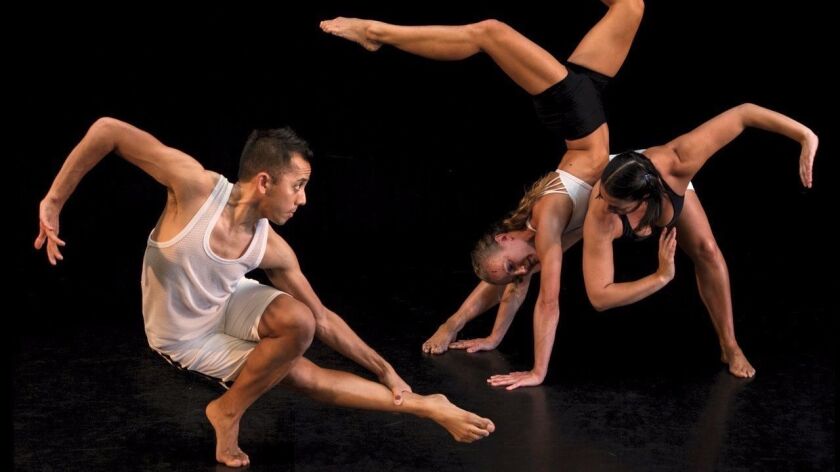 Here's one way to chase away June gloom — an exciting program of dance and live music that will start off the month with a burst of joyful creativity.
It's a three-way collaboration, joining the forces of Malashock Dance, Art of Élan, and the New York-based NOW Ensemble, a dynamic group dedicated to making chamber music for the 21st century, which is currently Art of Élan's ensemble-in-residence. They'll banish your gray-weather blues with "Minor Fall/Major Lift," a line you may recognize from Leonard Cohen's "Hallelujah," June 1-3, at the Lyceum Theatre.
If you're a dance aficionado, you're surely familiar with the work of award-winning choreographer John Malashock (a La Jolla High alumnus) and his almost-30-year old company. They love partnering and pushing artistic boundaries, which made them a great match for Art of Élan in their previous collaboration at La Jolla Playhouse in 2014. Art of Élan, now in its 10th season, is devoted to turning audiences on to new kinds of music they've never heard before.
This time, they're showcasing works by five contemporary composers, including a newly-commissioned score by NOW's composer-in-residence, Judd Greenstein. Art of Élan co-founder, executive director and violinist Kate Hatmaker will be sitting in onstage as "Guest Musician" and the NOW Ensemble — flute, clarinet, electric guitar, double bass and piano — will provide the live soundtrack for Malashock's dancers.
The theme of the program is Change, and Greenstein's commissioned piece, "The Jewish Pope," was inspired by a (probably apocryphal) life of changes. It's the tale of a young Jewish boy, taken from his family and raised as a Catholic, who rises to the highest position in the Church but ultimately decides to return to his own people.
"When Judd and I started talking about creating a new piece, we decided we wanted to delve into our Jewish backgrounds in some way," John Malashock said. "Judd found this folk legend, and his music has an ethnic feel to it, and kind of travels the journey from ghetto to Rome. I'm using the characters and the story in my choreography."
"The Jewish Pope" is the final piece in the program, and Greenstein also composed the opener. "It's called 'Change,' and it's completely different — so exuberant, with such a wonderful sense of build and personality," Malashock said. "In fact, I'm almost shocked at how different all the pieces feel from each other, though each one is fresh and incredibly appealing. It's great for me as a choreographer to have that much of a range."
The program's title isn't specifically a homage to Leonard Cohen, Malashock noted. "I just thought 'minor fall, major lift' is a reference to both music and dance and has a nice poetic feel."
IF YOU GO: "Minor Fall/Major Lift," 8 p.m. June 1 and 2; 4 and 8:45 p.m. June 3 at Lyceum Theater, Horton Plaza. VIP reception follows 4 p.m. performance on June 3. Tickets: $15-$45. (619) 544-1000. lyceumevents.org
Leonard Cohen's 'Hallelujah,' first verse
I've heard there was a secret chord
That David played, and it pleased the Lord
But you don't really care for music, do you?
It goes like this, the fourth, the fifth
The minor fall, the major lift
The baffled king composing hallelujah.
---
Get the La Jolla Light weekly in your inbox
News, features and sports about La Jolla, every Thursday for free
You may occasionally receive promotional content from the La Jolla Light.