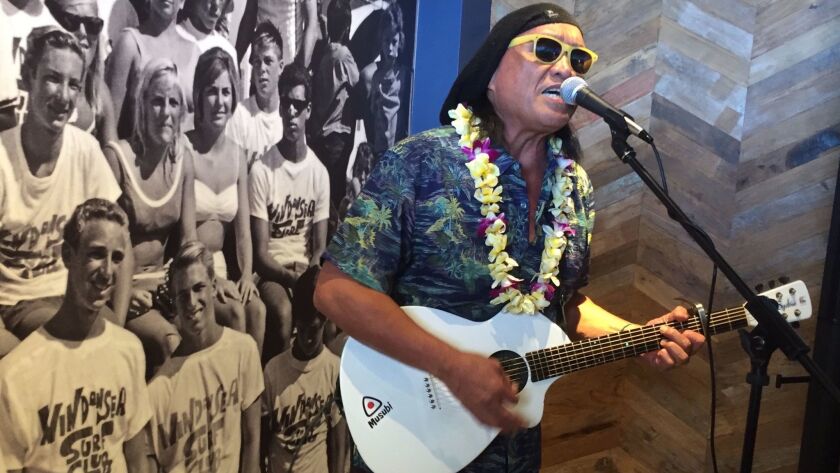 On a sunny Sunday afternoon July 2, while tourists and locals were strolling along Prospect Street, streams of others were heading for the upstairs bar at Duke's La Jolla to catch a 3 p.m. performance by Henry Kapono, an Oahu-based singer/songwriter who has been making award-winning music since the 1970s.
Duke's (named for Duke Kahanamoku, the father of modern surfing) has six locations in Hawaii and SoCal; La Jolla, their newest, opened in 2015, in the two-story space where Top of the Cove once was.
The place usually has live music on Fridays, but this was a special event.
When my husband and I arrived at 2:30 p.m., it was standing-room-only, with a parade of people still filing in. I staked out a spot near the microphone, very close to a table of six, practically in the lap of one of the men at the table. When I asked how they'd managed to score the best seats in the house, he said they'd come two hours early.
"We've all seen him in Hawaii, and we drove down from Orange County to see him here," he said. "My wife and I listen to his music at work every day."
For a while, servers politely squeezed through the shoulder-to-shoulder crowd, carrying trays to the tables outside; drinks and food would clearly be out of reach for the rest of us. Still, the mood in the place was friendly, and someone passed out plumeria blossoms to all the women he could reach, along with toothpicks to pin the flowers in our hair.
At 3 p.m. sharp, when Henry Kapono came to the mic and picked up his guitar, there was a burst of cheers and applause; the place seemed to be packed with longtime fans. Having only heard him on YouTube, I was happy to recognize one of the songs, "Home to Kahalu'u," but it was easy to respond to his welcoming style. Invited to sing along, the audience responded, and called out requests, which he cheerfully filled.
The music went on until 5 p.m., a real experience of Aloha spirit. A few days later, I spoke with Duke's General Manager, Shaughn Helliar, who has a long, close relationship with the singer. "Henry's a star, with a lot of followers," he said. "He sang at our opening here, and we're quite fortunate to have him."
Hellier had worked at Duke's in Maui, and brought Kapono in from Oahu to sing there the last Friday of every month. Next time he comes to La Jolla, Duke's may re-work its sound system so he can perform in the more spacious downstairs area. "He's a great guy, and he always gets a great turnout," Helliar said.
Content state:
Writing
In use by:
Proofreading state:
Reporter(s):
De Maggio, Susan
Last modified:
07-18 11:22 AM - De Maggio, Susan
Requested size:
Actual size:
32 lin - 4.78i
Category:
Contextual use:
Normal
Description:
Correction:
Usages of this branch:
CMTabloid 07-20-2017, LJL/1 - Features, B/3 B3
All usages:
---