FEEL THE BERNSTEIN: Leonard's daughter remembers her dad in La Jolla Music Society show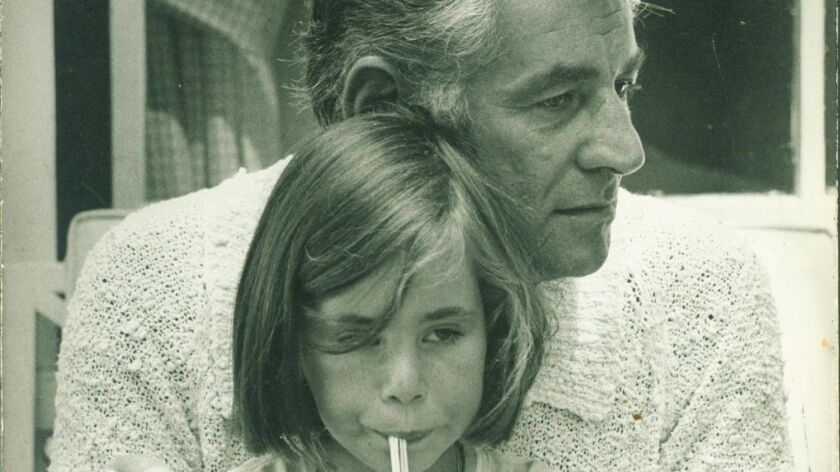 Leonard Bernstein was one of the most important classical conductors and composers of the 20th century, and the first American to enjoy rock-star status in the role. If directing the New York Philharmonic from 1958 to 1972 wasn't enough — and it was — Bernstein also scored the Broadway musicals "West Side Story" and "Candide."
To Nina Bernstein Simmons, however, he was just dad.On Aug. 8 at UC San Diego's Conrad Prebys Concert Hall — in what would have been its subject's 100th year — Simmons hosts "Late Night With Leonard Bernstein." Named for her father's penchant for playing music and entertaining friends into the wee morning hours, the multimedia celebration — part of the La Jolla Music Society's SummerFest season — features Nina's favorite memories brought to musical life by soprano Amy Burton and pianists John Musto and Michael Boriskin.
The Light phoned Simmons at her home in New York. This will be only her second time hosting the program. Normally, her older sister, author Jamie Bernstein — author of the new autobiography, "Famous Father Girl" — does the honors.
What's your favorite Leonard Bernstein composition?
"It's impossible to say. They're all gorgeous. But for sheer delight, I'm a 'Candide' lover. It's a shimmering jewel, that score. There's so much of it, you can't use all of it in a single production. It makes for too long of an evening. To sit down and listen, it's got the most bang."

Everyone else probably also says 'West Side Story.'
"It's fabulous, its' great, it's seismic. But I'm rooting for 'Candide.'"
How personal will the stories get that you tell? Anything scandalous like in Jamie's book?
My sister is usually the one who goes around talking about those matters. It's all there in the book anyway, and it's not my book. I'll talk about things like the musical jokes in the score of 'Candide,' which are not obvious. The metrical misrule. In 'Oh Happy We,' as they are realizing their lust, it's in 7/8 time. They're in a desperate rush. They don't have time to count to eight as they pull their clothes off.
"I'll be explaining what these songs meant. There's a little excursion into Dad's relationship with Aaron Copland, and some of the pieces he liked to show off. One is something called 'Powerhouse' written by Raymond Scott. There's no reason you should know it except that when you hear it, you'll go, 'That's from Bugs Bunny!' And that's because Warner Bros. bought the whole Raymond Scott catalog, and one of Dad's early jobs in New York was arranging stuff for piano and one of the things he arranged was that song."
Did you ever harbor any musical aspirations of your own?

"Never, no, no, no. I couldn't play the piano for beans. I can sing, and my dad did encourage me to take singing lessons, but I wasn't interested in learning how to sight-read. I wanted to sing rock n' roll or Broadway. All three of the children have an allergy to it. And whenever we think of our dad's conducting scores, with the 13 rows of music that you're reading vertically? We cannot do it."
Your father was the first prominent classic music figure to recognize the Beatles as great composers, and your family lived in the Dakota in New York City when John Lennon did. Was he ever one of the friends your father had over late at night?
"Well no, I think my father was pretty star-struck, to tell you the truth. We all were. The Dakota had these annual courtyard parties, pot lucks. We had just moved in and we wondered whether we would see him. Glory be, we saw him. He and Yoko brought a brought tray of sushi. We just stared, but my dad got the gumption to approach him and he dragged us along. My dad used to have a game which was impossible to play. It's a round where whoever goes first decides what the music is going to be and then the second person who joins has to follow. So my dad decided it would be cute to try this impossible exercise in John Lennon's presence. John knew who my dad was, but we were all perfectly mortified and I can't remember what John said, if anything to this.
Did you realize this was an abnormal childhood or did it just seem normal to you?"I didn't know what to compare it to. I knew that my dad didn't go to an office, like everyone else's dad did. There was a lot of glamor going on and I knew that it was unusual, but of course, on a day-to-day level, daddy was daddy. He was a lot of fun to be with and he didn't put on airs with anybody. The cape may have thrown some people. He was very fond of wearing capes over his conducting tails. He must have picked that up from Serge Koussevitzky, maestro of the Boston Symphony."
What's your favorite memory of him?
"We went to Russia in 1987, so it was still the U.S.S.R. He was touring with a youth orchestra from Germany. They were playing Shostakovich. We had an impossibly early flight out of Russia so we decided not to go to bed but to take a bottle of vodka to the cemetery where Dostoyevsky is buried and get tipsy and laugh and cry about life. That's one of those moments that stuck out in time."
What's the most misunderstood thing about your dad?"I don't know. What an interesting question."
What do you consider his greatest legacy?"The importance of sharing among people, whether it be on the musical or on any level. The humanness — that we all have to connect to one another and reach out to those who may be different from us and understand one another. He was all about love."If you go: "Late Night With Leonard Bernstein," 8 p.m. Wednesday, Aug. 8 at the Conrad Prebys Concert Hall, UC San Diego. Tickets are $45-$75. Visit www.ljms.org or call (858) 459-3728.
---
Get the La Jolla Light weekly in your inbox
News, features and sports about La Jolla, every Thursday.
You may occasionally receive promotional content from the La Jolla Light.