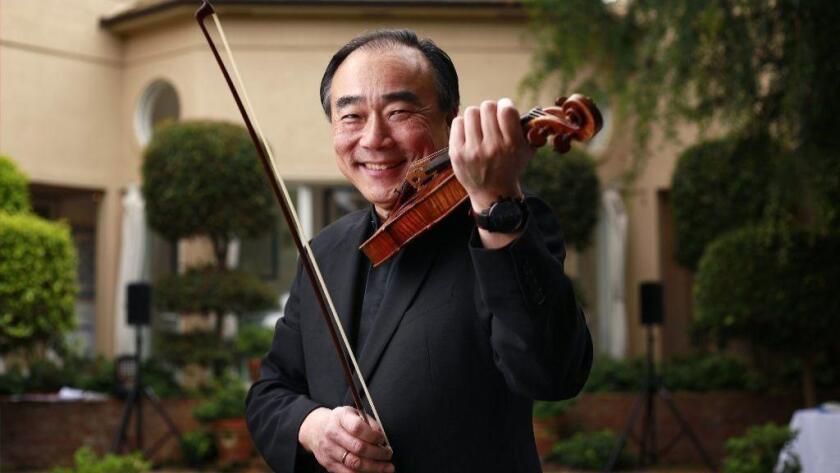 How does one go out after 18 years of managing to conjure magic at the same job?
"With a smile," said Cho-Liang "Jimmy" Lin as he enters his final season helming SummerFest, the La Jolla Music Society's (LJMS) acclaimed chamber-music series.
"I'm very happy to go out on a high note," the violinist, conductor and music director told the Light during a phone interview. "I want everybody to wave goodbye to me with a smile. No regrets, just happy memories. That's the best thing."
Lin's final season will open with Saint-Saëns' "Carnival!" on Aug. 3, include an evening with legendary pianists Yefim Bronfman the following night, and even feature "My Favorite Playlist, a curation of Lin's favorite classical composers — including Debussy, Lei Liang, Mahler and Ginestera — on Aug. 14.
But to Lin, the concert that means the most will be the finale. It will feature his close friend, maestro David Zinman, as well as pianists Emanuel Ax and Jon Kimura Parker and cellist Gary Hoffman tackling Beethoven's "Triple Concerto" and "Choral Fantasy" on Aug. 24.
"The last concert will be the most special because it will be the last," Lin said. "The following morning, I will wake up and I will no longer be music director."
Lin told the LJMS board in 2016 of his plans to retire, which he said were unrelated to board president Kristen Lancino's abrupt exit in January. ("To this day, I have no idea why she left," Lin said.)
Starting in the summer of 2019, Lin will launch the nonprofit Taipei Festival & Academy in his native Taiwan.
"I certainly would like to have had a more leisurely summer," Lin said, "but it's fine that I get a little time off after this."
Lin has helmed SummerFest for an incredible 18 of its 32 years.
"The easiest yardstick to use is my daughter," he said. "She was still crawling on the floor when I took over the festival and now she's a high-school senior. That's quite a reflection — 18 years measured through the growth of my own daughter."
It almost seems a shame that Lin will retire just in time to miss SummerFest's first season in its new home. The Conrad Prebys Peforming Arts Center is scheduled to open on April 9, 2019, by which time Lin will be replaced at the SummerFest helm by celebrated pianist Inon Barnatan.
"Well, you know, The Conrad will be wonderful," Lin said. "But nobody stays around forever. The old Sherwood auditorium was not the greatest place in the world, but we survived there. And I think the new environment will be great for La Jolla audiences.
"SummerFest is going to enter the next chapter and I think it's good."
And Lin promises to keep the door open to return as a guest.
"I have no reason to walk away and be permanently gone," he said.
SummerFest Schedule
Friday, Aug. 3: Opening Night: Carnival! — Bartók, Villa-Lobos & Saint-Saëns
Saturday, Aug. 4: An Evening with Yefim Bronfman
Sunday, Aug. 5 (3 p.m.): An Afternoon with the Emerson String Quartet
Tuesday, Aug. 7: "Music from the Heart" — Khachaturian, Mendelssohn & Rachmaninoff
Wednesday, Aug. 8: "Late Night with Leonard Bernstein"
Thursday, Aug. 9: "49 Minutes on the Edge" — An Exploration with FLUX Quartet
Friday, Aug. 10: "Across Oceans" — Ichiyanagi, Bruch & Dvořák
Saturday, Aug. 11: SummerFest Gala at Audrey Geisel's home
Tuesday, Aug. 14: "My Favorite Playlist," curated by Cho-Liang Lin — Debussy, Lei Liang, Mahler & Ginestera
Wednesday, Aug. 15: An Evening with Adele Anthony & Gil Shaham
Thursday, Aug. 16: "49 Minutes on the Edge" — Piano Focus
Friday, Aug. 17: "Johannes, Clara & Robert"
Saturday, Aug. 18: A Night of Jazz with The John Pizzarelli Trio
Sunday, Aug. 19 (3 p.m.): "The Glory of Cremona" — Stradivari, Guarneri & Amati
Tuesday, Aug. 21: "Midnight in Paris" — Gounod, Ravel & Chausson
Wednesday, Aug. 22: An Evening with Emanuel Ax
Friday, Aug. 24: Finale concert at Balboa Theater with David Zinman, Emanuel Ax & the San Diego Master Chorale
---