MR. COTTAGE IS BACK! Jason Peaslee buys out his former restaurant partner, returns to La Jolla
The woman does a double take as she walks past The Cottage.
"It's me," Jason Peaslee tells her, smiling. "I'm back. I bought it."
The woman — a La Jollan who would only identify herself to the Light as "Adriana" — signals for Peaslee to walk around the restaurant's front gate so he can receive a long, powerful hug.
"You know, it really is surreal, honestly," Peaslee tells her. "It feels so like I never left. I'm just super happy to come back to where my roots are."
"He's the best, really!" the woman yells to all within earshot in an Italian accent. "He is Mr. Cottage!"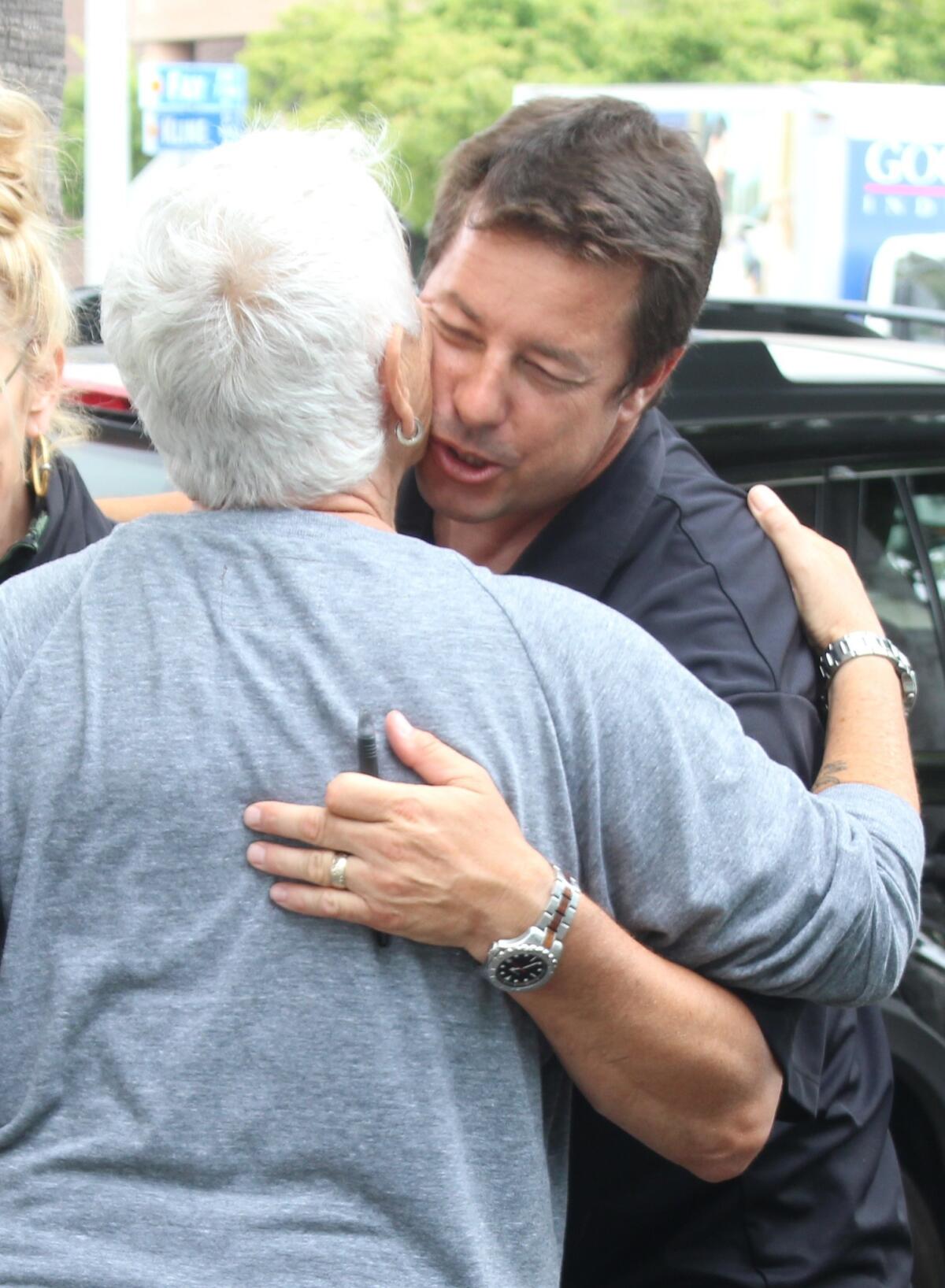 Peaslee, 45, became a partner in the perpetually crowded breakfast and lunch spot in 2006 — joining owner John Wolfe, who bought the restaurant in 1992 from founder Nanci Long. But three years ago, Peaslee sold his share back to Wolfe to finance buying a gourmet South Park deli called Grant's Marketplace with his wife, Liana.
"I really wanted my own thing," Peaslee says, "and I didn't think (Wolfe) would ever sell."
He and Liana still own and run Grant's. However, in August 2017, Peaslee received an unexpected call from Wolfe, asking if he would consider buying him out. Peaslee says he jumped at the opportunity. The sale closed in June.
"I'm a beach person," says Peaslee, who grew up surfing La Jolla nearly every weekend as a Clairemont resident.
Peaslee scored his very first job in 1991 at Piatti's in La Jolla Shores. He bused and waited tables, cooked and bartended and then, by 2005, managed the Italian restaurant. The Cottage was only his second job.
And, every Friday through Tuesday, Peaslee finds himself, once again, busing and waiting tables as he chats up hungry Cottage regulars and his former surfing buddies.
"I'm the head busboy," he says, laughing. "That's the fun stuff. And you have to make sure you're part of the team."
As head cheese at The Cottage, Peaslee says he's made no perceptible changes to its California menu or staff — with the exception of bringing in a new chef, Rafael Partida, whom Peaslee worked alongside at Piatti's.

"Rafael is the very best sous-chef there is," he says.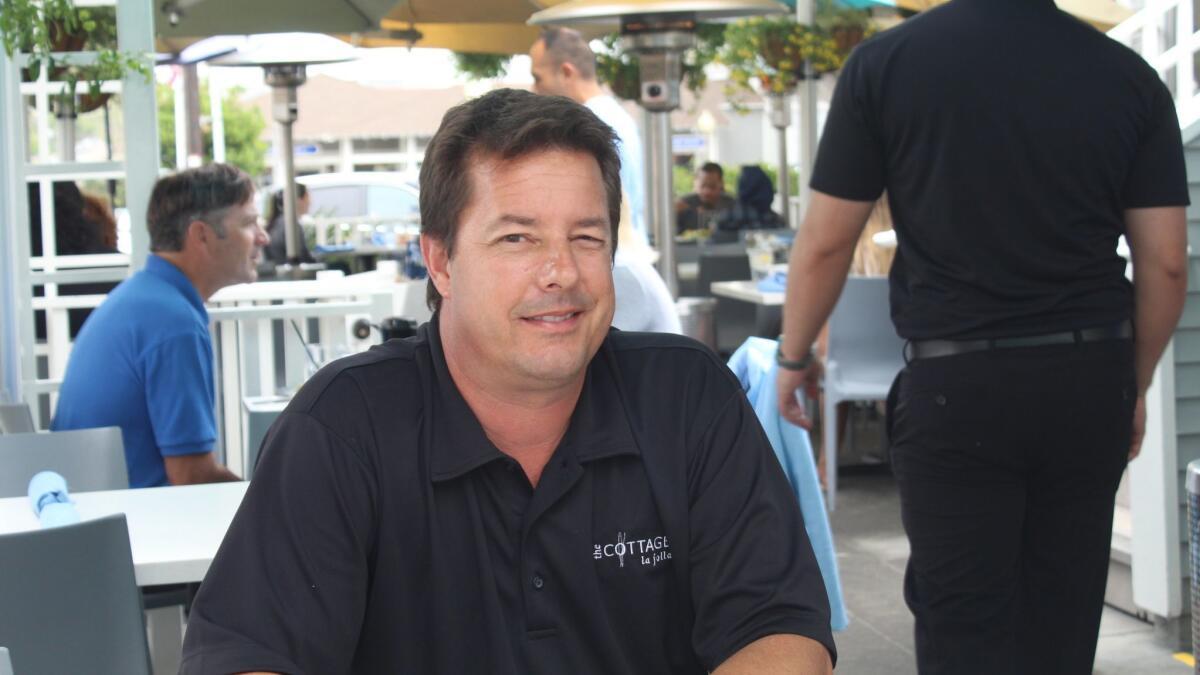 Peaslee says his ultimate goal is to expand the brand into more Cottages. They don't necessarily have to be located in historical bungalows, he says, "but they've got to be in the right spot. We can't just go anywhere with it.
"But there are plenty of locations out there," he adds, "and San Diego's a big county that can use some good food."

The Cottage, located at 7702 Fay Ave., La Jolla, is open 7:30 a.m. to 3 p.m. daily, with dinner Tuesday through Saturday from 5-9 p.m. For more info, visit www.cottagelajolla.com or call (858) 454-8409.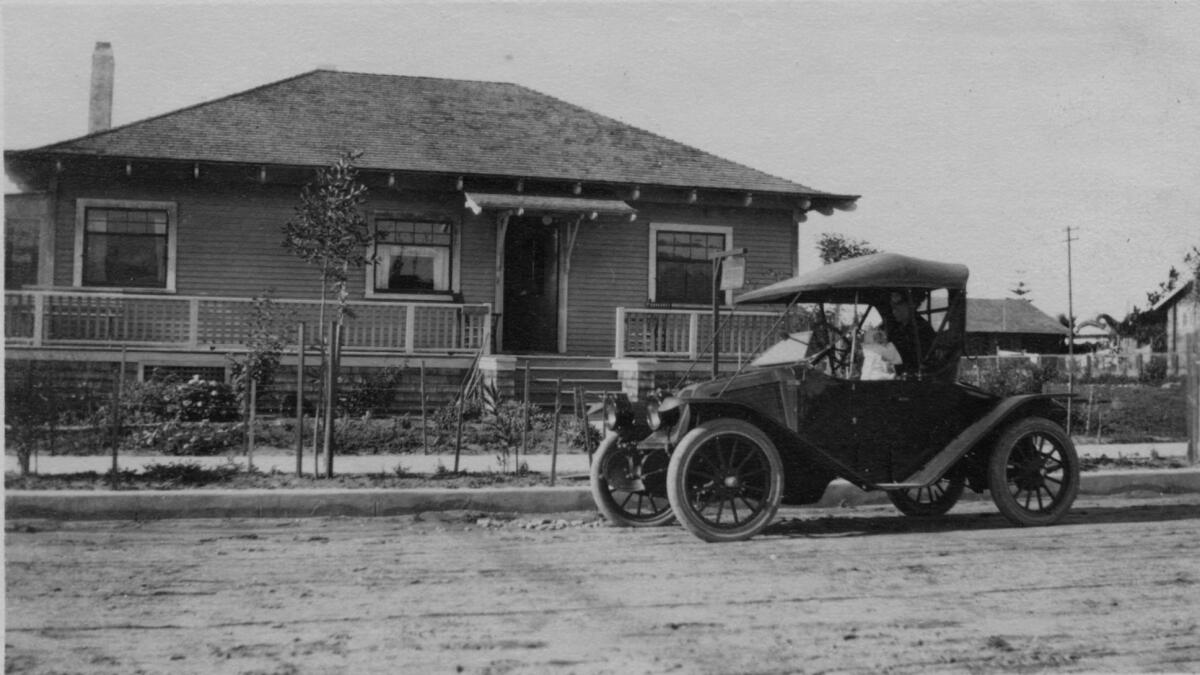 Another Cottage industry: History
The house destined to become The Cottage was built circa 1905 as the Columbine Cottage at 850 Prospect St. In 1914, it was moved by owner Edward Howard, a Harvard-educated doctor, to the corner of Fay Avenue and Kline Street. (Sources disagree on whether it was built by Howard or by local real-estate developer Alice Coombs.)
Dr. Howard lived in the house with his wife, Eliza, and their adopted daughter, Victoria, until his death in 1937. Eliza died in 1940, and the house remained a private residence into the 1950s.
In the '70s, the Village Pet Shop (complete with talking parrot) opened in the structure, followed by a pastry shop called the Vienna Café Konditorei (and, in between — one would hope — a thorough cleaning!).
In 1986, Nanci Long, who owned the Sandwich Den around the corner, bought the pastry shop. She raised the ceiling to install skylights, painted the exterior yellow (which lasted until a remodel rendered it silver in 2006) and christened it The Cottage. It opened for breakfast and lunch on Father's Day of that year and remains so to this day.
Get the La Jolla Light weekly in your inbox
News, features and sports about La Jolla, every Thursday for free
You may occasionally receive promotional content from the La Jolla Light.