NOW HE'S COOKING! Chef Bernard Guillas welcomes prestigious French culinary honors to The Marine Room in La Jolla
The guest of honor at a fancy awards dinner doesn't ordinarily also cook the dinner. But Chef Bernard Guillas of La Jolla's the Marine Room is no ordinary chef, and when Les Disciples d'Escoffier International — a prestigious French society of culinary professionals — brought its induction dinner to Southern California for the first time on Monday night, Oct. 8, Guillas insisted.
And so, he had 133 Brandt Farm Beef Cheeks Bourguignon plates to prepare (or the vegetarian option) for diners who have made food their life's work. And, judging from the rock-star cheers when Chef Bernard emerged from the kitchen as the final San Diego chef of seven honored, this tough crowd was thoroughly pleased.

"You have to understand that, as a Frenchman, Escoffier is the Bible," Guillas told his admirers as waves pounded the windows of the seaside restaurant behind him. "This is where we learn all the techniques and the artistry of cooking."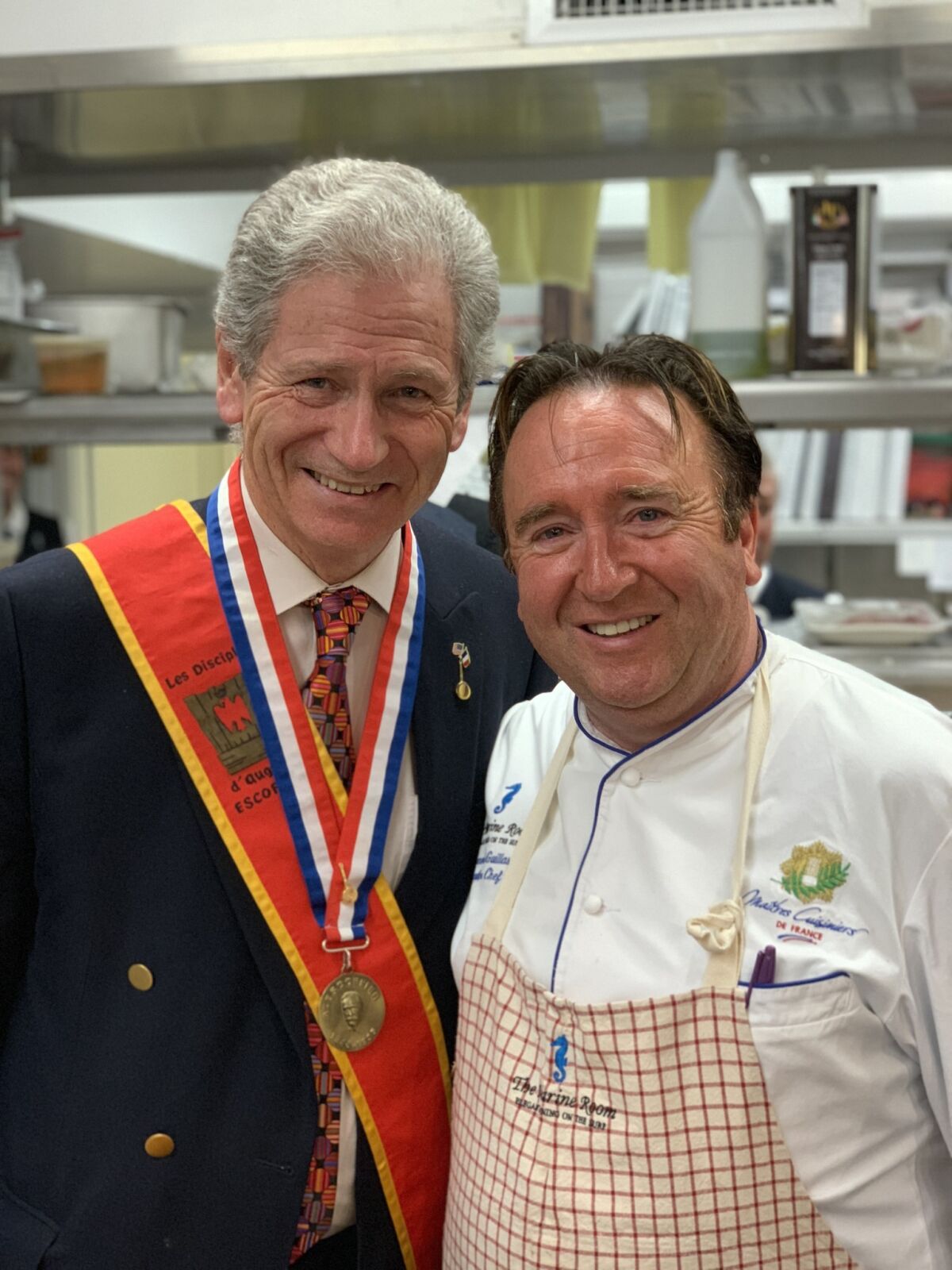 Auguste Escoffier, known as the Father of Modern French Cuisine, inspired Guillas and pretty much every French chef of the past 100 years. In fact, Guillas told the crowd, the meal they just enjoyed — which was topped by a dessert of Passionfruit Madadamia Dacquioise — was based on recipes from 1903 and 1906 Escoffier cookbooks that he still owns and actively uses.

"So this is why it's really, really special to have you join us here today," Guillas said. "I looked forward to this day for quite a while."
Although there are more than 30,000 Disciples d'Escoffier around the globe, until Monday, chef Candy Wallace — a board member of the San Diego Chapter of Les Dames d'Escoffier International, which organized the induction dinner — was the only San Diegan. (She was inducted in 2014.)

"It was really, really lonesome," Wallace told the audience.

Now she's got plenty of company. It includes Guillas, Pamplemousse Grille chef/owner Jeffrey Strauss, U.S. Grant Hotel chef Mark Kropczynski, Mission 19 chef/owner Javier Plascencia, Puesto Restaurant Group chef/owner Luis Gonzales and Indulge chef/owner Flor Franco.
Each new disciple was given a ceremony befitting a knight — except instead of a sword touching each shoulder, it was a wooden spoon wielded by Michel Escoffier, great-grandson of Auguste Escoffier and president of the Foundation Escoffier in France. Also as per tradition, red sashes were draped around the recipients.
Proceeds from the $150-per-plate dinner will fund educational scholarships and grant programs in San Diego.
With the Southern California Les Disciples d'Escoffier induction ceremonies now successfully established, the question is whether it will switch locations every year or make the Marine Room its permanent home. (Several chefs anonymously told the Light that they are rooting very strongly for the latter possibility.)
Get the La Jolla Light weekly in your inbox
News, features and sports about La Jolla, every Thursday for free
You may occasionally receive promotional content from the La Jolla Light.