People in Your La Jolla Neighborhood: Meet The Marine Room's Chef Bernard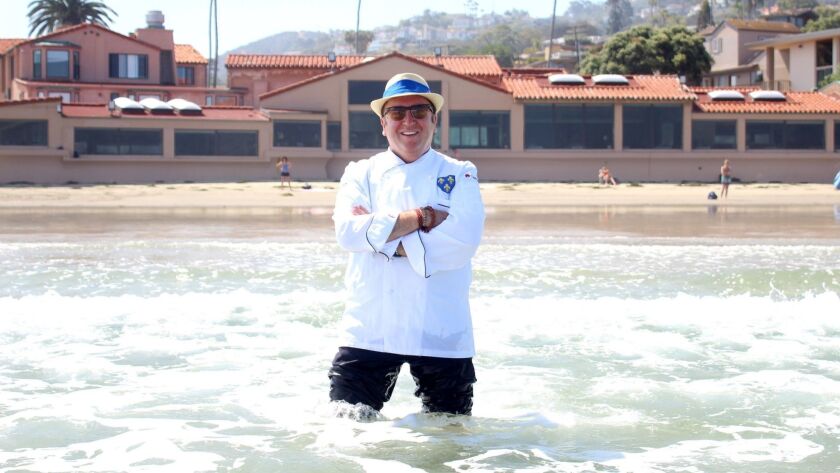 Bernard Guillas has been a La Jolla fixture for 24 years, since he joined The Marine Room as executive chef at, so he jokes, "7 years old." (He also directs the La Jolla Beach & Tennis Club's catering and The Shores Restaurant.)
A uniquely accomplished master chef, Guillas just keeps accumulating awards. (His latest was his induction into the French Culinary Academy last month, in a ceremony at the French Consulate in New York City.) Guillas' first book, "Flying Pans" — which he co-authored with Marine Room chef de cuisine Ron Oliver — won the International Association of Culinary Professionals' Best Cookbook in America for 2011.

Guillas is also in possession of a uniquely buoyant personality — which is why he has appeared on "The Today Show" and is a regular guest on KTLA's "Good Day L.A." TV show.

A passionate lover of food, life and La Jolla, Chef Bernard is guided chiefly by his instinct for fun. While talking about how much he loves the water, for example, Guillas was struck by the idea of jumping in the ocean he stares out at every day, wearing his chef's clothes, for the photo accompanying this story.
Why did you decide to become a chef?
I was born on a little island named Jersey between France and England, and I was shipped to my grandmother because my parents were working on the island. And all the time, we were cooking, cooking, cooking. She's kind of the root of my madness. I had an uncle who was a baker, an uncle who was a butcher, and the rest of the family was into farming. So, for me, it was really natural for me to cook. I always had that passion.
What do you love the most about cooking?
Cooking is artistry. It is creating almost like a painting. Instead of a canvas, you have a plate. Instead of paint, you have these beautiful ingredients and textures. So it becomes edible art. My paint could be saffron aioli, which is yellow. It could be banyul, which is vinegar from the South of France, which is red and we make a reduction with a little bit of honey. So now we have three different colors going and I love to draw, so I make a line with little dots and stuff.
Some people say everyone is a potential artist. Do you think everyone is a potential chef?
Yes. But what you have to remember is that becoming a true chef means that the hours you work are 8 in the morning until 10 at night. Not many people want to do that. Second, holidays are gone. Christmas, New Year's, Easter, you are here, creating that special memory every time someone comes in. If you are not OK with that, it's not going to work. Also, a chef today has to be a chef and also a lawyer, an accountant, a counselor, a writer, in public relations — you name it. And that's what I like, because if I would only be in one single box, I think a part of my life would be missing.
How would you describe your cuisine? French?
The techniques are French, 100 percent. But the ingredients themselves, and how I put them together, is from my travels. I've been very lucky to have traveled to over 75 countries in my life. So I could add dukkah, which is from the Middle East. Then I could add Korean ingredients.
Fusion can be confusion. It's not the amount of ingredients that you put on the plate that's important. It's how they interact with each other on your palate. So they have to be able to keep their integrity with every single bite. Then, when you mix one with the other, it becomes a journey.
Why did you leave France?
When I was 19, I moved to French Guyana in Brazil. I did crazy fun stuff over there for one-and-a-half years, discovering new ingredients and new styles of cuisine for me. Because I only trained in France, I only knew French techniques. So I came back to France and I didn't like it anymore, because it was so playful down in South America, it was so much fun. And then I came back and there was too much structure.
So I applied at Petrus in Hong Kong, and I got the job. And I don't know why, but a week later, I received a letter from Chef Pierre Chambrin in Washington D.C., and he said I should work in America. So I said, why not? Because at that time, the Chinese were going to take over Hong Kong anyway. So I worked for Pierre at Maison Blanche and then he became the chef of the White House. It was the last year of President Reagan's term, and then he worked for President Bush and President Clinton.
Did you get to go to the White House with him?
I went many times, but I didn't work there. I was sous-chef at the Mayflower Hotel. Then I got a job in New York, talked to my chef and he said, 'You're going to San Diego. You are ready to be a chef de cuisine, not a sous-chef anymore.' So I packed my stuff, drove across country and worked at the U.S. Grant Hotel, at the Grant Grill, for about four years.
How do you end up at the Marine Room?
I had a little bit of an adjustment to make. In D.C., I partied, man. I partied until 4 in the morning. I come here to San Diego, it's 10 o'clock at night and everything's closed. So, six months into it, I told my chef I was going to move to New York. But John Campbell, who was a friend, got a job here as GM and wanted me to come with him. He told me it was at the Marine Room and I was like, 'Where is that?' So I come down the stairs over here and I just went, 'Wow.' I fell in love right away.
What did you fall in love with?
The water. I grew up by the water. I was born by it. I love all bodies of water, but the ocean is it for me. There is a lot of energy there and it really recharges my batteries every day. That energy is so good.
Does La Jolla seem more European to you than other places you've seen in America?
This reminds me a little bit of the South of France. The weather is about the same. And I love the energy in La Jolla. There are a lot of tourists coming in. It's a destination. When you say 'La Jolla,' you completely forget about San Diego. You're in a very, very special place.
You must have cooked for lots of celebrities here. Who was your favorite?
So many people. Bill Gates comes in with Melinda and the kids. He sits right over there.
Are you intimidated when he does?
No. We are all people. I always just want to make sure that I will really create a great memory.
Is the memory you create for Bill Gates any better than the memory you would create for me?
Not at all. Zero. No difference whatsoever. Except if you tell me, 'I have allergies to this and this.' In that case, I will create something very special for whomever.
Did you know Anthony Bourdain?
As a matter of fact, we did food and wine together for 10 years in the Cayman Islands. We were really good friends.
What was your reaction to the horrible news?
It was devastating, because every time I saw him, we always had a great time together. I think that what he did was really important. He brought culture, cuisine and travel to everybody in the United States watching his shows.
When something like that happens with someone who seems to love life so much, isn't it hard not to lose hope?
I think it creates a void, and the void is that we do not understand what happened. But it does help remind us that we're here on Earth for a very, very short time and we should always make the best of it, be kind and enjoy every single moment.
Editor's Note: La Jolla Light's "People in Your Neighborhood" series shines a spotlight on notable locals we all wish we knew more about! Light staff is out on the town talking to familiar, friendly faces to bring you their stories. If you know someone you'd like us to profile, send the lead via e-mail to editor@lajollalight.com or call us at (858) 875-5950.
---
Get the La Jolla Light weekly in your inbox
News, features and sports about La Jolla, every Thursday.
You may occasionally receive promotional content from the La Jolla Light.