Museum of Contemporary Art San Diego (MCASD) marks its 75th year with a new director, Kathryn Kanjo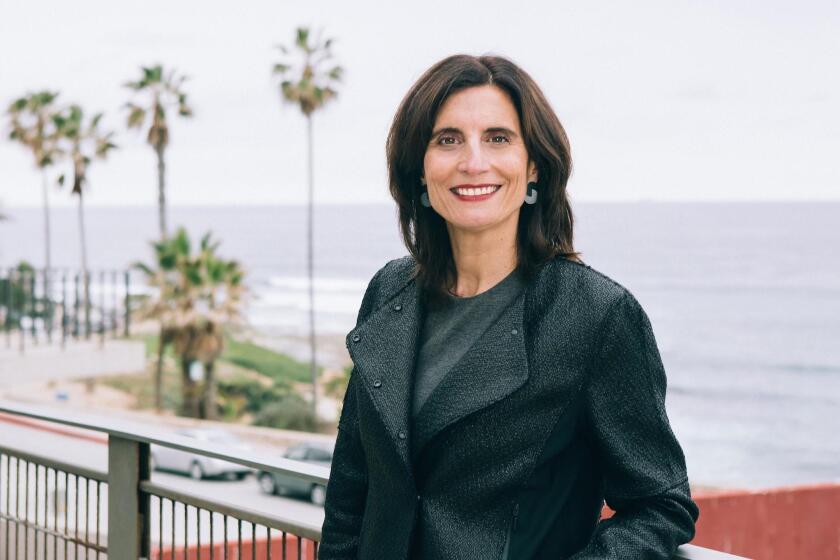 On Oct. 18, 2016 — the 75th anniversary of the Museum of Contemporary Art San Diego (MCASD), Kathryn Kanjo will officially become the museum's new Director/CEO, taking over from Hugh Davies, who has held the position for a record 33 years.
In a recent interview, Kanjo talked candidly about her personal and professional life.
"Even as a kid, growing up in Redlands, I was involved in the arts," she said. "Redlands is a little college town in the foothills, not that far from L.A. My dad was an English Lit professor at the university, and they had a gallery there. I took art classes, I went to museums like LACMA (Los Angeles County Museum of Art) with my mother and my aunt, and for my birthday, I'd get art supplies."
At the University of Redlands, she started out majoring in English. "I realized I was taking so many courses in Art History that I had a double major," she said. "All those 8 a.m. classes with slides, where everyone else falls asleep — I liked those! One of my professors helped me get an internship at LACMA — as an undergraduate, which is very unusual — and I worked in a commercial gallery as well."
She went on to get her Master's in Art History and Museum Studies — a new field, at the time — at USC. "I was interested in L.A. art of the 1960s, but I did my thesis on a 19th century American painter, which led to my first post-graduate gig, at the Whitney Museum in New York. I was only 25, and I was managing one of their satellite branches, a 5,000-square foot space, where I got to show masterpieces of American Art."
One of the exhibits she curated featured a range of contemporary artists dealing with childhood issues. Hugh Davies came to see the exhibit and offered her a position as Assistant Curator at MCASD. "My mother said: 'Oh! You've always wanted to work there, a place where you could be involved with history in the making!' I didn't even remember I'd voiced that to her years before."
Kanjo had made the "big switch" to contemporary art.
Living the dream
"I'd always had a personal relationship to art, empathizing with each work I was studying in order to fully understand it," she explained. "I'd imagine what I might have been like then, in that time, with that artist. But once I began working with living artists, I started thinking: I'm actually IN this culture! Maybe I've got a leg up to understanding it! With contemporary art, you're right in the middle of what's happening, you're anticipating what will become history!"
From 1992-1995, as she went from assistant to associate curator at MCASD, she helped organize regional and trans-border projects. For an exhibit called "Common Ground," she phoned local artist David Jurist to set up a studio visit.
"He was a conceptual artist, and didn't have anything in his studio, so we just had a meeting. We discussed art, and then we discussed having a date. He never got into the exhibit, because he didn't have anything to show, but he did get into my life. When I was offered a job as Curator of Contemporary Art in Portland, he followed me up there. In 1997, we got married, and now, here we are, 19 years later, back where we first met!"
There were a few stops in between. Their daughter, Virginia, now a freshman at Cal Poly, was born in Portland, but when the new century brought Kanjo a new opportunity — Executive Director of Artpace, San Antonio — they moved on to Texas, where their son, Theo, was born.
"That was a great time, when everything in my life came together," Kanjo said. "A new city, a new state, my first directorship, working with high-caliber artists, and then a new baby — and Artpace had onsite daycare!"
Managing to merge home-life and career hasn't been easy, Kanjo admitted. "But I had models: my parents both worked, and considered themselves feminists. So I knew what to look for in a partner, and David's a terrific husband and father."
After seven years of successes in San Antonio, Kanjo returned to her home state, as Director of the University Art Museum at UC Santa Barbara. Then, in 2010, Davies lured her back to MCASD by creating a position for her: Chief Curator. Last year, she was promoted to Deputy Director, and this year, as Davies neared retirement, she was the perfect choice to replace him.
"I think my greatest skill is storytelling — translating the visual experience into a verbal one, giving voice to visual art," Kanjo said. "And my enthusiasm! A museum assumes an audience; if you want to connect with them, you have to make your language enjoyable and clear."
Looking to the future
"Even though I'm privileged to have Hugh staying on as director of expansion, I'm the CEO now: the buck stops here," she said. "But I'm a good manager, good at developing a team of vital people, and I'm excited to be in control. We have to close our La Jolla site for a spell, (the museum will close in January for a major renovation and expansion) but we'll still be doing lectures in La Jolla, and we'll be working hard to maintain our audience."
One thing is certain: She'll be sharing her passion for personal engagement with the arts. "Art helps us see the world differently and understand things more fully — if we let it," she said. "I want to bring back the awe and the wonder."
In July, Kanjo and her family moved from Scripps Ranch to La Jolla. These days, after she drops her son off at La Jolla High, she takes a walk along the ocean. So keep an eye out for MCASD's new director. She's in the neighborhood now.
— A Word with Kathryn Kanjo's Colleagues:
• Hugh Davies (MCASD Director/CEO since 1983. He first hired Kanjo in 1992.) "She's accomplished. She's just so well-rounded, so good at so many things. She has the best skill set for being a modern museum director."
• Jill Dawsey: (Associate Curator, hired by Kanjo): "Kathryn is too interesting and dynamic a person to have a single word describe her. She has a way with people and a way with words."
• Cris Scorza (Education Curator, hired by Kanjo): "She always knows when a leader is needed and knows how to model behavior in ways that empower us. There are just a few leaders in our field that are like that and really make you want to follow them."
— Museum of Contemporary Art San Diego has two locations:
• MCASD La Jolla: 700 Prospect St., La Jolla. (858) 454-3541
• MCASD Downtown San Diego: 1100 Kettner Blvd. (between Broadway and B Street), San Diego. (858) 454-3541
• Website: mcasd.org
---
Get the La Jolla Light weekly in your inbox
News, features and sports about La Jolla, every Thursday for free
You may occasionally receive promotional content from the La Jolla Light.