La Jolla/Scripps lecture: NYC Museum of Modern Art (MoMA) curator says design can and should be tool for social betterment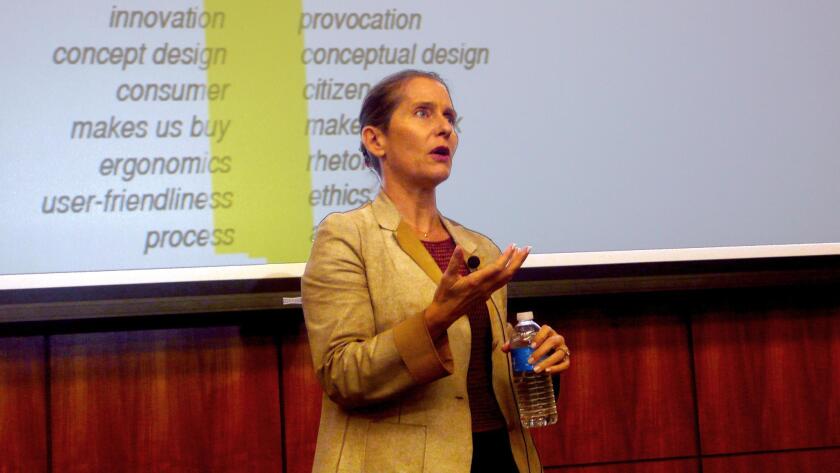 You could not pick a better place in La Jolla than the Seaside Forum at Scripps Institution of Oceanography for a lecture on design by curator Paola Antonelli from the Museum of Modern Art (MoMA) in New York City. It's a beautifully conceived small auditorium with a high balcony above, and walls of fine and richly stained wood. The entrance has all-glass walls that offer an enchanting view of the surf in La Jolla Shores.
Antonelli, senior curator in the Department of Architecture & Design at MoMA, spoke as a guest of the Helen Edison Lecture Series on March 14, 2017 at the Seaside Forum. Antonelli is, perhaps, today's top spokesperson for the world of design.
Her visit was prompted by Donald Norman, author of "The Design of Everyday Things," and a former retired cognitive psychology professor at UC San Diego, who now directs its Design Lab. Norman brought Antonelli to the attention of Dan Atkinson, programming director for the lecture series and for UCSD Extension.
"Paola Antonelli tops the list of the people I think are of critical importance in today's society," said Norman, in his introduction. "She is a person with a broad range of interests that encompass all the latest developments in the design world."
Antonelli left the podium to stand center stage and speak without notes, underneath the beautiful slides she showed. She described herself as "a hunter-gatherer of design ... I go out there and forage for the best examples of design from all over the world. Then I then bring them back to the museum to share with the public."
Antonelli structured her lecture by illuminating a series of things that design should be — what she called "a minestrone soup" of orientations.
For instance, she thinks good design should be both critical and communicative. It should have a questioning attitude and highlight (or mirror) features of daily life. Designers should subvert or change the normal way we view things, and offer us new perspectives. Foremost, she argued, design must also have an aesthetic component. It must be beautiful. As an example, Antonelli offered an American wind map that graphically shows the speed of the winds across the country by way of a topographic display of swirling waves for any given moment of the day.
Next, Antonelli said good design should be constructive. It should suggest how we might build a different world. For instance, by creating objects that are more "organic" or natural, by modeling the greatest designer of all — nature. "The quest to create truly 'organic' design is the Holy Grail of the design field," she explained. She illustrated her point by showing slides of a project that combined the direction provided by computer programs with the building ability of live silk worms that were used to construct intricate and unusual structures in which we might live or work.
Antonelli went on to say design should have a political dimension. A project she presented reflected on how we might construct Donald Trump's proposed border wall. What if there were large teeter-totters build into the fence that children on both sides of the border could simultaneously ride? Wouldn't that change the meaning of a border wall from exclusion to cooperation?
Design should be visionary and provide possibilities, she continued. She described a family portrait project that featured a gay couple and their two possible children, which was created using Photoshop and based on their images and DNA profiles, so they could get a visual sense of what their future family together might look like.
Antonelli said design should be responsible. One way, is through mining for old, lost techniques or skills, like Italian methods of ceramics that have been replaced by mass production. Another way can be seen in a prison in Norway that was designed to create buildings, walls and living quarters more conducive to prisoner reform than suffering and punishment. In yet another project, a circular, rolling mine detector that resembled a beautiful sculpture was built by a man who played around mine fields as a child.
During the Q&A portion of the evening, a woman commented, "When I studied design some 60 years ago, everything was male-oriented. It is so refreshing to see that you've included the woman's perspective on design." Another added, "Antonelli's lecture was designed to make you question your own concepts of design and to think more about it."
Some said they were disappointed that Antonelli did not go more into the future of design — as in the type of clothing, cars or houses people might desire to own in the future. However, Antonelli made it clear she is more interested in the "frontiers" of design rather than the "future" of design, which she said, "is more akin to science fiction."
"My job," she concluded, "is identifying the best of new and contemporary design and then presenting it in an artistic way for the appreciation of the public."
———
• Future Design Applications:
After the lecture, Donald Norman and Dan Atkinson said the hope for the future of design is that design-thinking be applied to the various experiences of life, so these trials are more tolerable or rewarding.
For example, have you ever experienced the loud and frightening aspects of an MRI machine? It's a more difficult experience for children, who usually must be sedated. Because of these issues, a team of doctors and designers got together to fashion a better MRI experience for kids.
The designers showed children how to use a miniature MRI machine to see inside a cat, which they found fascinating. Then the adults made getting into the machine seem like going on a Pirate's Ride. With a newly designed process, children were able to tolerate the MRI experience without trauma or the need for sedation.
---
Get the La Jolla Light weekly in your inbox
News, features and sports about La Jolla, every Thursday for free
You may occasionally receive promotional content from the La Jolla Light.