Paula Deen cooks up book-signing at Warwick's in La Jolla
Southern Cuisine Queen and Food Network personality Paula Deen will sign her latest book, "At the Southern Table with Paula Deen," 6 p.m. Saturday, Sept. 30 at Warwick's Books, 7812 Girard Ave. in La Jolla. The signing line will operate on a first-come, first-served basis. Photographs are allowed, but no personalizations.
Deen got her culinary start in 1989 with a home-based catering company in Georgia, "The Bag Lady." She had her sons Jamie and Bobby delivering what she calls "lunch and love in a bag." She opened her first restaurant, "The Lady and Sons," in 1994. From its popularity, she wrote her first cookbook, "The Lady and Sons Savannah Country Cookbook." Since then, she has expanded her cookbook, restaurant and cookware empire, and has had several shows on the Food Network.
As for what makes this book different from her 14 other cookbooks. "For the first time, I've included easy meal planners to help with pulling together different recipes to make a full meal from the salads, entrees, sides and desserts," Deen said. "I take the guesswork out of it for you. I also created fun Game Day and Backyard BBQ menus, and a farm-to-table dinner including decorating tips to make it a memorable evening for all."
Deen said she considers "At the Southern Table" to be "a celebration of family and gathering around the table to enjoy a delicious meal and conversation." It also continues a recent trend of "lightening up" her classic Southern recipes. Her previous books include, "Paula Deen Cuts The Fat" and "Paula Deen's Air Fryer Recipes."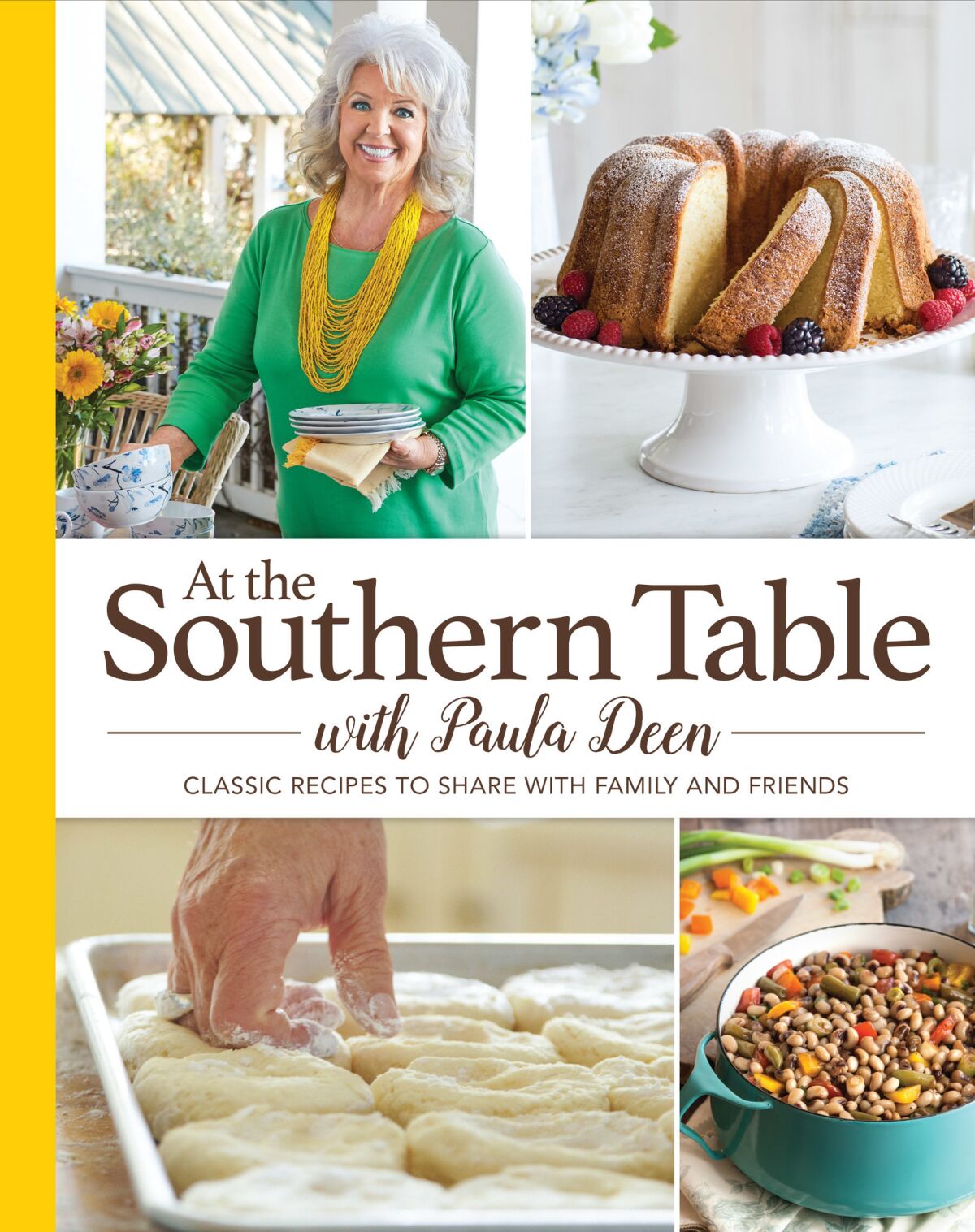 Of the new tome, she said: "The recipes include soups and healthy salads as well as classic Southern recipes that I say should be eaten in moderation. One day you might want to indulge in spicy fried chicken and cornbread waffles, and the next day the healthy fruit salad with sweet orange dressing. My son Bobby (said) most days he and his wife Claudia eat lighter and they especially like the soup and salad recipes."
That's not to say the recipes have any less Southern soul.
"Growing up, I did not realize I was eating 'Southern' food. I just knew that I was eating delicious meals cooked by my Momma, Grandma Paula and Aunt Peggy. It was important for me to cook for my boys and serve them the same great Southern food I was raised on and I assure you, I did. Every night a delicious meal. Jamie and Bobby both cook Southern food and they prepare the same dishes differently," she said. "It is important for everyone to put their own take on recipes."
The La Jolla stop is one of more than 20 on her book tour, and while in San Diego, Deen said she will visit the San Diego Naval Base to thank the service-members stationed there. Deen said she's never visited La Jolla, but looks forward to the Warwick's book-signing.
"I love meeting all of my fans and just to be able to hug them and thank them for all their support. My book signings are a lot of fun and you just never know who might show up," she said. "Cooking is fun and (about) spending time with your family and friends at the table, breaking bread and sharing good stories. It's about making memories together. Put away the cell phones and spend quality time together."
---
Get the La Jolla Light weekly in your inbox
News, features and sports about La Jolla, every Thursday for free
You may occasionally receive promotional content from the La Jolla Light.