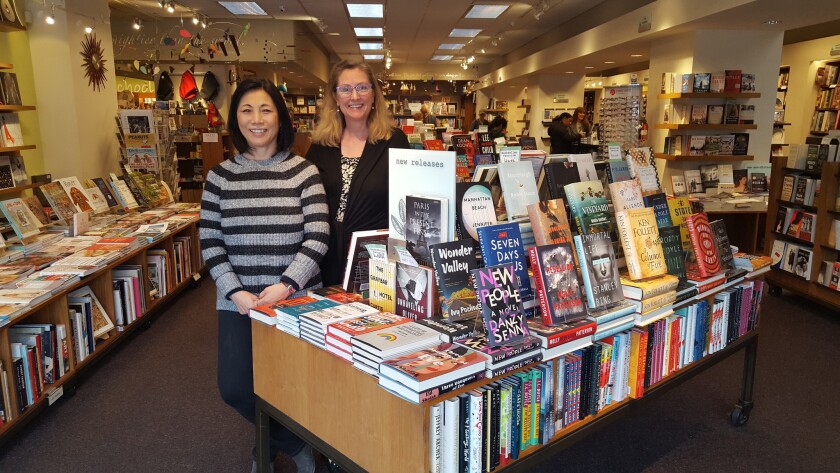 With the literary pendulum swinging away from digital reading devices toward actual textile books, what will fill those pages in 2018?
Local librarians and book buyers from Warwick's Books in La Jolla agreed that works by authors of diverse backgrounds featuring eclectic characters would likely lead the way in adult literature, with similar themes in children's books.
"There is such a wide range of categories and topics and demographics that it's really hard to predict what books are going to be hot this year," said Adrian Newell, who has been with Warwick's for more than 20 years. "But one trend is toward diversity in gender and ethnicity because there's been a lot of talk in the industry of it being 'too white.' "
For example, Newell said it was rare in years past to feature a character with gay parents, but it's becoming more common. And following the success of "The Girl on the Train," female-lead mysteries have garnered popularity.
"There are a lot more debut authors being published, who are in the minorities writing issue-based stories, such as immigration or other hot-button issues," Newell said. "Right now, our strongest category is non-fiction. A few years ago, it was weighted toward fiction."
The trend seems to translate to children's works as well.
"Publishers think the upward trend is graphic novels, so they're producing a lot of those," said Warwick's children's book buyer Stacey Haerr. "It's a great genre because it works for children and can bridge a gap for reluctant readers to have a lot of pictures and not be so text heavy. Still, there's a lot of great content, especially in the new works, where social issues and family issues are discussed."
One in particular, set to hit the shelves, addresses race and police brutality. "It talks about being a little boy wearing a hoodie and getting shot," Haerr said. "That would never have been considered even three or four years ago. These issues are starting to trickle down to younger and younger audiences."
La Jolla Youth Services librarian Angie Stava agreed. "I predict that children's and teen's fiction will increasingly reflect complex social issues like diversity, immigration, and gender identity that have been in the headlines," she said. "In 2017, we started to see an increase in thought-provoking selections for children and teens that reflect these issues — 'The Hate U Give' by Angie Thomas, 'Refugee' by Alan Gratz, 'The Sun Is Also a Star' by Nicola Yoon, and 'The Witch Boy' by Molly Ostertag are a few worth reading. This trend will only grow in 2018."
La Jolla Library branch manager Shaun Briley added, for the adult market: "Any books made into movies will be big, so it's worth looking ahead to see what Hollywood has in the pipeline. Audiobooks are trendy right now, too. You can download free audio books from the library with two apps — cloudlibrary from 3M and RB digital — to listen to from your phone, tablet or smart-watch. Having said that, there was a trend last year that showed the growth in eBook usage has begun to taper off, while readership of good, old-fashioned paper books is having a bit of a revival."
As a barometer to determine which books to pursue, Briley uses The New York Times book reviews, Publishers Weekly magazine and patron suggestions. "We buy from the distributor Baker and Taylor, and there is a way to see what's trending in terms of pre-orders they've received for books that haven't been released yet, which gives me a good clue to keep ahead."
Newell said at Warwick's, book buyers rely on industry buzz, sales reps, experience and "knowing what our community supports in terms of topics and authors, etc. There is a formula, but some of it is gut-feeling. Sometimes my gut is right and sometimes it's not. Sometimes it's a wing and a prayer. Sometimes it is just magic."
---