On Literary terms: The Book Club celebrates 60 years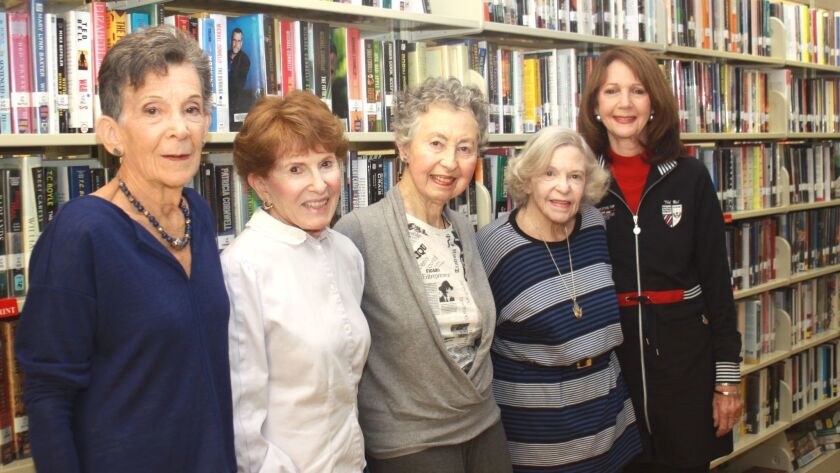 The "paper" anniversary is traditionally the first year, and the 37th anniversary is the "book" year, but for a book club with a longtime presence in La Jolla, its 60th anniversary was all about the books.
To commemorate, the group read John Steinbeck's "The Moon is Down" and held a luncheon April 26 at the Sheraton La Jolla Hotel.
The group (aka The Book Club) has been regularly meeting 11 times a year for the past 60 years to have lively discussions about literature, including fiction, non-fiction, Shakespeare, contemporary plays and everything in between. Unable to recall its title, members said the first book they read was "relatively new" when they chose it, and it was about the Leopold and Loeb murder case of 1924.
"We started because a few of us were friends in college, and we all had little kids at home and wanted a couple of hours to talk with other grown-ups," said founding member Phyllis Minick of La Jolla.
Added Teddie Lewis, "We went through having babies together, then school-age children, bar mitzvahs and confirmations, weddings, our children growing up and then our grandchildren coming along." And while the membership may have changed to integrate more retired professionals than stay-at-home moms, the format of the meetings has stayed the same — for the most part.
Each month, the group reads the voted upon book and comes together fourth Wednesdays to have a facilitated discussion about it. (To avoid conflict with holidays, rather than meet in November and December, they have one combination meeting the first week of December.) The discussions are occasionally led by professors and other literary professionals, but sometimes, the group leads themselves, armed with reviews or questions about the work to generate dialogue.
The meetings are hosted in members' homes on a rotation basis, and originally included lunch, but the group gradually shifted away from the culinary aspect to focus on the literature.
As founding member Gerry Horwitz recalled, "When we started, one of our founding members had a mother who was involved in the Great Books Program and she made suggestions about what we could read. Then we started having a woman, whose husband was a college professor, and who was leading at least one other book club, become a member and she led us every month and recommended readings.
"But we didn't always just accept her recommendation, she would name a few and we would vote on one or all of them. Then we started having a committee of three that, twice a year, would make a list of 10 or 12 books they recommended and we all voted."
With that process, books have come along that some say they'd never have chosen for themselves, and only read because it was The Book Club selection; and some books have been read that were "crummy," but spurred enlightening discussion. Regardless of the text, respectful disagreement and debate was inevitable.
"Even if we don't care for the book that much, the discussion when we all get together gives us a whole different perspective," said Lewis. "We've had marvelous discussions over not-so-good books."
Having been with the group for so long, Horwitz reports that she knows, going into the discussion, whether she is going agree with a certain person. "I just know as soon as so-and-so opens her mouth, I'll agree with her, but when this other person opens her mouth, I'll disagree. But we've all grown over the years, and things in our lives change our perspective. A person I used to disagree with … to my surprise ... I will agree with from time to time. It's a matter of growth."
And when debate does arise, it's handled with a non-judgmental attitude, one of the secrets to the group's endurance. "It's not about someone being right and someone being wrong, it's just about the chance to hear different opinions," Horwitz said.
Several members added that they've come to the meeting with one opinion, but after hearing from the group, left with a changed mind.
Newest member Judy Price Lewis said she appreciates that everyone brings different experiences, insight and knowledge that sheds new light. "I find it interesting that some people focus on writing style, others focus on the plot, and that adds depth to the discussion," she said. "We also try to learn something about the author's history, which gives us an understanding as to where they're coming from when they wrote what they wrote, and this informs our discussions."
The Book Club membership is by invitation-only when there is a vacancy, but if there isn't an opening, members advocate for joining another nearby.
"Every library has a book club and there are lots of participation opportunities," Minick said. "This is a time of such controversy and isolation in the world, so to have an acquaintanceship that mixes ideas and people like this, is such a wonderful thing."
---
Get the La Jolla Light weekly in your inbox
News, features and sports about La Jolla, every Thursday for free
You may occasionally receive promotional content from the La Jolla Light.