Author chronicles 'Remarkable Women of San Diego'
Names like Ellen Browning Scripps and Kate Sessions might be known for their contributions to San Diego, but with the November 2016 publication of "Remarkable Women of San Diego: Pioneers, Visionaries and Innovators" by Gloria Harris and Hannah Cohen, other noteworthy women and their influence on San Diego's history came to light. Some were considered exceptional for being the first woman in San Diego in their trades, others for their resilience and determination to spur change.
At the La Jolla Community Center Jan. 12, Harris, who is a resident of La Jolla, spoke to about 20 guests, sharing the highlights from her book and anecdotes about these women.
She is also co-author of "Women Trailblazers of California: Pioneers to the Present," and talked about her path to becoming a successful author and remarkable woman in her own right.
"In 1974, I wrote a book on assertiveness training for women. As a result, I was featured in People Magazine, got inducted into the San Diego Women's Hall of Fame, and was asked to be a board member for the Women's Museum of California," she said. "But I questioned what I really knew about the women of California. So I started doing research to learn something. I learned, unbelievably, that no one has ever written a book about the contributions of women to the state of California. I thought, 'someone's gotta do it,' and I did. My co-author and I wrote 'Women Trailblazers of California' … which did very well."
Because it did well, the pair were invited to write a book about the women of San Diego. "It's not easy to get published, everybody knows that, so when you get an invitation from a publisher, it's pretty hard to turn it down. And that's how this book came to be."
"Remarkable Women of San Diego" is divided into four eras: 1850-1900, 1900-1950, 1950-2000 and 2000-2015. Harris explained American culture during each of these periods, to further illustrate the boldness of these women during those times.
Circa 1850-1900
"Some of you may know, California became a state in 1850 and with it, San Diego was incorporated as a City. So that's an appropriate time to start the history," Harris opened.
"The 19th century was known as the Victorian Era, when there was a sharp distinction between men and women and their gender roles. Women were expected to stay at home and raise their families, and the men were the breadwinners," she said. "In 1890, only 3 percent of white, married women worked. Also during this period, women had no political rights, they couldn't vote, they couldn't sit on juries, they couldn't hold public office. So the women highlighted in this section are truly remarkable, not only for their achievements, but when you consider what it was like in that confining culture, you know what it took to be successful."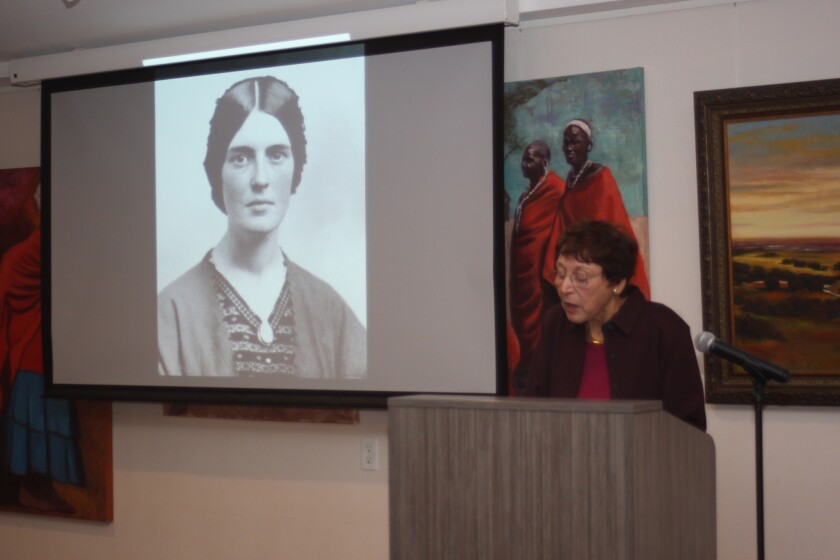 She discussed San Diego's first female school teacher, nurse, physician, president of the San Diego Medical Society, the woman responsible for the first permanent library in San Diego, the founder of the San Diego YWCA and more.
One of them, Helen Hunt Jackson, was an author and advocate for Native American rights. "Her first book was written in 1881 and documented the suffering of seven Native American tribes. She sent it to every member of Congress to change government policy. But it fell on deaf ears. When she saw the success of the novel 'Uncle Tom's Cabin' and the change it made to the status of slavery, she said, 'What I need to do is write a novel!' That novel was titled 'Ramona.' Our city of Ramona in San Diego County is (reportedly) named for that book."
Additionally, she mentioned Flora Kimball a "significant champion for women's rights and women's suffrage." So much so, that at the time of her death, Kimball was eulogized by Susan B. Anthony.
Circa 1900-1950
"There were many changes during this era. In 1920, American women got the right to vote with the passage of the 19th Amendment. And during World War II, women were allowed to go to work. However, when the men came back from war, it was seen as their patriotic duty to return home and women did in large numbers. … The women featured in this section were remarkable because they had a lot of barriers to overcome," Harris said.
These include San Diego's first female architect, a specialty trained librarian who revamped the library system, a judge and more, as well as a Civil Rights activist and a key designer of the University of San Diego campus.
One of these women, Belle Benchley, is known as The Zoo Lady, and was the director of the San Diego Zoo from 1927 to 1953. "She was the only female zoo director in the entire world at that time. … The first few directors were all men, but the whole time Belle Benchley was working there, she loved animals and would learn all about their habits and would make sure they were fed correctly. After three failed directors, people realized she was doing the job anyway, and asked her to be the director," Harris said. "She made so many changes during her time … including putting the animals in natural habitats (as opposed to steel cages) and in family groups."
Another, Ruth Alexander, was an aviatrix. As Harris explained, "Charles Lindberg flew in the 1920s, but in 1929, Ruth Alexander set an altitude record for women flying light planes. She was the first female aviatrix to complete a three-country flight. She started in Canada, flew past the United States, and landed in Mexico. She set a number of records. In 1930, at age 25, she set out to make a one-stop flight to the East Coast. Her plane took off from Point Loma and moments later, crashed."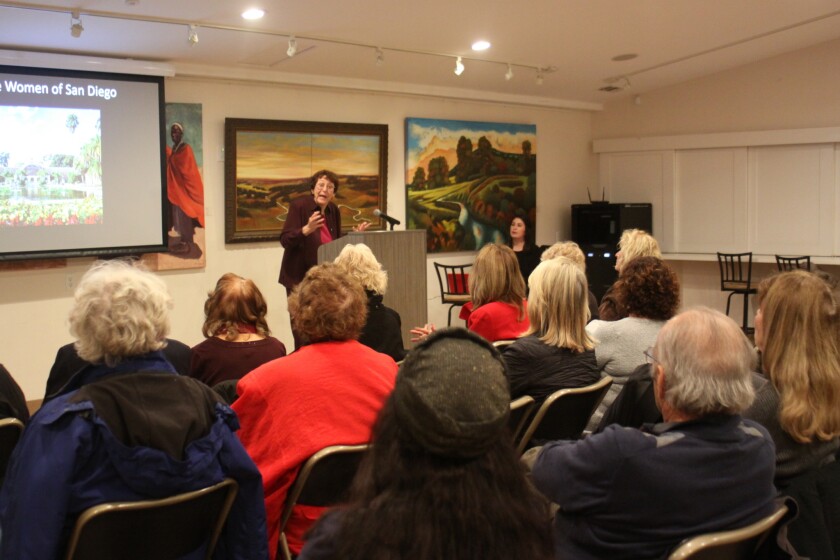 Circa 1950-2000
"Everything began to change in this era. … We had television programs such as 'Leave it to Beaver' and 'I Love Lucy' that perpetuated the image of women as the weaker sex. But in 1963, Betty Friedan wrote 'The Feminine Mystique' and ushered in the Women's Liberation Movement," Harris said.
"Slowly, conventional assumptions about the role of women began to change. But the belief that a woman could combine a family and a career was still foreign. In the 1970s, only 3 percent of the nation's lawyers were women, and only 7 percent of doctors were female. There were 10 women in the 435-member House of Representatives and one woman in the U.S. Senate. Even though times had changed, the women in this section were still considered 'unusual.' "
San Diego's first female surgeon, Anita Figueredo, once walked from the operating room to the maternity ward so she could give birth, and then she returned to make rounds as a pediatrician. "She had nine children. If anyone successfully combined a career and family, it was Anita," Harris joked.
Others of note included the founder of the Mingei Museum, the first woman to swim the English Channel, the founder of the first fitness spa, an advocate for Native Americans, the first female superintendent of San Diego City Schools and more.
Circa 2000-2015
"By this time, cultural stereotypes and assumptions that previously deprived women had been shattered, except for one glass ceiling that has yet to shatter," she said, referencing the office of the U.S. Presidency. "The women in this section exemplify strong role models and share a more expansive vision of what women can accomplish."
Modern trailblazers include Shelley Zimmerman, San Diego's first female Chief of Police; Lynn Schenk, who was the first California Congress member to be elected south of Los Angeles and served as the first female chief of staff to Gov. Gray Davis; Mary Anne Fox, the first woman appointed Chancellor of UC San Diego; Shirley Weber, the first African American woman south of Los Angeles to be elected to the California State Legislature and more.
Following the presentation, a few questions and comments were taken. Attendee Jackie Hanson opined, "When I hear these stories, I feel that today, all of us who enjoy more opportunities than the women who came before us, owe a special debt to those who had the courage to go first. They deserve our respect and appreciation."
Attendee Sharon Gilkerson commented, "In this time in our history, women still need to hear inspirational stories like these."
WANT TO KNOW MORE? If you missed the Community Center presentation, Harris will also speak at 2 p.m. Saturday, Jan. 21 at the La Jolla Library, 7555 Draper Ave. Free. (858) 552-1657. "Remarkable Women of San Diego" is available on amazon.com and in bookstores.
---
Get the La Jolla Light weekly in your inbox
News, features and sports about La Jolla, every Thursday for free
You may occasionally receive promotional content from the La Jolla Light.