Newly published author Jamie Tyrone had a book-signing at Warwick's bookstore in La Jolla on July 14, 2019 to showcase her tome, "Fighting for My Life: How to Thrive in the Shadow of Alzheimer's," published by HarperCollins Publishers.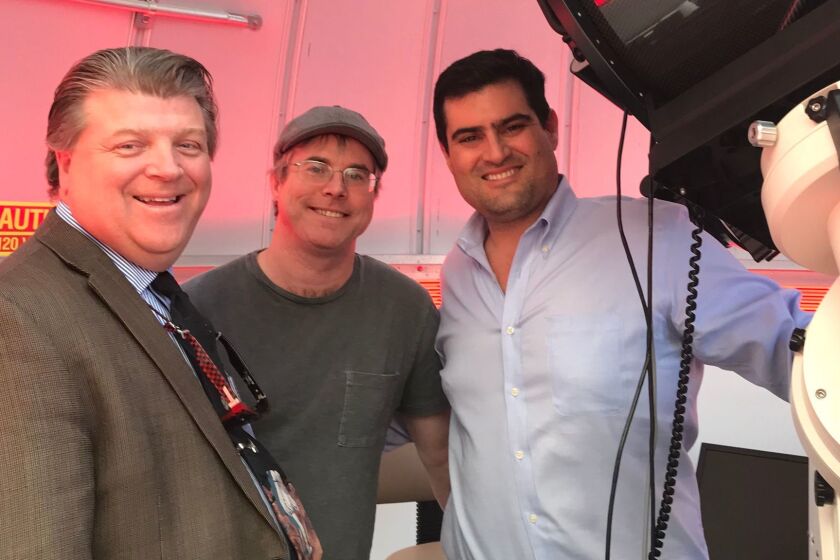 Andy Weir, The New York Times bestselling author of "The Martian" (a story about an astronaut stranded alone on the planet Mars that was made into a 2015 movie of the same name starring Matt Damon) was at UC San Diego on the evening of Dec. 7 to discuss his new work, "Artemis."
The author shuffles tenuously over to greet me in the parking lot of his La Jolla apartment building.

Evan Spoelstra appeared hesitant at first, when asked to define his concept of a rabbi to an actual rabbi.

It would be hard to deny our flourishing fascination with all things fantastical if you were at UC San Diego's Price Center West, May 2, when fantasy writer George R.R.

The "paper" anniversary is traditionally the first year, and the 37th anniversary is the "book" year, but for a book club with a longtime presence in La Jolla, its 60th anniversary was all about the books.

Names like Ellen Browning Scripps and Kate Sessions might be known for their contributions to San Diego, but with the November 2016 publication of "Remarkable Women of San Diego: Pioneers, Visionaries and Innovators" by Gloria Harris and Hannah Cohen, other noteworthy women and their influence on San Diego's history came to light.

La Jolla High School graduate, outdoor educator and former La Jolla Light freelance reporter Cindy Jenson-Elliott will sign her latest children's book, "Antsy Ansel: Ansel Adams, a Life in Nature," 7 p.m.