Concert Times
Fourth Friday Jazz Series at La Jolla Community Center presents Trio De Janeiro, featuring Lori Bell, Ron Satterfield and Tommy Aros, 8 p.m. Friday, Sept. 23 at 6811 La Jolla Blvd. The trio has a Brazilian-tinged approach to jazz standards, original compositions and folk music. Tickets: $18-$23 in advance, $20-$25 at the door. (858) 459-0831. ljcommunitycenter.org
Jazz returns to The Auditorium at TSRI for the 20th annual Athenaeum Music & Arts Library series. Geoffrey Keezer and Friends take the stage, 7:30 p.m. Saturday, Sept. 24 with duo performances by Keezer and virtuoso vibraphonist Joe Locke, Grammy-nominated vocalist Denise Donatelli, Hawaiian slack-key guitar master Keola Beamer, and vocalist Gillian Margot. 10620 John Jay Hopkins Drive. Tickets: $84-$99 series, $30-$35 individual shows. (858) 454-5872. ljathenaeum.org/jazz-at-tsri
Trio Ciele, with Kay Etheridge on piano, Päivikki Nykter on violin and Cecilia Kim on cello, will perform piano trios by Mozart and Brahms, at noon, Saturday, Sept. 24 in La Jolla Riford Library, 7555 Draper Ave. Free. (858) 552-1657. lajollalibrary.org
All ages are invited to "Starry Nights: An Evening of Music and Dancing with Ron Jones," 7 p.m. Saturday, Sept. 24 at Congregational Church of La Jolla, 1216 Cave St. Non-alcoholic beverages and dessert provided. A variety of tunes will be represented, all to get you dancing! Tickets: $10, online or at the door. lajollaucc.org/event/starry-nights
Bodhi Tree Concerts concludes its 2016 series with a popular romp through the Gilbert & Sullivan's canon with The Gondoliers, 4 p.m. Sunday, Sept. 25 at All Souls' Episcopal Church, 1475 Catalina Blvd. Reception with the artists will follow. Proceeds benefit International Rescue Committee San Diego. Tickets: $20 ($10 military). bodhitreeconcerts.org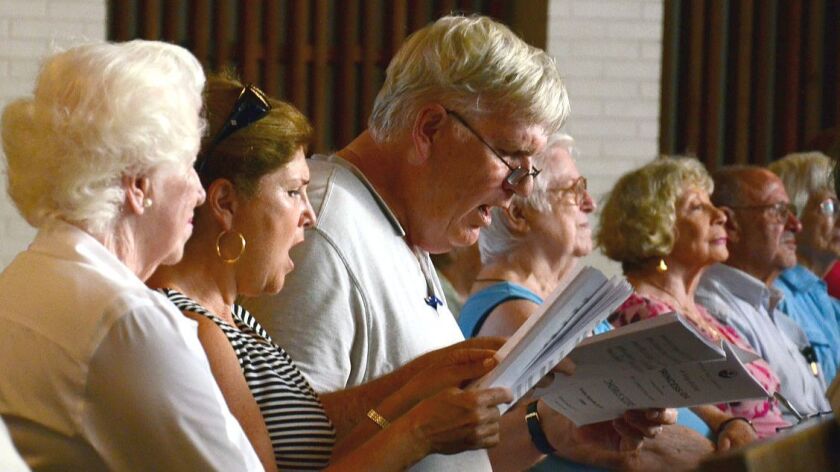 Art for Show and Sale
Through Oct. 2, La Jolla Art Association presents its latest juried art show, "Worldscapes," featuring work in all media inspired by the seven continents, capturing beauty from near and afar at 8100 Paseo del Ocaso, Suite B, La Jolla Shores. Gallery hours: 11 a.m. to 5 p.m. Tuesday-Sunday. Free. (858) 459-1196. lajollaart.org
The second Art at La Jolla Shores event runs 10 a.m. to 4 p.m. Sunday, Sept. 25 at Laureate Mini Park, 2223 Avenida de la Playa. It's a showcase of 30 artists selling a variety of handmade crafts. Free, with items for purchase. A percentage of sales goes to La Jolla Shores Business Association. talmadgeartshow.com
The Friends of La Jolla Library's new plein-air paintings exhibit is now up in the Community Room, 7555 Draper Ave., with the work of 15 artists, who have captured on canvas, the beauty of coast landscapes. (858) 552-1657.
Art and Crafts Fest
Fine art, music, food, craft beer and wine come together for the Art & Craft Show Old Town, Sept. 24-25. Experience the brilliantly colored, distinctive artwork and soulful inspiration of some 80 contemporary artists. Old Town Historic Park, 4002 Wallace St., San Diego. Free. (619) 233-5008. oldtownartfestival.org
Benefit for Animals
To raise funds and awareness for local pets in need of critical or life-saving veterinary care, the Foundation for Animal Care and Education (FACE) will host the San Diego premiere of "The Champions," 6 p.m., Saturday, Sept. 24 at Illumina Theater, 10996 Torreyana Road. "The Champions" is a documentary about the Pit Bull Terriers rescued from the dog fighting ring of former Falcons quarterback Michael Vick. Tickets: $50. (858) 450-3223. face4pets.org
Let's Eat!
More than 20 La Jolla restaurants are participating in this year's San Diego Restaurant Week, Sept. 25-Oct. 2. At participating locations, dinner will be served as a three-course, prix-fixe menu for just $20, $30, $40 or $50 per person and lunch will be served as a two-course prix-fixe menu for only $10, $15 or $20 per person. Full list of restaurants and prices at sandiegorestaurantweek.com
---