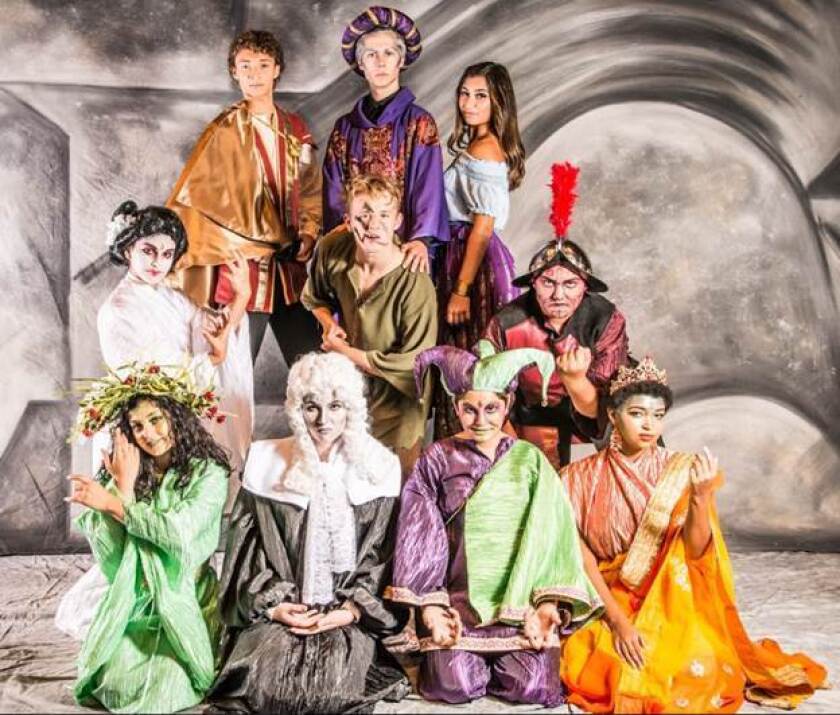 Staged Presence
Based on the Victor Hugo novel and songs from the Disney animated feature, JCompany takes on "The Hunchback of Notre Dame" with matinee and evening showings weekends Oct. 19 to Nov. 4 at the Lawrence Family Jewish Community Center, 4126 Executive Drive. Audiences will be swept away by the magic of this popular musical and favorites, "The Bells of Notre Dame," "Topsy Turvy," "Out There," and "God Help the Outcasts." $17-$25. (858) 362-1157. jcompanysd.org
Javier Velasco's production of "The Jungle Book" blends ballet, jazz, hip hop and giant puppets to bring Rudyard Kipling's beloved tale of friendship to life. Join Mowgli and his animal pals as they tumble through the jungle. 8 p.m. Friday, Oct. 19; 8 p.m. Saturday, Oct. 20; and 2:30 p.m. Sunday, Oct. 12. Tickets $15-$50. Lyceum Theatre, 79 Horton Plaza, downtown San Diego. sandiegoballet.org
The winning submissions of the San Diego Memoir Writer's Association will be read aloud at San Diego Writers, Ink's fourth annual "Memoir Showcase," 7 p.m. Monday, Oct. 22 at North Coast Repertory Theatre, 987 Lomas Santa Fe, Solana Beach. Theme is "Things we don't talk about." $20. Free parking. Tickets available online through Oct. 21. sandiegowriters.org
Music Everywhere
Grammy Award-winning soprano and Department of Music faculty member Susan Narucki presents the world-premiere chamber opera "Inheritance" at UC San Diego, using the legendary story of Sarah Winchester to address gun violence in the United States. Showtimes are 7 p.m. Oct. 24, 26 and 27 at 7 p.m. $25; $14 for youth age 5-17. Conrad Prebys Music Center, UC San Diego, 9500 Gilman Dirve (at Russell Lane). artpower.ucsd.edu/events/
Pianist Steven Lin opens the Athenaeum Music & Arts Library's 29th annual Barbara and William Karatz Chamber Concert Series 7:30 p.m. Friday, Oct. 19 at 1008 Wall St. (a private reception with the artists at a private residence follows). $228-$258 series, $40-$45 individual. (858) 454-5872. ljathenaeum.org/chamber
With two shows in one week, the Athenaeum Jazz series kicks off with John Scofield Combo 66, 7:30 p.m. Friday, Oct. 19; and the Circuit Rider Trio of Ron Miles, Bill Frisell and Brian Blade, 7:30 p.m. Wednesday, Oct. 24. The Auditorium at The Scripps Research Institute, 10620 John Jay Hopkins Drive. $90-$105 series, $32-$37 individual. (858) 454-5872. ljathenaeum.org/jazz-at-tsri
Wolfgang Amadeus Mozart's boisterous romantic comedy "The Marriage of Figaro" opens San Diego Opera's 2018-2019 season in four performances: 7 p.m. Saturday, Oct. 20, 23, 26 and 28 (matinee), at the Civic Theatre, 1100 Third Ave., downtown San Diego. Tickets start at $49 for all mainstage performances. (619) 533-7000. sdopera.org
Powerhouse international conductor Valery Gergiev will conduct the Mariinsky Orchestra from St. Petersburg and the San Diego Symphony Orchestra for the first time in the United States, 8 p.m. Wednesday, Oct. 24 at the Jacobs Music Center's Copley Symphony Hall, 750 B St., downtown San Diego. $25-$109. sandiegosymphony.org
Pianists Erica Poole and Glen Vanstrum bring the works of Beethoven, Gershwin, Barber and Fletcher to life, 2 p.m. Sunday, Oct. 28 at the La Jolla Riford Library, 7555 Draper Ave. Free. (858) 552-1657. lajollalibrary.org
Youth Art
Sharing its name with artist Major Morris' self-published photo-book, an exhibit titled "Nurture Their Dreams" is on view through Sunday, Oct. 21 at St. James by-the-Sea Episcopal Church, 743 Prospect St. The focus is children and children's experiences in and exploration of their environment. This exhibition represents Morris' creative and inspired work within the field of education during the tumultuous 1960-1970s in the Northeastern part of the United States. (858) 459-3421.
Athenaeum PEEC (Participate, Explore, Engage, Create) Youth Arts open studio sessions for those 13-18 returns 4:30 p.m. Fridays Oct. 12, 19 and 26. PEEC Youth Arts offers a rotation of multidisciplinary art instructors and curricular activities involving the use of the Athenaeum library resources and art exhibitions as starting points for projects. Athenaeum Music & Arts Library, 1008 Wall St. Free. (858) 454-5872. ljathenaeum.org/teen
Flower Show
The San Diego Sakura Chapter of the Ohara School presents Ikebana flower arranging classes regularly at the La Jolla Riford Library. This weekend, an ikebana exhibition with displays, demonstrations, DVD shows and Japanese cultural items is on view: 10 a.m. to 5 p.m. Saturday, Oct. 20 and 12:30-4 p.m. Sunday, Oct. 21. 7555 Draper Ave. Free. (760) 815-9748 or (619) 208-1575.
Jewish Xperience Week
An expansion of the Shabbat San Diego celebration, Jewish Xperience Week begins Sunday, Oct. 21 and local Jewish Organization partners will offer numerous spiritual, cultural and social activities throughout the week, at venues across San Diego. 70 community events and nine main events. Full schedule: shabbatsandiego.org/jxw/
---