La Jolla Light's Best Bets for Events: Oct. 11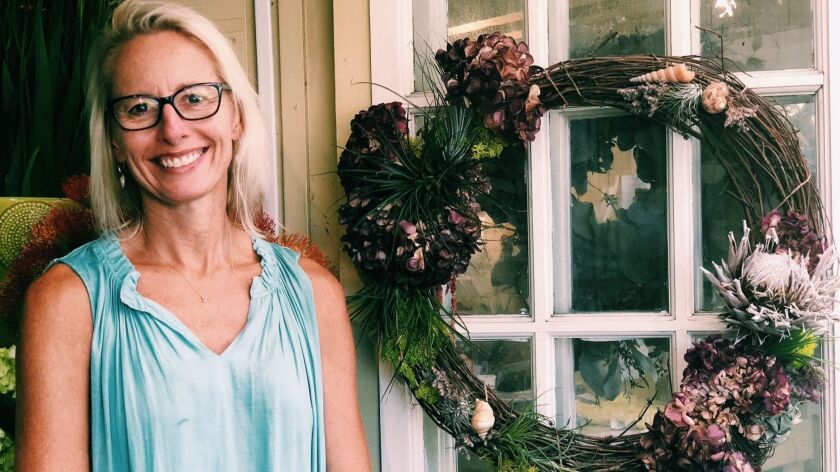 Listen and Learn
La Jolla Garden Club presents Bridget Lindroth from Bridget's Blooms, who will give a tutorial in making wreaths for all occasions from scratch, 1 p.m. Tuesday, Oct. 16 at La Jolla Woman's Club, 7791 Draper Ave. Guests are welcome. lajollagardenclub.org
The next CARTA Public Symposium looks to answer the question of how humans evolved to create tools to meet their needs. "Impact of Tool Use and Technology on the Evolution of the Human Mind," runs 1-5:30 p.m. Friday, Oct. 12 at the Salk Institute's Conrad T. Prebys Auditorium, 10010 North Torrey Pines Road. Free, however, registration is required: carta.anthropogeny.org
Following a "very unusual" week in Iraq and a trip to the reclusive country of Eritrea (which recently opened its border with Ethiopia), photographer Matthew Allison will present the images he captured at the La Jolla Photo Travelers Club meeting. 7:30 p.m. Wednesday, Oct. 17 at Wesley Palms, 2404 Loring St. Free. christam10@icloud.com
Get Fit! Get Moving!
Benefiting the Rady Children's Hospital Copley Psychiatric Emergency Department, the Be Well La Jolla event will run 8:30 a.m. to noon, Sunday, Oct. 14 at La Jolla High School, 750 Nautilus St. Throughout the day, there will be boot camp classes, yoga sessions, speakers and a raffle. Ages 5-12 can participate with parents. Tickets from $30 (In the event of inclement weather, the price of the ticket will be considered a donation to Rady Children's Hospital). bewellfitnessfair.eventbrite.com
Gypsy Guitar Concert
Israel Maldonado has been performing his blend of Brazilian music and gypsy guitar professionally for many years, and opens the Acoustics Series, 7:30 p.m. Friday, Oct. 12 at Athenaeum Music & Arts Library, 1008 Wall St. He will be joined by Aaron Bowen and Corina Rose. Tickets $12-$17. (858) 454-5872. ljathenaeum.org
Viva La France!
A musical portrait of one of the great poets of French music, "From Light to Shadow," reveals composer François Couperin's wide emotive range and will include his "Leçons de ténèbres pour le mercredi saint," a rarely performed masterpiece, 7:30 p.m. Friday, Oct. 12 at St. James by-the-Sea, 743 Prospect St. Tickets $10-$45 (619) 291-8246. sdems.org
French Film Club of San Diego, in partnership with Alliance Francaise, presents "Petit Paysan" with English subtitles, 7:30 p.m. Friday, Oct. 12 at San Diego French-American School, 6550 Soledad Mountain Road. Donation: $9. sdfrenchfilmclub@gmail.com
Modern Home Tour
The sixth annual San Diego Modern Home Tour returns 11 a.m. to 5 p.m. Saturday, Oct. 13 to feature seven homes located across Mission Hills, University Heights, Bay Park, Pacific Beach, La Jolla and Encinitas. Explore and view some of the greatest examples of modern architecture via this self-guided tour. Tickets: $40. sandiegomodernhometour.com
Gotta Have Art?
Three La Jolla artists — Dana Levine, Renata Spiazzi and JoAnna Potthoff — are among those exhibiting work at the 15th annual Photography & Digital Art Show, open for free public viewing 1-5 p.m. Saturdays, Oct.13, 20 and 27, at the St. Mark's United Methodist Church, 3502 Clairemont Drive. To see the show outside these hours, call (858) 273-1480.
"The Quest for Rhythm," explores the rhythmic relationship between metal, paint and music through works by Becky Guttin, Michael Carini and Molly Larson Cook. It opens with a reception 5 p.m. Friday, Oct. 12 at La Playa Gallery, 2226 Avenida De La Playa and runs through Nov. 23. (858) 454-6903. laplayagallery.com
The 2018 Art Glass Guild Fall Patio Show & Sale features pieces by more than 30 juried artists, live music, demonstrations featuring torch-work and glass-cutting, craft area for children and adults to create their own mosaic art piece to take home, 10 a.m. to 5 p.m. Saturday, Oct. 13 and Sunday, Oct. 14 at Spanish Village Art Center, 1770 Village Place in Balboa Park, San Diego. Free. (619) 702-8006. artglassguild.com
Journey through the world of Pop Art via some of the most influential artists of the 20th and 21st centuries, including Andy Warhol, Keith Haring, Takashi Murakami, Mark Kostabi, Brad Faine and Philippe Bertho at the "Masters of Pop Art" exhibit, on view through Oct. 31 at the Martin Lawrence Gallery, 1111 Prospect St. (858) 551-1122. martinlawrence.com
---