La Jolla Light's Best Bets for Events: Nov. 22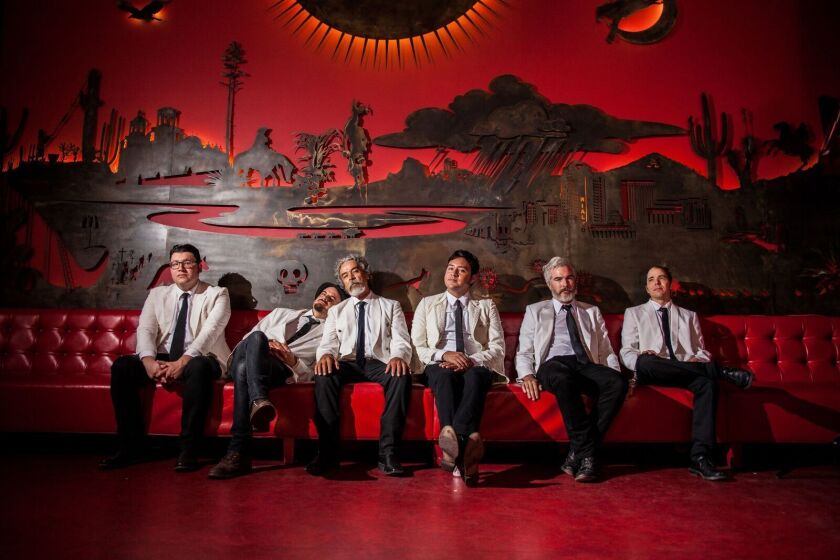 There's Music in the Air
Orkesta Mendoza, led by Calexico-based Sergio Mendoza, brings its special flavor of mambo, cumbia, psychedelic pop, twang rock, and electronic to a concert, 8 p.m. Thursday, Nov. 29 at Price Center Ballroom on UCSD campus, 9500 Gilman Drive (at Price Center Loop). Tickets from $30. (858) 534-8497. artpower.ucsd.edu
Easton Corbin, considered one of country music's hottest stars, provides the soundtrack for Country Day, after the last race Saturday, Nov. 24 at the Del Mar Thoroughbred Club, 2260 Jimmy Durante Blvd. Break out your best country attire for a whole day full of country-themed festivities, concluding with Corbin's show. Free with racetrack admission prior to the start of the final race, $30 thereafter. (858) 755-1141. dmtc.com
Beaumont's Eatery presents three concerts in the coming week at its 5662 La Jolla Blvd. restaurant: Part Time Model performs 9:30 p.m. Saturday, Nov. 24; then Daniel Cervantes takes the mic 9:30 p.m. Thursday, Nov. 29; and then dB Jukebox performs 6 p.m. Friday, Nov. 30. Free. (858) 459-0474. beaumontseatery.com
Millennia Consort is considered California's premiere "organ plus" ensemble. Celebrating its 20th anniversary, the group will present a concert experience with brass quintet, percussion and organ, 4 p.m. Nov. 25 at St. James by-the-Sea Episcopal Church, 743 Prospect St. $30, children and students admitted free at concert time, space permitting. (858) 459-3421.
On Stage and Screen
"Something's Gotta Give," the 2003 Golden Globe winner starring Jack Nicholson, Diane Keaton, Amanda Peet and Keanu Reeves, screens 2 p.m. Nov. 26 at Riford Library, 7555 Draper Ave. Tale centers on Nicholson and Keaton's characters falling for each other, despite being total opposites. Free admission and free popcorn. (858) 552-1657. lajollalibrary.org
Taylor Williamson, runner-up on the eighth season of America's Got Talent and as a semi-finalist on Last Comic Standing, performs three shows in La Jolla: 7:30 and 9:45 p.m. Friday, Nov. 23; 7:30 and 9:45 p.m. Saturday, Nov. 24; and 7:30 p.m. Sunday, Nov. 25. The Comedy Store La Jolla, 916 Pearl St. $20. thecomedystore.com/la-jolla/
After receiving critical acclaim and delighting audiences as The Grinch in 2017, Edward Watts returns to the Globe for the 2018 production of "Dr. Seuss's How the Grinch Stole Christmas!" on stage through Dec. 29 at the Old Globe Theatre, 1363 Old Globe Way, Balboa Park. Back for its 21st year, the family favorite features the songs "Santa for a Day," "You're a Mean One, Mr. Grinch," and "Welcome, Christmas (Fah Who Doraze)." Tickets from $19 for children, $29 for adults. (619) 234-5623. theoldglobe.org
Things to See
Photography, painting and glass sculpture capture the sights and sounds of Japan, Vietnam, China, India, Cambodia and Russia take center stage at the La Jolla Art Association curated exhibit "Asia," part two of the Association's tribute to the continents. See it through Dec. 18 at the 8100 Paseo Del Ocaso gallery. Free. (858) 459-1196. lajollaartassociation.org
Have you seen the La Jolla Historical Society's exhibit "San Diego: The Architecture of Four Ecologies"? It's on view through Jan. 20, and uses photos, videos and installations to show how San Diegans connect to its four ecologies — beach, border, freeways, urban-suburban — through the car. Free during gallery hours noon to 4 p.m. Wednesday-Sunday. Wisteria Cottage Galleries, 780 Prospect St. (858) 459-5335. lajollahistory.org
Birch Aquarium presents a new spin on holiday lights with its "Let it glow, let it glow, let it glow," event, which opens Nov. 29 at 2300 Expedition Way. Members get a special preview at 5:30 p.m., and the general public is welcome at 6 p.m. Learn about fluorescence, bioluminescence, and phosphorescence through activities and encounters with creatures that glow. Tickets $20. (858) 534 3474. aquarium.ucsd.edu
Republican Women Lunch
Richard Bailey, the Mayor of Coronado, will speak at the La Jolla chapter of the Republican Federated Women luncheon meeting, 11:30 a.m. Thursday, Nov. 29. Bailey, at age 30, became the youngest mayor in the city's history when he was elected in 2016. Tickets: $35. Location upon RSVP: (858) 457-5670 or skipandtoby@yahoo.com
---
Get the La Jolla Light weekly in your inbox
News, features and sports about La Jolla, every Thursday.
You may occasionally receive promotional content from the La Jolla Light.