La Jolla Light's Best Bets for events: May 18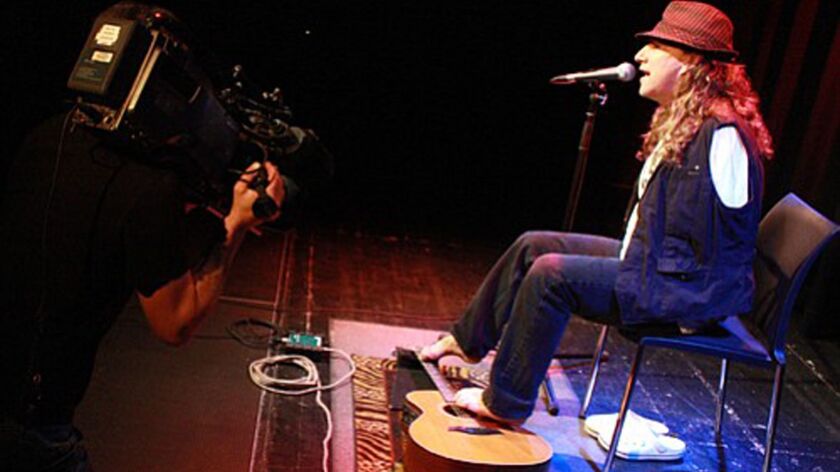 Five Concerts
The Athenaeum's acoustic evenings continue with Mark Goffeney, a San Diego native who was born without arms; Gabriela Aparicio, with family roots in Uruguay; and Cory Wilkins, known for his "outlaw riff country" sound, 7:30 p.m. Friday, May 19 at Athenaeum Music & Arts Library, 1008 Wall St. Tickets: $12-$17. (858) 454-5872. ljathenaeum.org/acoustics-concert-series
A free recital with students from The Music Institute and the San Diego Youth Symphony & Conservatory is 4:30 p.m. Sunday, May 21 at La Jolla Riford Library, 7555 Draper Ave. (858) 552-1657. lajollalibrary.org
A concert featuring the winners of the La Jolla Symphony & Chorus 2017 Young Artists competition takes place 2 p.m. Sunday, May 21 at Chateau La Jolla, 233 Prospect St. Instrumental winners include Anne Liu, piano; Kana Shiotsu, violin; Nathan Rim, viola; Nathan Sariowan, violin; Jonathan Sussman, flute. Vocal winners: Tasha Koontz, soprano; Hillary Jean Young, soprano; Amanda Olea, soprano; Stephanie Ishihara, soprano; Sarabeth Belon, mezzo-soprano. Free. RSVP: (858) 459-4451.
Cathy Blickenstaff with WW5, a woodwind quintet consisting of flute, bassoon, horn, clarinet and oboe, will offer a Family Friendly Concert, 4 p.m. Sunday, May 21 at La Jolla United Methodist Church, 6063 La Jolla Blvd. Complimentary admission. Freewill offering. lajollaunitedmethodist.org
Singer/songwriter Rick Diaz will perform an acoustic show with special guest, singer/songwriter Samantha Moroney of La Jolla, noon to 3 p.m. Sunday, May 21 at Hennessey's Tavern, 7811 Herschel Ave. His song, "I'll Be There When You Need Me," is being released to radio as the first cut off his upcoming CD, "A Song For All Seasons." (858) 551-8772.
Art Opening and Closing
As part of the James Hubbell exhibit "That Which Must Be Hidden," an opening night reception will be held 6 p.m. Friday, May 19 and a Taizé Service, 5 p.m. Sunday, May 21 at St. James by-the-Sea Episcopal Church, 743 Prospect St. The exhibit features stained glass, paintings, poetry and sculptures, with speakers and special events throughout the two-month exhibit that closes July 23. Open to the public, 11 a.m. to 2 p.m. Tuesdays and Thursdays, 11 a.m. to 4 p.m. Saturdays and Sundays. (858) 459-3421. sjbts.org
The series of "drawings" by Robert Irwin featured in the Quint Projects exhibit of the same name hardly meet the traditional definition, instead they are "variations of the fluorescent light works that Irwin has been working on for the past 10 years." See "Drawings" at an opening reception 11 a.m. Saturday, May 20 at 5171 Santa Fe St. The exhibit is on view through Aug. 26. Free. (858) 454-3409. quintgallery.com
The final day to see "Women Painters," a group exhibition featuring the work of abstract artists Jane Booth, Mel Davis and Karen Silve, is Sunday, May 21 at Madison Gallery, 1055 Wall St. Free during gallery hours: 10 a.m. to 6 p.m. Monday-Saturday and noon to 4 p.m. Sunday. (858) 459-0836. madisongalleries.com
La Jolla Secret Garden Tour Saturday
La Jolla Historical Society's 19th annual Secret Garden Tour kicks off 6 p.m. Friday, May 19 with a Night Garden Candlelight Soirée (tickets $75) at a private home. The Tour itself runs from 10 a.m. to 4 p.m., Saturday, May 20 from Wisteria Cottage, 780 Prospect St. (Self-guided tour $50, Platinum Tour $150.) Concurrently, the Secret Garden Boutique is 9 a.m. to 5:30 p.m. May 20 at Wisteria Cottage. (858) 459-5335. lajollahistory.org/events
Health Fair on Friday
A Health Fair for adults, seniors and their families is set for 10 a.m. to 2 p.m., Friday, May 19 at La Jolla Community Center, 6811 La Jolla Blvd. Speakers, demonstrations, vendors, health screenings, fitness classes and more. Free. (858) 459-0831. ljcommunitycenter.org
JCC Offerings
The fourth annual Five-Minute Short Play Festival, a showcase of original shorts selected from more than 50 entries, will be held 7 p.m. Wednesday, May 24 at the Jewish Community Center, 4126 Executive Drive. Enjoy an evening of laughter, inspiration and thought-provoking questions; followed by a dessert reception and Audience Choice Awards. $15-$18. (858) 362-1348. sdcjc.org/pas
Oscar and Emmy Award winning director Kirk Simon ("Strangers No More," "Masterclass") presents the Southern California premiere of "The Pulizter at 100," a documentary to honor the centennial and rich history of the Pulitzer Prize, 7 p.m. Wednesday, May 24, JCC, 4126 Executive Drive. $13.25-$15.25. (858) 457-3030. sdcjc.org/sdjff
Cantor Cabaret, featuring popular Jewish and Israeli songs, cantorial favorites and musical theater selections is 7 p.m. Thursday, May 25 at the JCC, 4126 Executive Drive. Performers include: Sam Radwine, Jonathan Friedmann, Joseph Gole, Lisa Peicott, Cheri Weiss, Ruth Weber and Diane Benaroya. $30 in advance, $36 at the door. (858) 829-8178. hazzanit.com/cabaret
---
Get the La Jolla Light weekly in your inbox
News, features and sports about La Jolla, every Thursday for free
You may occasionally receive promotional content from the La Jolla Light.