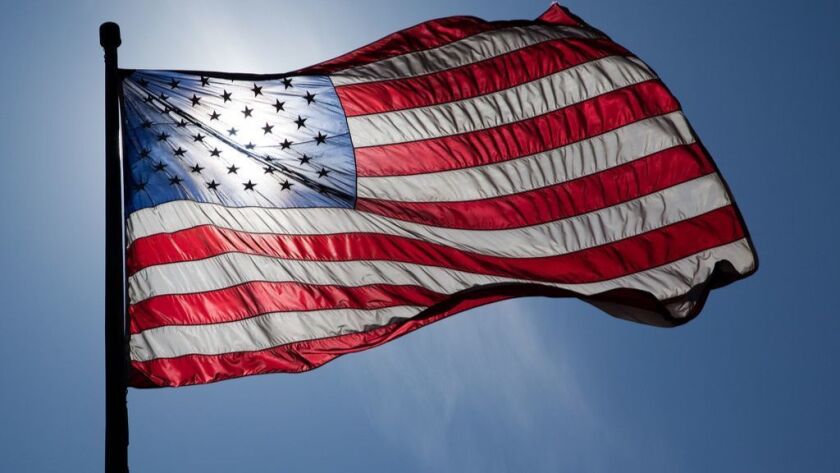 Happy Birthday, America!
"America the Beautiful: A Musical Salute" will offer favorite patriotic tunes, 7 p.m. Friday, June 29 at La Jolla United Methodist Church, 6063 La Jolla Blvd. The Chancel Choir and Dorian Bells, along with soloists and instrumental ensemble, follow. Ice cream sundaes, too. Freewill offering. lajollaunitedmethodist.org
With the absence of fireworks at La Jolla Cove, the Maritime Museum of San Diego will provide a place to watch San Diego's "Big Bay Boom" fireworks show, 9 p.m. July 4 at 1492 N. Harbor Drive, downtown. Museum admission and firework viewing: $35 for adults and $18 for ages 12 and under. $10 discount at 8 p.m. for guests viewing the fireworks only. (619) 234-9153, ext. 106. sdmaritime.org
Bayside Summer Nights concert series kicks off with "Star Spangled Pops." The San Diego Symphony performs patriotic hits and rousing selections from movies and Broadway, capped off by fireworks, 7:30 p.m. June 29-30 and July 1. Embarcadero Marina Park South, 200 Marina Park Way, downtown San Diego. Tickets from $27. sandiegosymphony.org
Summer Concerts
The 20th annual Athenaeum Summer Festival kicks off 4 p.m. Sundays July 1 and continues July 8, 15 and 22 with pianist Gustavo Romero performing a selection of works from his 19-year involvement with the festival, including works by Bach, Brahms, Chopin, Debussy, Gershwin, Haydn, Liszt, Mozart, Rachmaninoff, Ravel, Scarlatti, Schubert and Schumann. Whew! Tickets: $45-$165; $152-$620 series. Athenaeum Music & Arts Library, 1008 Wall St. (858) 454-5872. ljathenaeum.org
Led by tenor Gerardo Gaytan, SONO is an ensemble of young opera singers whose repertoire includes arias, zarzuelas, international music, Neapolitan and Mexican songs, 7 p.m. Friday, June 29 at La Jolla Community Center, 6811 La Jolla Blvd. Tickets $40. RSVP required. (858) 459-0831. ljcommunitycenter.org
Learn Something!
Explore one of La Jolla's most prominent landmarks normally closed to the public — the Ellen Browning Scripps Memorial Pier — on Birch Aquarium's Full Moon Pier Walk, 7 p.m. June 28. Collect plankton, learn about bioluminescent organisms, and explore current research while engaging in hands-on activities. Tickets $30-$35. RSVP required. Meet at Scripps Pier, 8650 Kennel Way. (858) 534-3474. aquarium.ucsd.edu (Other dates: July 27-28, Aug. 25-26, Sept. 25, Oct. 24-25.)
Keep the brain sharp this summer at the La Jolla Library's Citizen Science Lecture series. The next one is 6:30 p.m. Tuesday, July 3 at 7555 Draper Ave. "Mining Bacterial Genomes to Improve Human Health," stars Jie Li, Ph.D. talking about breakthroughs in bacterial genetic information. Free. (858) 552-1657. lajollalibrary.org
Art Has 'No Boundaries'
The La Jolla Art Association exhibit, "No Boundaries," opens Sunday, June 24 at 8100 Paseo Del Ocaso, La Jolla Shores. Work features painting, glass sculpture and photography. Gallery hours 11 a.m. to 5 p.m. Tuesday-Sunday. (858) 459-1196. lajollaartassociation.org
On Stage
Pauly Shore, known for his roles in "In the Army Now," "Bio Dome," and "Encino Man," (and for being the son of late Comedy Store owner Mitzi Shore), takes the La Jolla stage, 7 p.m. June 29-30 and July 1 at The Comedy Store, 916 Pearl St. Tickets: $25. (858) 454-9176. thecomedystore.com/la-jolla/
"Queens," the story a young immigrant living in Queens, New York in 2017, opens July 3 and continues through July 29 at La Jolla Playhouse, 2910 La Jolla Village Drive on the UC San Diego campus. Story also incorporates the voices of the fierce and proud women who preceded her. Tickets from $41. (858) 550-1010. lajollaplayhouse.org
---