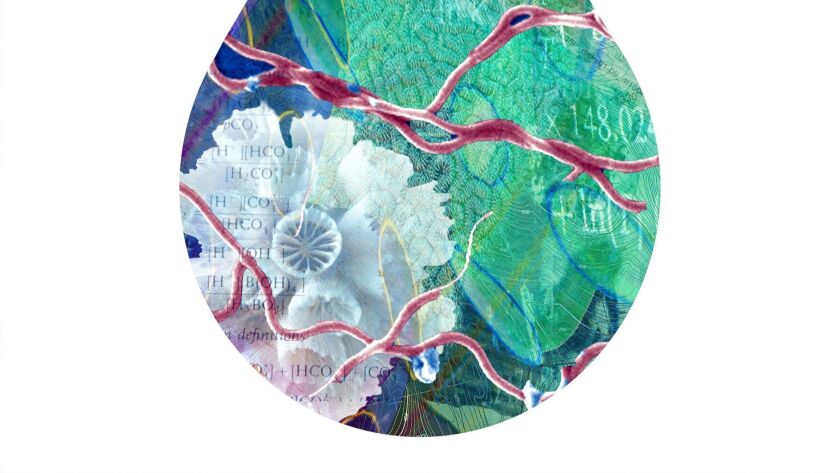 On View
"Seeing Through Water, Seeing Through Weather," an exhibit merging artistic and scientific elements to assemble a visual dialogue about the vexing problem of climate change — and "Summer Selections," featuring photographs that express the subtle joys, grand adventures and classical themes of summertime — open with an artist reception 6 p.m. Saturday, June 16 at Joseph Bellows Gallery, 7661 Girard Ave. The shows will be up through July 27. Free. (858) 456-5620. josephbellows.com
The work of Mariana Magdaleno and Sue Whitman will be on view June 16 to July 28 at Athenaeum Music & Arts Library, 1008 Wall St. Magdaleno's "Respira (Breathe)" includes drawings, artist's books and paintings of plants and flowers native to La Jolla and North County, alongside plants from Casa Callina in Mexico City. Whitman's "Visions of Discovery" includes new collages, along with sculpture and wall works from her vast studio archives. Free. (858) 454-5872. ljathenaeum.org
Los Angeles-based painter Astrid Preston's "Echoing Light" opens with a reception 5 p.m. Saturday June 16 at R.B. Stevenson Gallery, 7661 Girard Ave. The show will be on view 10:30 a.m. to 5 p.m. Tuesday-Saturday through July 14. Free. (858) 459-3917. rbstevensongallery.com
Dance the Night Away
Rediscover the dancing glory of rock 'n' roll tunes with the Stoney B Blues Band performing hits by legends like Ella Fitzgerald and Muddy Waters to Elvis Presley, 7 p.m. Friday, June 15 at La Jolla Community Center, 6811 La Jolla Blvd. Pre-party dance lesson at 6:30 p.m. Tickets: $10. RSVP: (858) 459-0831. ljcommunitycenter.org
Concerts to Catch
The Farrell Family Jazz summer series opens with NYC-based Vincent Herring Quartet, featuring Herring on alto saxophone, Dave Kikoski on piano, Yasushi Nakamura on bass, and Carl Allen on drums, 7:30 p.m. Saturday, June 16 at the Athenaeum Music & Arts Library, 1008 Wall St. Series continues with Thomas Strønen with Time is a Blind Guide, 7:30 p.m. Thursday, June 21. He made his Athenaeum debut in 2013 with the Mats Eilertsen Trio. Tickets: $21-$26. (858) 454-5872. ljathenaeum.org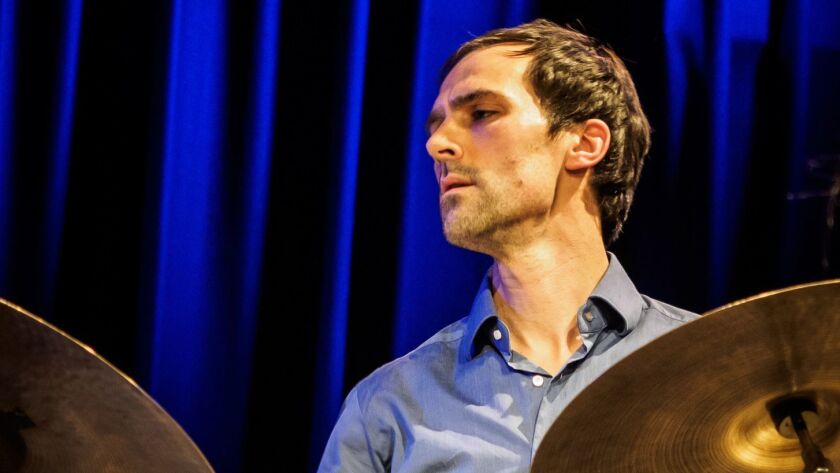 Green Flash Concert Series continues 5:30 p.m. Wednesday, June 20 with Steve Poltz at Birch Aquarium, 2300 Expedition Way. $33 for Birch Aquarium members, $38 general public. $44 at the door. (858) 534-3474. aquarium.ucsd.edu/experiences
For his honors presentation, Jonathan Lestat presents "Music of the Mountains," 7 p.m. Friday, June 15 at Conrad Prebys Music Center Experimental Theater, UC San Diego campus, 9500 Gilman Drive. Concert is described as "audio and visual adventure in sound design and audio spatialization (on an) 15.1 customized sound system." Free. (858) 534-3448. musicweb.ucsd.edu/concerts/
Mount Soledad Presbyterian Church continues its Classical Guitar Music Series with Fred Benedetti performing the program, "The Romantic Guitar," 7 p.m. Saturday, June 16 at the Church, 6551 Soledad Mountain Road. Tickets: $5-$10 at the door. (858) 248-9300.
June 15 at the Library
Drum circle with Chazz Ross, 10 a.m. features some 25 African Djembe drums for creating jungle sounds, songs and rhythms.
Sleepover begins at 7 p.m. for children in grades 1-5, parents must participate! La Jolla Library, 7555 Draper Ave. (858) 552-1657. lajollalibrary.org/events
Criminal Mind
Tom Durnin has served his sentence for his white-collar crime, and is re-entering society. What has he learned? Will his family accept him? Find out at the La Jolla Theatre Ensemble staged reading of "The Unavoidable Disappearance of Tom Durnin" by Steven Levenson, 7 p.m. Tuesday, June 19 at La Jolla Riford Library, 7555 Draper Ave. Free. (858) 552-1657. lajollalibrary.org/events
---