La Jolla Light Best Bets for events: Jan. 18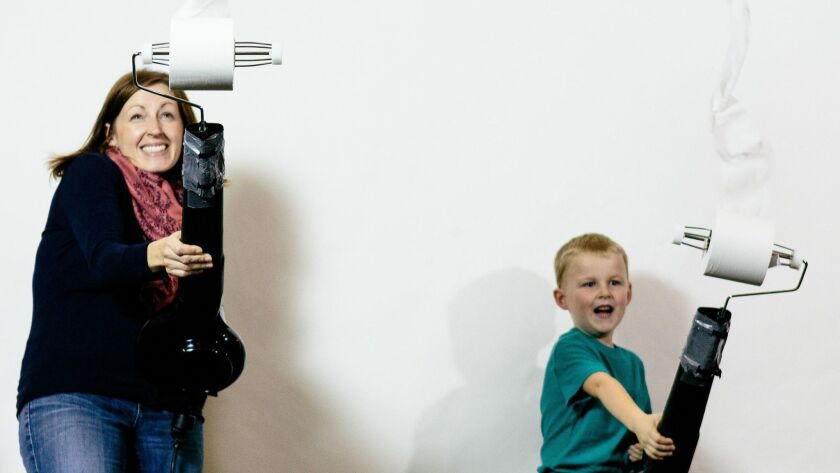 Experimenting with Science
Have you ever wondered what it would look like if you combined a leaf blower and a roll of toilet paper? Find out at the Fleet Science Center's "Don't Try This at Home" hands-on, hair-raising live shows, starting Jan. 20 at 1875 El Prado in Balboa Park, San Diego. The presentations are included with museum admission and performed daily. They last 15 minutes and start at 30 minutes past the hour. Tickets $19.95 with discounts. (619) 238-1233. rhfleet.org/exhibitions/dont-try-home
Forward, March!
Building on the momentum of last year's event, the second Women's March San Diego is set for 10 a.m. Saturday, Jan. 20 in downtown San Diego. The march aims to engage and empower voters to support women's rights, human rights, social and environmental justice, and to encourage participation in the 2018 elections. Meet on the west side of Waterfront Park, corner of West Ash Street and North Harbor Drive. Free. womensmarchsd.org
Listen Up!
A discussion will follow a screening of the documentary, "Modern Marvels: Candy," 2 p.m. Saturday, Jan. 20 at La Jolla Riford Library, 7555 Draper Ave. Psychology professor Seth Sesecal will talk about the evolution of candy-making and its explosion into mass production. (858) 552-1657. lajollalibrary.org
The art history lecture series, "The Age of the Baroque: Splendor and silence from Caravaggio to Vermeer," continues 7:30 p.m. Monday, Jan. 22 (repeated Thursday, Jan. 25), with a focus on the Italian Caravaggio (1571-1610), an alleged murderer who painted in the name of religion, blatant homoerotic subject matter. Tickets: $14-$19, Athenaeum Music & Arts Library, 1008 Wall St. (858) 454-5872. ljathenaeum.org
"Happy Days" and "The Office" actress Linda Purl takes the stage 7:30 p.m. Jan. 22-23 in an adaptation of Joan Didion's award-winning memoir "The Year of Magical Thinking,"at North Coast Repertory Theatre, 987 Lomas Santa Fe Drive, Solana Beach. Tickets: $35. The play is a tribute to Didion's extraordinary marriage and a love letter to her daughter. (858) 481-1055. northcoastrep.org
Five Concerts to Catch
Charles McPherson, jazz saxophonist and San Diego Ballet's resident composer; Randy Porter, Grammy nominated pianist; and local bassist Rob Thorsen, come together for a jazz concert to benefit San Diego Ballet, Saturday, Jan. 21. The concert will take place at a private home, time and location given upon ticket purchase. Tickets are $100 and seating is limited. (619) 294-7378. sandiegoballet.org
Athenaeum Music & Art Library's spring series begins early this year with Mingus Dynasty, featuring seven members of the Mingus Big Band, all leading jazz artists from New York City: Alex Sipiagin, trumpet; Wayne Escoffery, tenor sax; Brandon Wright, alto sax and flute; Ku-umba Frank Lacy, trombone & vocals; Theo Hill, piano; Boris Kozlov, bass; and Adam Cruz, drums. It will be presented in association with the San Diego Symphony's 2018 winter festival, 7:30 p.m. Monday, Jan. 22 at The Auditorium at TSRI, 10620 John Jay Hopkins Drive. Tickets $30-$35. (858) 454-5872. ljathenaeum.org/jazz-at-tsri
The 28th annual Athenaeum Music & Arts Library chamber concert series welcomes San Diego Baroque Soloists, 7:30 p.m. Tuesday, Jan. 23 at 1008 Wall St., with violinists Pierre Joubert and Isaac Allen, violist Andrew Waid, cellist Alex Greenbaum and organist Alison Luedecke. Tickets: $40-$45. (858) 454-5872. ljathenaeum.org
Los Angeles-based Peruvian band Explosión Caliente brings Andean music to town, 6:30 p.m. Saturday, Jan. 20, when La Jolla Community Center hosts "Latin Explosion," at 6811 La Jolla Blvd. After the concert, there will be dancing to some Latin beats. Tickets: $20-$25. (858) 459-0831. ljcommunitycenter.org
Mount Soledad Presbyetrian Church will present Odeum Guitar Duo, Robert Wetzel and Fred Benedetti, in "Concert Hall Classics," 7 p.m., Saturday, Jan. 20 at the church, 6551 Soledad Mountain Road. Tickets at the door: $5-$10. (858) 248-9300.
New Art Institute Exhibit
"The Language of Things," an exhibition by U.S./Mexico-based multimedia artist Roberto Romero-Molina, explores the complex relationship between our experiences and how we represent them, Jan. 20-March 17 at San Diego Art Institute, 1439 El Prado in Balboa Park, San Diego. His installation features multichannel sensors that draws from numerous samples of audio and visual material to create a dynamic sensory world within the exhibition space. Hours: 10 a.m. to 5 p.m. Tuesday-Saturday; noon to 5 p.m. Sunday. Admission: $5. (619) 236-0011. sandiego-art.org
---
Get the La Jolla Light weekly in your inbox
News, features and sports about La Jolla, every Thursday.
You may occasionally receive promotional content from the La Jolla Light.