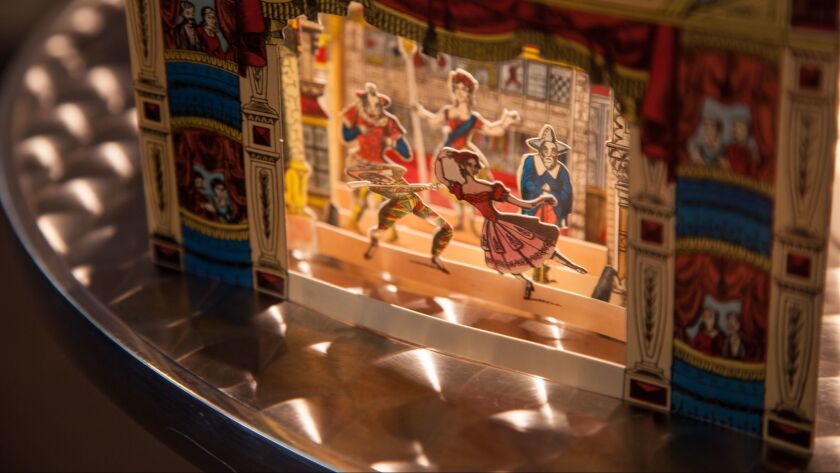 Smallest Show on Earth
UC San Diego Paper Theatre Festival, returns Feb. 10-12, in the Seuss Room of Geisel Library on campus, 9500 Gilman Drive at Library Walk. Impromptu performances noon to 5 p.m. Saturday and Sunday; 9 a.m. to 1:30 p.m. Monday. Paper theater, also called table top theater or toy theater, dates back to the Victorian Era when families constructed these sets from poster kits with scripts, scenery sheets and paper doll actors included. Free. (858) 822-5758. libraries.ucsd.edu
Valentine's Dance
Dance the night away to beautiful romantic music sung by Ossie Arciniega, Kevin Moraine, AJ Arciniega and friends, 7 p.m. Saturday, Feb. 10 at La Jolla Community Center, 6811 La Jolla Blvd. $20-$25. Beverages for sale. Free valet parking. Registration required: (858) 459-0831. ljcommunitycenter.org
Anguiano's Art
An exhibit highlighting the work of Raúl Anguiano (1915-2006) opens with a reception, 2 p.m. Sunday, Feb. 11 at La Jolla Riford Library, 7555 Draper Ave. Exhibit on display through the end of the month. Free. (858) 552-1657. lajollalibrary.org
Concert Time
Jazz at the Athenaeum's 2018 series opens with the Ralph Moore Quartet, featuring Moore on tenor saxophone, Eric Reed on piano, and bass and Willie Jones III on drums, 7:30 p.m. Friday, Feb. 9 at 1008 Wall St. Tickets: $76-$96 series, $21-$26 individual concerts.
Next up is the Dave King Trio, 7:30 p.m. Thursday, Feb. 15 with King on drums, Matt Mitchell on piano, and Billy Peterson on bass, King is reported to bring a finely wrought musicality and wicked humor to every project. Tickets: $21-$26. (858) 454-5872. ljathenaeum.org
Soirée for Music Lovers, 7 p.m. Wednesday, Feb. 14 at the Conrad Prebys Concert Hall on UCSD campus, 9500 Gilman Lane at Russell Lane. Performers: Cecilia Kim (cello), Philip Larson (bass-baritone), Siu Hei Lee (piano), Michael Matsuno (flute), Päivikki Nykter (violin and viola), Tasha Smith-Godinez (harp), Stephanie Smith (oboe), Annabelle Terbetski (viola), and Steven Tran (harpsichord). Free.
The first 2018 concert in the La Jolla Presbyterian Church series, "From Sea to Shining Sea," sets sail 4 p.m. Sunday, Feb. 11 at 7715 Draper Ave. Navy Band Southwest will perform patriotic songs from the Great American Songbook. Free, donations accepted. (858) 454-0713. ljpres.org
San Diego Symphony presents the world premiere of Adam Schoenberg's "Orchard in Fog for Violin and Orchestra" during the Jacobs Masterworks concert Preludes and Premiere, 8 p.m. Saturday, Feb. 10 and 2 p.m. Sunday, Feb. 11 at Symphony Hall, 750 B St., downtown San Diego. Schoenberg, who was inspired in part by a photograph by Massachusetts graphic artist Adam Laipson, wrote this piece specifically for violinist Anne Akiko Meyers, who will perform the work. Tickets from $20. (619) 235-0804. sandiegosymphony.org
Romance is in the musical fare for this month's Opera Wednesdays concert, 7 p.m. Feb. 14 at La Jolla Community Center, 6811 La Jolla Blvd. $10 suggested donation. (858) 459-0831. ljcommunitycenter.org
Classic and Modern Films
Here's looking at you kid! The 1942 classic "Casablanca" with Ingrid Bergman and Humphrey Bogart, screens 2 p.m. Monday, Feb. 9 at La Jolla Riford Library, 7555 Draper Ave. Free. (858) 552-1657. lajollalibrary.org
37 feature films and 21 shorts will screen over 10 days in four locations for the 28th San Diego Jewish Film Festival, Feb. 8-18. Theaters include The Lot in La Jolla, Edwards Mira Mesa, Edwards San Marcos, Garfield Theater at the Jewish Community Center. Single ticket prices are $13.75 for JCC members and $15.75 for non-members. Festival passes, senior and student discounts and group rate discounts available. (858) 362-1348. Schedule: sdcjc.org/sdjff/current/
Art Lecture Conclusion
"The Age of the Baroque: Splendor and silence from Caravaggio to Vermeer," ends this week (with the same lecture given both days) 7:30 p.m. Monday, Feb. 12 and Tuesday, Feb. 13 at the Athenaeum Music & Arts Library, 1008 Wall St. Tickets: $14-$19. (858) 454-5872. ljathenaeum.org/art-history-lectures
---