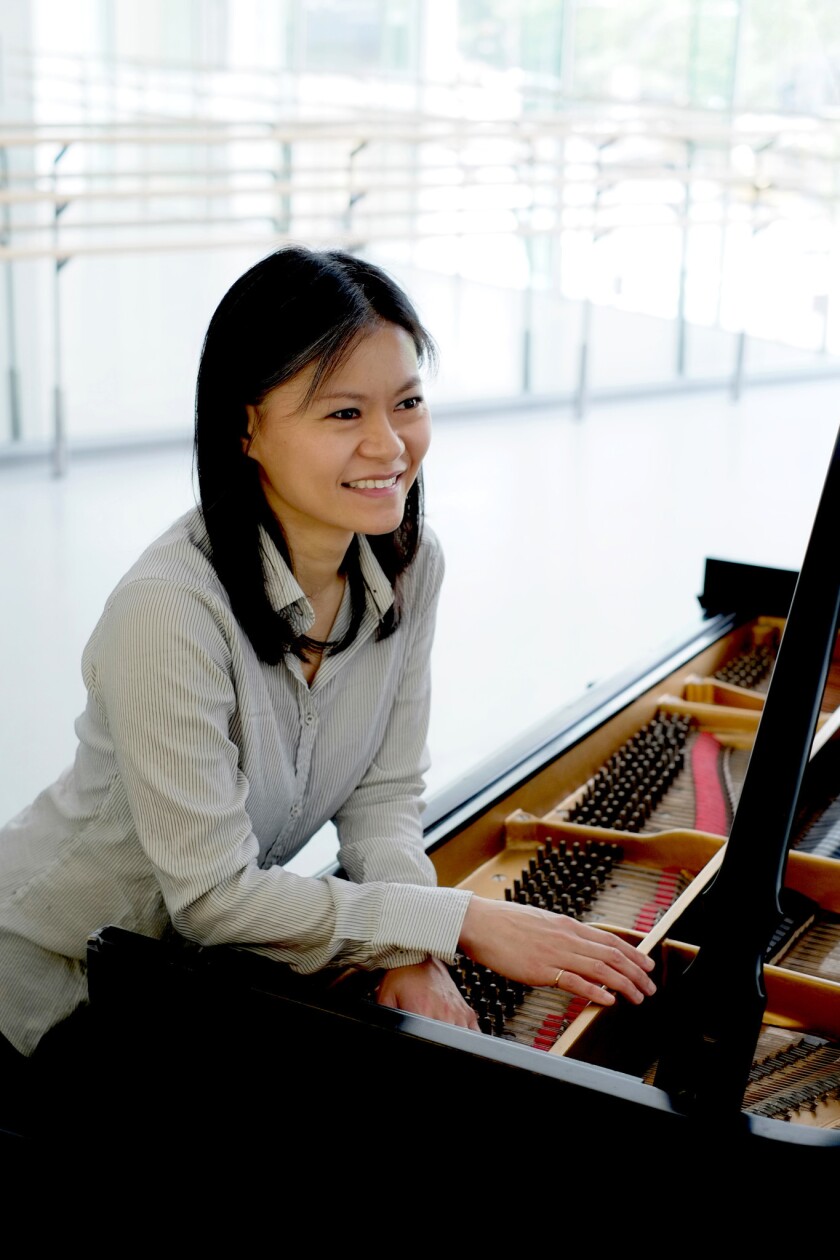 It's All About Music
Part two of the Athenaeum Music & Arts Library/San Diego New Music collaboration "Displaced and Connections," is 7:30 p.m. Friday April 27. "Connections" is curated by Madelyn Byrne with a recital by pianist Shiau-uen Ding performing Byrne's "Piano Sonata," Dorothy Chang's "Five," Emily Doolittle's "Gliese 581c," Doolittle's select pieces from "Minute Etudes Book 1 & Book 2" and Kala Pierson's "Flare and Spark." Tickets: $20-$25. 1008 Wall St. (858) 454-5872. jathenaeum.org/new-music
Mainly Mozart's 2018 Spotlight Chamber Music Series opens with Anton Nel on piano, Steven Copes on violin, Hsin-Yun Huang on viola and Ronald Thomas on cello performing Mozart's "Piano Quartet in E-flat Major, K. 493" and Brahms' "Piano Quartet in C minor, Op. 60," 6:30 p.m. Saturday, April 28, Auditorium at TSRI, 10620 John Jay Hopkins Drive. $58. (619) 239-0100. mainlymozart.org
"The History of Music: From Babylon to the Present" with Jacquelyn Silver opens with "Medieval, Renaissance and the Baroque Era," 7:30 p.m. Thursday May 3 at Athenaeum Music & Arts Library, 1008 Wall St. Tickets: $75-$100 series, $17-$22 individual. (858) 454-5872. ljathenaeum.org/music-lectures
The Fourth Friday jazz series presents Robert Dove, Tyler Kreutel and Dean Hulett in a "Homage to Wayne Shorter," 8 p.m. Friday April 27 at La Jolla Community Center, 6811 La Jolla Blvd. Shorter, a world renowned saxophonist and composer, was a member of Art Blakey's Jazz Messengers and the Miles Davis Second Great Quintet. Tickets: $18-$23 in advance, $25 at the door. (858) 459-0831. ljcommunitycenter.org
Old time gospel and traditional spirituals, including "Do Lord, Remember Me," "Just a Closer Walk with Thee," "Battle of Jericho," and "Wade in the Water," come together in a concert titled "Laid My Burdens Down," 4 p.m. Sunday, April 29 at La Jolla United Methodist Church, 6063 La Jolla Blvd. Hear the Chancel Choir, Dorian Bell Choir, soloists and instrumental ensemble. Freewill offering. lajollaunitedmethodist.org
St. Jordi's Day is Back!
Warwick's third annual Saint Jordi's Day celebration will be coupled with the Independent Bookstore Day bookstore crawl, Saturday, April 28 at 7812 Girard Ave. The saint's celebration runs 10 a.m. to 3 p.m. with live Spanish music and food bites, a knight costumed character, and a children's story time, roses and books for sale. The bookstore crawl features nine San Diego-wide bookshops where participants may collect a passport stamp with a purchase from each for prizes. (858) 454-0347. warwicks.com
Seal Society Walk/Talk
Sierra Club's Seal Society docents will present an informative talk on the harbor seal life cycle, followed by a short walk to Children's Pool/Casa Beach to view the pups hauling out there. Meet at 2 p.m. Saturday, April 28 at Mangelsen's Images of Nature Gallery, 7916 Girard Ave. Donations accepted. (858) 551-9553.
Bishop's Fundraiser
The Bishop's School annual auction, which provides funds for the student need-based financial aid and faculty professional growth programs, returns 5:30 p.m. Saturday, April 28 with the theme "A Knight in Spain: Ole!" The party begins in the athletic center and moves to the quad for dinner and a live auction, followed by dancing. Tickets: $250. (858) 459-4021. bishops.com
Spring Art Show
Adaptations of sea and sky on canvas are on view as local artists present "Wind & Sea" through May 5 at the La Jolla Art Association, 8100 Paseo Del Ocaso. Gallery hours are 11 a.m. to 5 p.m. Tuesday-Sunday. (858) 459-1196. lajollaartassociation.org
Nicholson on Screen
"As Good As It Gets," starring Jack Nicholson and Helen Hunt, screens 2 p.m. Monday, April 30 at La Jolla Riford Library, 7555 Draper Ave. Nicholson and Hunt each received Academy Awards, Golden Globe Awards and Screen Actors Guild Awards for their performances in this 1997 film. Free. (858) 552-1657. lajollalibrary.org
---