La Jolla Light's Best Bets for events: April 12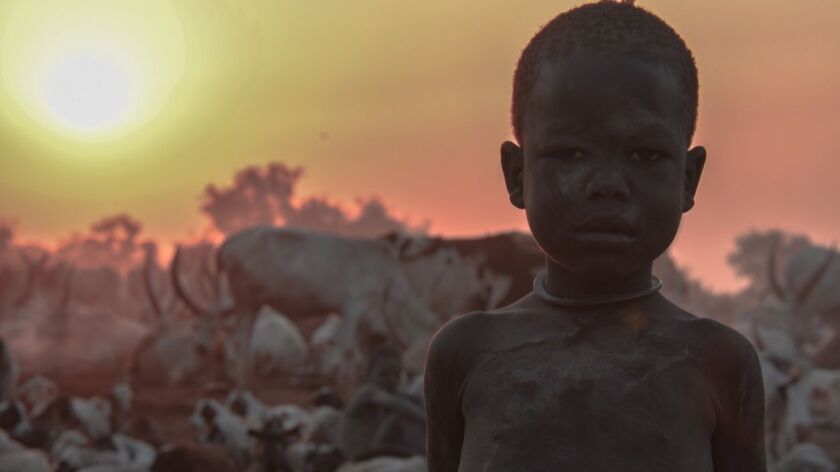 Journey to Africa
Matt Allison, world traveler to remote regions of the planet, discusses his stay with the semi-nomadic cattle herding Mundari tribe in South Sudan in East Central Africa, 7:30 p.m. Wednesday, April 18 at the La Jolla Photo Travelers meeting, Wesley Palms, 2404 Loring St. Free. christam10@icloud.com
Twist and Shout
From Ella Fitzgerald and Muddy Waters to Elvis Presley, the upcoming Blues and Rock & Roll Dance Night brings the magic of the 1950s to La Jolla, 6:30 p.m. Friday, April 13 at La Jolla Community Center, 6811 La Jolla Blvd. Dancing encouraged, spectating OK. Pre-concert dance class. $10. RSVP: (858) 459-0831. ljcommunitycenter.org
Concerts to Catch
UnKannie, Trails and Rails, and Mohavisoul continues the 10th anniversary season of the Athenaeum Music & Art Library's Acoustic Evening Series, 7:30 p.m. Friday, April 13, 1008 Wall St. Tickets: $12-$17 individual. (858) 454-5872. ljathenaeum.org/acoustics
Sample the fabulous melodies, rhythms and creativity of America's foremost musical invention: Jazz. Featured artists will include Louis Armstrong, Count Basie, Sarah Vaughn, Ella Fitzgerald and many more, 3 p.m. Thursday, April 19 at La Jolla Community Center, 6811 La Jolla Blvd. Free for members, $15 non-members. RSVP: (858) 459-0831. ljcommunitycenter.org
Stage Presence
Write Out Loud presents a reading of "Words and Music," 7 p.m. Monday, April 16, Cygnet Theatre, 4040 Twiggs St., Old Town. Each program explores specific themes by weaving a variety of stories, poems, and sometimes music, together into a literary tapestry. $25 with discounts. (619) 297-8953. writeoutloudsd.com
La Jolla Playhouse announces the world premiere and latest Without Walls (WoW) production of "What Happens Next," by Naomi Iizuka. Runs 7:30 p.m. Thursday, Friday and Saturday, 2 p.m. weekends (two shows Saturday) April 19-29 at the Challenged Athletes Foundation, 9591 Waples St. In 'What Happens Next,' Bonnie, an idealistic but inexperienced acting teacher, finds herself paired with a group of veterans as part of a drama therapy program. Inspired by stories shared by the military community. $20 with discounts. (858) 550-1010. lajollaplayhouse.org
San Diego Actors Theater presents a reading of Sam Shepard's Pulitzer-Prize winning play "True West," 2 p.m. Sunday, April 15 at La Jolla Library, 7555 Draper Ave. Story focuses on screenwriter Austin and his misfit brother Lee, who have to set aside their childhood rivalry to collaborate on a screenplay. $10 suggested donation. (858) 552-1657. lajollalibrary.org
The Old Globe Theatre-commissioned world premiere of Anna Ziegler's American play "The Wanderers," takes the stage through May 6 at 1363 Old Globe Way in Balboa Park, San Diego. Esther and Schmuli are shy young Orthodox Jews embarking on an arranged marriage. Abe and Julia are high-profile celebrities embarking on a dangerously flirtatious correspondence. On the surface, the lives of these two couples couldn't be more different. But Ziegler's production explores the hidden connections between seemingly disparate people. Tickets from $30. (619) 234-5623. theoldglobe.org
Outdoor Strolls
Butterfly Jungle, featuring 30 species of butterfly and 18 exotic bird species, is open until April 15 at San Diego Zoo Safari Park, 15500 San Pasqual Valley Road, Escondido. Butterfly Jungle is included with admission to the San Diego Zoo Safari Park, open 9 a.m. to 6 p.m. daily, sdzsafaripark.org
The La Jolla Garden Club's next meeting will explore three members' gardens, followed by lunch, 10 a.m. to 12:30 p.m. Tuesday, April 17. $25 admission benefits Garden Club Scholarships. Guests welcome. (858) 456-2285.
---
Get the La Jolla Light weekly in your inbox
News, features and sports about La Jolla, every Thursday.
You may occasionally receive promotional content from the La Jolla Light.